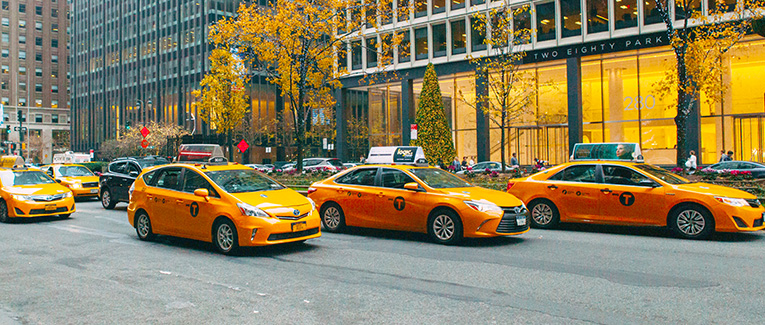 Some large cities in the U.S. provide different methods of public transportation, such as buses, taxis or trains. However, in most places, public transportation is poor. The frequency of stops is less and they are not well connected. You will have to rely on your private car for transportation in most cases.
Most people travel with their own cars in the United States. Even with the rising cost of gas (petrol), private cars still remain the most prevalent and economical mode of transportation, keeping in mind the flexibility and freedom you get with your car. You can travel wherever you want, whenever you want. You don't have to rely on the schedule of public transport.
However, before you buy your own car, you will have to either rely on public transportation, if practical, or ask friends, relatives, or colleagues for rides.
Asking for rides from strangers who are driving down the road (hitchhiking) is not an option to use.
Taxi (Cab)
Other than in large cities, you will not find taxis waiting around street corners. You will find taxis waiting at the airport, at some big hotels, and at Las Vegas casinos. At other places, you will have to call a taxi company for a ride. There are taxi companies in most metropolitan areas. Most of the taxis are yellow in color and their car model is a "Ford Crown Victoria". Two big bags will fit in the trunk. It is a large, comfortable car. When you call the taxi company, you have to tell the dispatcher where you are located and where you would like to go, as well as when you need the cab. The dispatcher may ask questions about how you plan to pay for the taxi. If you have any specific needs, make sure to tell the operator. You may need a van or an SUV if you have a lot of luggage. The dispatcher will also ask for a contact phone number. You also have the option of receiving a phone call (mostly automated) when the taxi has arrived at your location.
When you enter the taxi, the meter will show a flat rate charge. Additionally, there may be extra fees for more than one passenger, airport fees, baggage fees, etc. You have to pay this minimum charge. Taxi fare rates will be posted in the taxi itself.
Uber / Lyft
Mobile application services such as Uber or Lyft are much more convenient options, compared to a taxi. You simply download the respective company's mobile application in your smartphone, register with them, enter your credit card, and use the app whenever you are ready to ride. There are many car types available, ranging from basic to luxury cars. Of course, until you have a credit card, this would not be an option.
Local Commute
If there are bus and/or train facilities available in your area, you may purchase daily tickets from the bus driver or at the train station. Publications and maps published by the local authority will provide information about schedules, routes, and fares.
Commuter trains are meant for transporting people back and forth from the city to the suburbs. There are no reservations and there is only one class of travel. Commuter trains run more frequently during rush hour (mornings and evenings when people go back and forth from home to their workplace). At most places, you will have to buy tickets at the train station itself.
Bus
There are many companies that run buses between cities. Among them, Greyhound, Trailways, and Peter Pan are the major companies. Buses are economical and slow modes of public transportation. However, you will be able to see much of the U.S. by bus travel. Most long-distance buses have comfortable seats and toilets, are air-conditioned, and make frequent stops for food.
Train
Unlike countries like India, China or many parts of Europe, long distance travel by train is not popular at all. There are several reasons for this. Travel by train may be as expensive as flying, and it takes much longer. Moreover, the United States is a vast country and distances are very far between many cities. Most people are not willing to spend this much time traveling. Moreover, the train network is not as extensive and, train frequencies are not as high as planes.
Amtrak is the largest national passenger railroad company. Even though it takes longer, riding the train is fun. All cars are air-conditioned and most have large windows. You will be able to see a lot more of the country than you would by air travel. The train is certainly a much better option than the bus. If you have a lot of time and want to explore many inner parts of the United States, you might want to travel by train.
Long-distance trains usually offer two classes of services: coach (sitting) and sleeping cars. You will have to reserve your sleeping accommodation in advance if you are planning to travel overnight.
Airplane
Taking a flight is the most preferred way to travel around the United States. If booked in advance, you may find good deals. You can also find a lot of last minute travel deals, as airlines would rather accept a lower price than leave many seats empty. Of course, last minute deals are useful only if you are in no hurry to travel and are very flexible with your travel dates. They also have much less of a guarantee of having seats located next to each other, if you are traveling with others.
Hundreds of thousands of people fly in the United States every day. There are many big airports throughout the United States, various airlines, high frequencies of flights, and good connectivity. For these reasons, as well as saving time, people tend to prefer air travel.
Many people book flights online at websites like Expedia, Orbitz, Priceline, or HotWire. Also, you can purchase travel insurance (trip cancellation, flight insurance, etc.) at insubuy.com, a very popular website for travel and international medical insurance from several U.S. companies.
Since the terrorist attacks on September 11, 2001, security at airports have become very strict, even for domestic travel within the U.S. Only U.S. citizens can work as security checkers. You will have to remove any bulky clothing like jackets, belts, any jewelry, and wallets and put them into baskets for x-ray screening. If you are carrying a laptop, you will have to remove it from the bag and have it screened separately. You will also have to remove your shoes for x-ray screening. People are also randomly selected for extra screening, where an officer thoroughly checks your belongings in a separate area. Since all handbags are checked thoroughly, you may have to open your handbag for inspection.

We are sorry that this post was not useful for you!
Let us improve this post!
Tell us how we can improve this post?