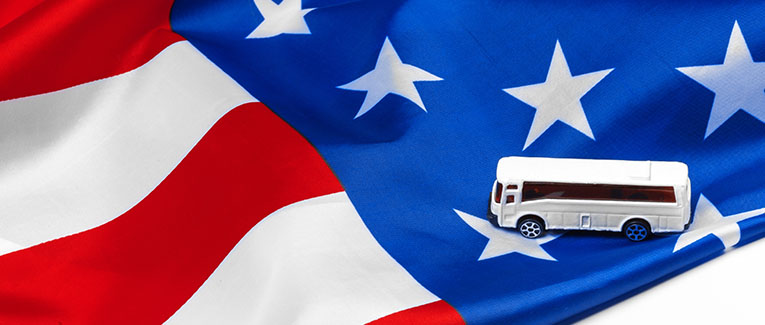 Riding on rickety buses is common abroad. The buses in the U.S. are another matter. Depending on the service, they offer free Wi-Fi, air-conditioning, power outlets, restrooms, and reclinable seats.
The shoving and crowding remain common, but it's still a something of a luxury. What's refreshing is that the U.S. drives on the right side of the road. Buses will also stick to their schedule and stop only at their designated stops.
As a newcomer to the U.S., you might not have a car immediately, and travelling by bus is a great way to get around town.
Even if you prefer flying or driving to places, consider buses for the benefits. You save gas and money, and covering more miles on buses gives you discounted fares.
Still Debating Whether to Take the Bus?
A few reasons why you should choose a bus over other modes of travel:
Cheap: It costs less than air and train fares.
Free Wi-Fi: Whether it's a work or leisure trip, free Wi-Fi access will keep you occupied. You can even work on the way.
No Surge Rates: Pre-booking is not necessary. Naturally, there are no surge rates for bus fares, either.
Great for Airport Travel: Some buses have airport drop routes. They are usually on time, and you don't need to leave hours ahead or wait for them for a long time.
Lower Carbon Emissions: For every gallon of gasoline, buses cover more miles than any other mode of transport. Carbon emissions are thus lower.
The Bus Services
These major bus lines operate in the U.S., but not all of them have routes that cross the whole country. Depending on your location, you need to choose your bus service.
Greyhound
This bus company is popular for its expansive coverage. Check out the Greyhound route map on their website. BoltBus under Greyhound is one of the highest-rated bus systems for its $1 tickets. They earn rave reviews for leg space, individual power outlets, Wi-Fi, and curbside stops. They only operate on the two coasts and the Southern part of the country. For the Central and Northern parts, you need to seek other bus lines.
Trailways
This one's ideal for chartered services and casino trips. If you want to head out for a short trip with a group, this is your go-to bus service. It's also good for international travel.
Coach USA
Megabus under Coach USA competes closely with Greyhound's BoltBus for providing affordable, express bus services. Coach USA is ideal for daily commuters and college students. You can search for their routes on their website.
Chinatown Buses
They are the cheapest way to travel on the East Coast and through parts of the southern U.S. The safety standards are questionable, as well as the service they offer. Check their website for more information.
Mexican Buses
In case you need to travel to Mexico, this is a good option. The above options are largely for in-country or U.S.-Canada travel. Check out El Expreso, Omnibus Express, and Turimex Internacional for their route information.
All are excellent for inter-state travel to and from urban areas. For rural areas, these bus services are decent, to name a few:
Jefferson Lines
Baron Bus
Adirondack Trailways
Academy Bus
Express Arrow
You can find their respective contact information on their websites. Make sure to carry a valid photo ID and a printed ticket with you for all buses.
Where to Book a Bus?
Buses are an economical way of interstate travel, especially on a budget. Check out these websites to book a ticket:
Wanderu helps you compare different bus routes and gives you the details on the transfers, rates, and price.
Checkmybus is another good site for comparing different bus services.
Rome2Rio is our top pick. It lets you compare different modes of transport between flights, buses, trains.
Pro Tip: Compare prices on these websites, but book directly from your preferred carrier. You might get exclusive deals and better prices from direct booking.
For short distances (commuting), the mass transit system is perfect. The ones mentioned above are good for long distances, but they may not have any stops for shorter distances.
A word of caution: Some buses can stop in questionable neighborhoods. Use your discretion, and plan your travel to avoid these areas after dark.
Getting on a Bus in the U.S.
We've covered a lot regarding long-distance bus journeys. Now, let us guide you through the whole procedure of riding a bus in the U.S. This should help quell the anxiety of uneasy commuters.
Consult the bus route map. You can find it online, or get a printed map from a bus station. All buses have numbers assigned to them that stick to their routes.
Find the nearest bus stop, and reach it early. Make sure you don't end up standing on the wrong side of the road.
Know if you need to do a break journey. Stay aware of the bus timing, frequency, and where you need to go to catch your connecting bus. You might have to wait for a long time for your second bus.
If you're the only one standing at your stop, wave at the bus as soon as you see it to make the driver stops for you.
As you're riding the bus and your stop is approaching, you have to press a buzzer or pull a cord. This alerts the driver to let you off at the next stop. You can request the driver's help if unsure about where to get down.
Tickets and passes can be bought as you get on the bus (for public transportation). We recommend a monthly pass, but you may go for these transit passes, too:
Day Pass: This one offers you unlimited rides for 24 hours.
Weekly Pass: This offers free rides for a week, although the days might be fixed for some bus networks.
Monthly Pass: This is not necessarily fixed to specific months. It might be valid for 30 or 31 days from the date of purchase.
Annual Pass: This one is the best for a big discount. You get unlimited rides for a whole year from the date of purchase.
A practice bus ride is always a good idea for commuters. This will help you be doubly sure about the time management needed for the ride.
A Friendly Reminder
Unlearn your system of navigating the public transport system from your home country.
Do not expect other passengers or the driver to answer your questions about location or navigation; use the route map. If you are too anxious, turn to Google Maps.
If you are paying in cash, make sure to have exact change.
Do not expect the driver to wait for you or to stop the vehicle anywhere other than a marked bus stop.
The buses will be on time. Don't risk being late.
While it's all right to have a light snack or coffee on the bus, be wary of causing a nuisance because of the food odor or munching noises.
Enjoy your journey.
We are sorry that this post was not useful for you!
Let us improve this post!
Tell us how we can improve this post?