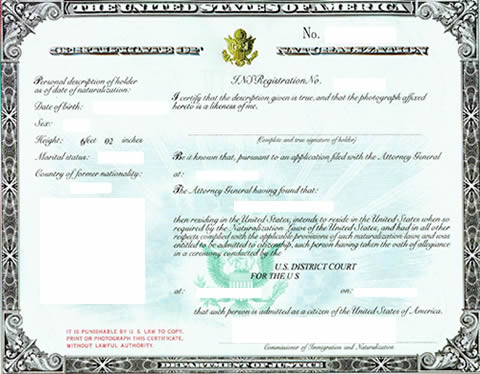 THE UNITED STATES OF AMERICA
No. 12345678
CERTIFICATE OF NATURALIZATION
Personal description of holder as of date of naturalization:
Date of birth: JANUARY 5, 1974
Sex: MALE/FEMALE
Height: X feet X inches
Marital status: MARRIED
Country of former nationality:
INDIA
---
CIS Registration No. A012345678
I certify that the description given is true, and that the photograph affixed hereto is a likeness of me.
<SIGN YOUR COMPLETE NAME IN CURSIVE LETTERS WITH BLACK PEN, NOT YOUR USUAL SIGNATURE>
___________________________________________________________________
(Complete and true signature of holder)
Be it known that, pursuant to an application filed with the Secretary of Homeland Security
at: FAIRFAX, VIRGINIA
The Secretary having found that:
Suresh Ramanlal Patel
then residing in the United States, intends to reside in the United States when so required by the Naturalization Laws of the United States, and had in all other respects complied with the applicable provisions of such naturalization laws and was entitled to be admitted to citizenship, such person having taken the oath of allegiance in a ceremony conducted by the
U.S. CITIZENSHIP AND IMMIGRATION SERVICES
at: FAIRFAX, VIRGINIA on: OCTOBER 6, 2005
that such person is admitted as a citizen of the United States of America.
<MAKE SURE SIGNATURE OR STAMP IS PRESENT>
Director; U.S. Citizenship and Immigration Services
---
IT IS PUNISHABLE BY U.S. LAW TO COPY, PRINT, OR PHOTOGRAPH THIS CERTIFICATE, WITHOUT LAWFUL AUTHORITY.
Related links: Naturalization

For visitors, travel, student and other international travel medical insurance.
Visit insubuy.com or call 1 (866) INSUBUY or +1 (972) 985-4400

We are sorry that this post was not useful for you!
Let us improve this post!
Tell us how we can improve this post?