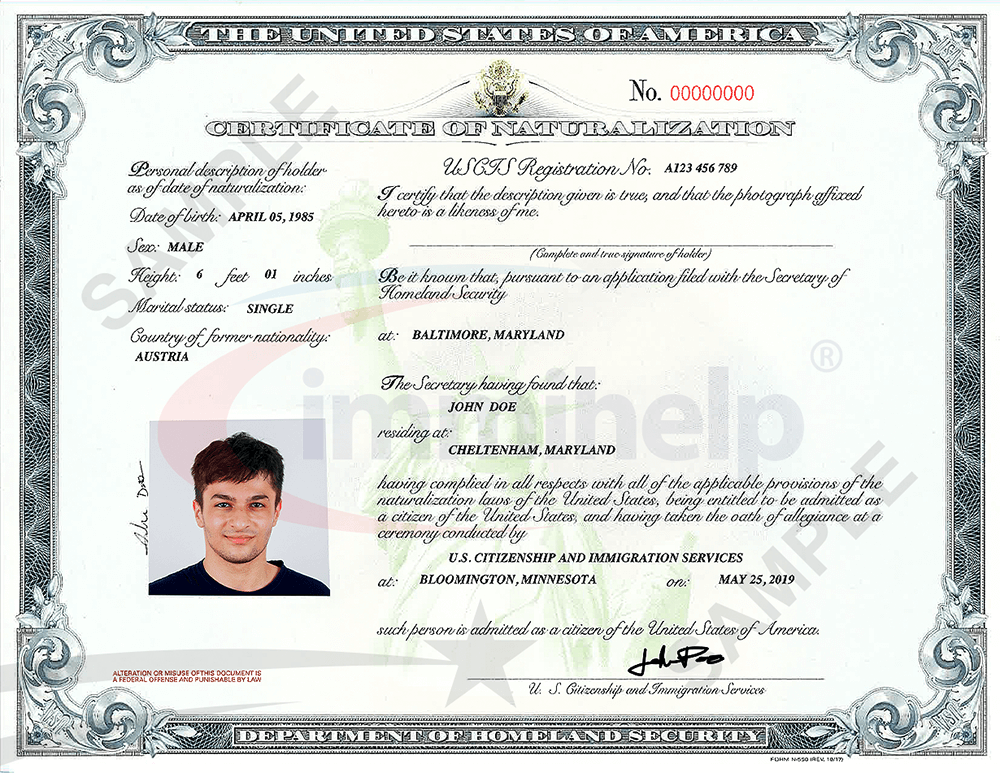 THE UNITED STATES OF AMERICA
No. 12345678
CERTIFICATE OF NATURALIZATION
Personal description of holder as of date of naturalization:
Date of birth: APRIL 05, 1985
Sex: MALE/FEMALE
Height: X feet X inches
Marital status: SINGLE
Country of former nationality:
AUSTRIA
---
USCIS Registration No. A012345678
I certify that the description given is true, and that the photograph affixed hereto is a likeness of me.

---
(Complete and true signature of holder)
Be it known that, pursuant to an application filed with the Secretary of Homeland Security
at: FAIRFAX, VIRGINIA
The Secretary having found that:
John Doe
Residing at:
Cheltenham, Maryland
having complied in all respects with all of the applicable provisions of the naturalization laws of the United States, being entitled to be admitted as a citizen of the United States, and having taken the oath of allegiance at a ceremony conducted by
U.S. CITIZENSHIP AND IMMIGRATION SERVICES
at: BLOOMINGTON, MINNESOTA on: MAY 25, 2019
such person is admitted as a citizen of the United States of America.
<MAKE SURE SIGNATURE OR STAMP IS PRESENT>
Director; U.S. Citizenship and Immigration Services
---
ALTERATION OR MISUSE OF THIS DOCUMENT IS A FEDERAL OFFENSE AND PUNISHABLE BY LAW.
Related links: Naturalization
We are sorry that this post was not useful for you!
Let us improve this post!
Tell us how we can improve this post?