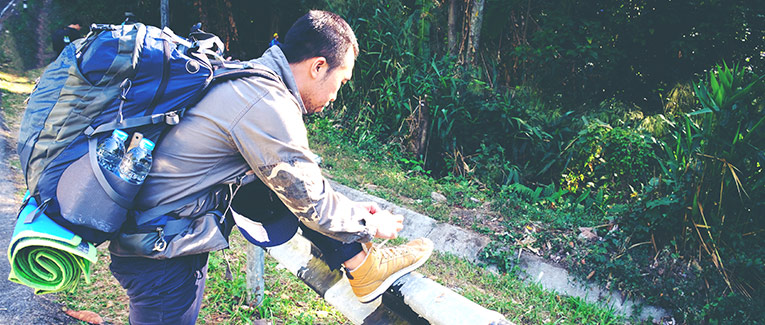 Hiking can be an exhilarating activity. A nice, long trek up a secluded hill can help revitalize your spirit and become one with nature. For adventure enthusiasts, hiking and trekking up rugged terrain can bring an unparalleled thrill. But your hiking experience cannot be complete without the right shoes.
Why is it crucial that you pick the right shoes for hiking?
Hiking is a strenuous activity that requires a lot of legwork. Therefore, wearing the right shoes is important to avoid accidents, injuries, or damage to your body that an arduous trek can cause.
Not wearing the right footwear customized for mountainous terrain makes you vulnerable to slipping in mud or skidding on gravel. In addition, the wrong shoes can cause blisters and cuts on your foot, and even cause deeper joint injuries in the ankle. The right hiking footwear can help you avoid all of that.
What to look for when choosing hiking footwear?
Total coverage
The best hiking shoes are the ones that can provide total coverage for your foot against elemental damage resulting in cuts, scrapes, insect, or animal bites.
Ankle support
Since hiking usually involves traversing uneven terrain, it makes sense to invest in shoes that give optimum ankle support and cushioning to the balls of your feet. In addition, your ankles carry a lot of bodyweight when hiking, and need maximum protection to help you fend off sprains and twisted ankles that can not only be painful, but can cut your trip short.
You do have the option of high-cuff hiking boots that can biomechanically protect your ankle, however, according to some hiking experts, weight optimization is the bigger problem when it comes to ankle support.
Water resistance
Investing in water or rain-resistant shoes for hiking is essential, especially during the rainy season. Wet shoes can cause infections and sores on the foot, and make for an extremely unpleasant trekking experience.
However, water resistance is not necessary, especially if you are hiking in dry terrain. Breathable, water-resistant materials like Gore-Tex are a popular option, but shoes with breathable uppers allow your feet to get wet and dry off on their own.
Lightweight
One of the most important aspects to consider when choosing hiking footwear is its weight. The lighter your shoes, the more comfortable they are.
Hikers often carry 30-40 pounds of hiking and camping gear, and long treks wearing a heavyweight shoe means more stress on your ankle and feet.
Now that you understand some of the basics of choosing hiking shoes, let us look at some options to help you cut through the clutter and make the right choice.
Types of Hiking Footwear
Hiking Boots
Many hikers prefer the stability and strength of hiking boots. These can not only help with balance, but also give support to your legs during long hikes.
While they are on the beefier and heavier side, these shoes are great if you are looking for an all-weather choice that can cover extreme terrain confidently. Incidentally, they also provide great ankle support. But, if you are looking to save weight, there are other options for you.
Trail Runners
Trail runners are basically running shoes, with a shorter lifespan than hiking boots or shoes, although they can provide durability and comfort. These shoes are lightweight, and often made of breathable and water-resistant material. While they do not provide specific ankle support, they are often chosen by beginners, as these shoes can double as running shoes.
Water-Resistant Shoes
Water-resistant hybrids are great if protection against water is your key concern. These shoes are essential for hiking in the winter or snowy terrain. These shoes are not only water-resistant, but also keep your feet warm in the snow. In case of deep snow, you can pair them with gaiters to keep your legs dry.
Hiking Shoes
Hiking shoes are just like hiking boots, but lighter. They combine the best elements of hiking boots and trail running shoes, and are ideal for you if you are a beginner at hiking.
Since they are lighter than hiking boots, many find them to be more comfortable, while providing the same coverage and protection for your foot. Compared to trail running shoes, hiking shoes provide more longevity, and can last for many more miles than trail runners.
Tips to remember when picking hiking footwear
Break in the shoes
You have done your research and bought the shoe that you think suits your needs the most.
Before you take your new shoes on a hike, remember to break the shoes in so that your feet don't blister and get sores when you finally wear them for the first time.
Invest in socks
While choosing the right hiking footwear is the most challenging part, it is also important to remember and invest in good-quality socks. Hiking socks explicitly made for hikers are usually seamless, and come with extra cushioning and reinforcement.
Other options
While hiking in trail-specific footwear can be gratifying, you may not be able to buy a new pair of shoes because of a lack of availability, time, or funds. In such cases, you can rely on your best sneakers.
While sneakers do not provide as much protection as hiking shoes, they can help keep your feet covered and dry. They can also come in handy for small treks of easy or intermediate difficulty.
In case you like to let your feet breathe while trekking and like open shoes more, hiking sandals can also be an option for you. However, sandals tend to skid on slippery ground. and do not protect the feet against elemental damage or other unforeseen events like snakebites.
Other things to consider
While picking hiking shoes, it is important to consider the following things:
Your body type
Different body types have different requirements for hiking shoes. If you need to add some extra weight to your body while trekking, hiking boots are the best option for you. If you have ankle health issues or joint aches, lighter options like trail runners are your best bet.
Your speed
Advanced trekkers who want to finish long-distance treks at high speed would do well to stick to lighter shoes like trail runners. On the other hand, in the case of shorter treks with more difficult terrain, opt for heavier trekking boots.
Your level of expertise
Are you an advanced trekker, a beginner, or at an intermediate stage? This is important, as your experience level often decides the right shoes for you.
Heavier hiking boots are a better option for beginners, as they provide adequate body weight, balance, and stability to support your body. However, advanced trekkers and hikers usually choose lighter shoes.
Get insured
Hiking and trekking bring new risks at every switchback, which can pretty well derail your next trek. So, whether you are climbing Kilimanjaro, or are having a lazy weekend trek, travel medical insurance is another essential item to pack before your trip. Details like destination, dates, duration, and who you'd like to cover determine the type of insurance you should consider.
Ideally, look for plans that cover multiple aspects. For example, on Insubuy, you can easily compare plans to identify ones that offer sufficient coverage for bodily injuries, third-party damages, medical coverage, and hiking and trekking riders. Also, look for exclusions like altitude limits and uncovered trail paths.
Every day, hundreds of travelers like you secure their peace of mind by identifying the perfect insurance plan for them on Insubuy. Sort it out now so that your hike won't bite your wallet even if you twist your ankle along the way.
We are sorry that this post was not useful for you!
Let us improve this post!
Tell us how we can improve this post?