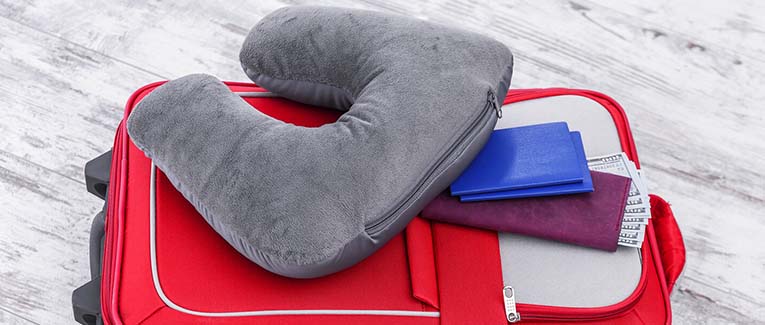 Traveling can be full of surprises. From a power outage to a health scare, you never know what is around the corner.
It is in your best interest to be prepared for anything. Below, we discuss a few travel accessories that can come in handy in case of an unexpected incident.
Best Travel Accessories to Carry in 2021
1. Travel Pillow
It helps you fall asleep at the airport lounge, onboard the flight, and even on the beach.
Many find it impossible to get a good rest on the standard foam block that most hotels dish out. Travel pillows are a unique travel accessory that you must pack.
Good ones have proper neck support and are extremely light. If you are intent on saving space, buy the inflatable type that can be folded away in a suitcase pocket when you don't need it.

For visitors, travel, student and other international travel medical insurance.
Visit insubuy.com or call +1 (866) INSUBUY or +1 (972) 985-4400

2. LED Flashlight
A power outage can happen without warning. Your cellphone light doesn't last long. After all, phones were not built to be lanterns.
A good LED flashlight is an essential tool for every savvy traveler. The best ones are water-resistant and have a high-powered beam that can be adjusted.
Many have an SOS button that blinks out a pre-programmed distress signal. Powered by batteries, the flashlight must not be over five inches long, and preferably should be made from tough plastic instead of metal.
3. Battery Charger
You can run out of batteries at any time. Without a store near you, the best option is to carry a few rechargeable AAA and AA batteries, as well as a charger. Whatever types of batteries you're carrying, have a charger for them.
Energizer and Panasonic are the most trustworthy, and can recharge two AA and two AAA batteries at the same time.
Buy the best brand name available, and don't go for unknown brands. These typically don't last more than a month, and even worse, can explode when overcharged.
4. Power Bank
It's exasperating when your phone runs out of charge in the middle of a day trip. Most phones have a 5,000mAh battery that lasts 18-24 hours. In areas with a weak signal, it's far less.
A power bank is essential for worry-free travel. Buy one that is at least 20,000mAh, and allows fast charging. Both micro USB and USB-C inputs are essential.
Each time it's topped up, a reliable power bank can charge an iPhone X at least four times.
Never go for unknown brands. Battery manufacture is a stringent process and requires experience. A few dollars more can get one that lasts two or three years depending on use.
5. Travel Wallets
Essentially, these are oversized wallets that carry your travel documents, cards, and currencies.
Since they can fit a couple of passports quite easily, the size is larger than what you carry daily.
Several types are available, and they are made from a variety of materials – cheap nylon to expensive cowhide. They have to be large and sturdy to hold a lot of documents, and go through the stress and strain of prolonged travel.
It's a good idea to slip your wallet into a plastic zip pack when traveling to rainy places.
6. Compression Socks
The last thing you want after a half-day-long flight to Athens is a sore ankle.
Sitting for long hours makes your ankles swell. Fluid accumulation, which can be remarkably scary looking, takes at least two days to recede. The walk up the steps of the Parthenon would be torture as your feet no longer fit inside your trusty walking shoes.
Invest in a pair of compression socks that prevent this condition. They compress the blood vessels of your lower limbs so that fluid does not collect. These socks also remove the threat of deep vein thrombosis (DVT), a dreaded side effect of air travel.
7. Travel Shoe Bag
How to carry shoes back home after a vacation spent hiking? An unending dilemma for many travelers.
Travel shoe bags are the perfect solution. Separate your beach sandals from your clothes with these shoe bags. They are made of dust-proof fabric, and help separate the sand from the chiffon after your hiking trip.
These large bags are available in packs of six or twelve and cost very little. Wash them after every trip, and they are ready for reuse.
8. Mini Umbrella
Be it England or Thailand, a sudden shower can never be ruled out. Getting drenched not only means you may catch a cold, but cellphones and cameras might get damaged.
Mini travel umbrellas that fold into a capsule about seven inches long are a really cool travel accessory that can help save the day.
They are made from high-quality polymer, aluminum struts, and fiberglass. Ensure that they have a button for instant deployment, and the cloth is UV-proof.
9. Travel Money Belt
Money and cards are the most valuable thing you carry on vacation.
A money belt is a secured pouch that fastens around your waist. There is no way that someone can snatch it or pickpocket.
If you wear your shirt over the belt, the pack is completely hidden from sight. Moreover, they have a thin metallic gauze that blocks any kind of unauthorized scanning.
Most are large enough to carry passports.
10. Portable Water Filter
Clean drinking water comes out of the tap in the developed world. In other places, you have to buy bottled water.
But, the use of plastic bottles contributes to environmental degradation. If you love this earth as much as you love to roam across it, invest in portable water purifiers.
With multiple stages and advanced filtration technology, they can provide an endless supply of clean drinking water. Most have a lifespan of 1,500 liters before requiring a filter change.
Get Insurance Before Your Trip
Do you know what the absolute must-have travel accessory is? It's not on the list above. It does not fit into a suitcase, but it is essential to protect you.
We are talking about travel insurance.
An untold number of mishaps might happen on a vacation. From delayed flights that throw a wrench in your schedule, to a sudden bout of malaria that lands you in hospital for a week.
How to mitigate all of these? Buy travel insurance from Insubuy when you plan your vacation.

For visitors, travel, student and other international travel medical insurance.
Visit insubuy.com or call 1 (866) INSUBUY or +1 (972) 985-4400

Why Choose Insubuy?
Over 700 5-star reviews on Trustpilot. An impressive feat by any standards.
A+ accreditation by BBB attests to their transparency.
PCI DSS compliant security ensures that your card data is always safe.
Multilingual website with content in Mandarin, Italian, Portuguese, Spanish and several more languages for easy navigation.
Easy access to customer care from 8:00 A.M. – 7:00 P.M. Central Time, five days a week.
Expert guidance allows you to pinpoint the insurance product perfectly suited for you.
Wrapping It All Up
Enjoy yourself on your vacation, but be cautious. Accessories can make your trip easier, but they can't help you if you act recklessly.
Ensure that your travel documents are safe by having digital copies stored in the cloud. Buy a global SIM that lets you stay in touch with friends and family back home.
Most of all, be careful and act sensibly.
We are sorry that this post was not useful for you!
Let us improve this post!
Tell us how we can improve this post?