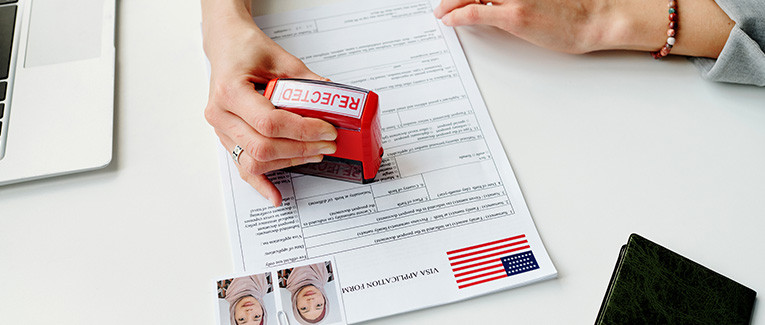 The alien must demonstrate that the activities she/he plans to engage in while in the United States are consistent with the activities allowed by the type of visa for which he is applying.
Unlike the authority given to USCIS officers regarding the adjustment of status applications, consular officers do not have the authority of discretion. A consular officer must issue an immigrant visa to an applicant who is otherwise eligible. A consular officer can not refuse to issue an immigrant visa on the basis of discretion. If the person is found to be ineligible for an immigration visa, the denial must be based on hard factual evidence. The consular officer must specify the specific reason to the applicant and give an opportunity to refute it.
Following are several possible reasons:
Missing Documents/Public Charge
If the immigrant visa is denied because of missing documents (under section 221(g)), you can get those documents and go back to the consulate again. In this case, your passport will be returned to you and all other documents will be retained. The consular officer will explain to you what information or documents are required and how to proceed. Or you may be given a 221(g) letter that explains that.
If you were refused under section 212(a)(4) because the consulate determined that you would be a public charge in the United States, you can reappear again with new evidence.
This is really not a rejection. These are temporary refusals and you can overcome that by submitting requested documents.
If your case was refused for any reason other than incomplete or insufficient documents, you can reappear again with new evidence. E.g., for the U.S. Consulate in Mumbai, you may return to the Consulate with new information and request reconsideration, on any workday, at 7:30 AM except for the second and last Friday of the month and Indian and American holidays.

Incomplete I-864 Affidavit of Support
Form I-864, Affidavit of Support, and its supporting documents must be valid, correct, and complete. An affidavit of support is required for most family-based immigrants and some employment-based immigrants. Many immigrant visas are rejected (or at least delayed) for failure to provide it.
Form I-864 is a complex form. Petitioners are strongly encouraged to seek professional assistance, e.g., a lawyer, an immigration expert, or an accountant experienced with the use of this form, to assist in completing it. The regulations governing the use of these forms are very specific, and consular officers now have extremely limited discretion when evaluating these affidavits.
Medical Examination
Another common reason for the refusal of an immigrant visa case is the applicant's failure to complete the medical examination prior to the immigrant visa interview.
If a person has one of the specified illnesses, and they are no longer contagious, there should be no problem. The visa officer will want to see proof that the applicant will continue receiving treatment, but this is a problem that can be solved. If the person has an illness that makes it likely that they will be unable to work in the future, then the officer will probably want additional proof of support from a relative.
Fraud/Misrepresentation
Anyone who misrepresents a material fact in his/her own case or attempts to smuggle an unqualified applicant may be permanently barred from entering the United States on any sort of visa, immigrant or nonimmigrant, even if otherwise qualified to get an immigrant visa.
Revocation
If the petition is approved by the USCIS, but the consulate detects something that indicates the case should not have been approved, the consulate returns the case to NVC for tracking purposes. The case stays at the NVC for a few days and NVC then returns it to the USCIS, which processes the revocation.
Refusal Consequences
If it is denied under the grounds of exclusion such as fraud, criminal convictions, alien smuggling, a prior stay in the United States in unlawful status of more than 180 days followed by a departure, dangerous contagious illness that presents a threat to public health, terrorist, drug trafficker, etc., you won't be allowed to enter the U.S. again. That would also happen in the adjustment of status, if you were already in the US and applied from the U.S., It is just that as Adjustment of Status (AOS) takes a longer time, you can stay in the U.S. for a longer time until you are removed from the U.S. because of AOS denial.
If they refused your visa for more serious reasons, e.g., you were deported from the United States, they caught you trying to smuggle an unqualified person, they caught you making a material misrepresentation about your case, or because of any arrests or suspected criminal activity, then it is likely that your case will require a waiver from the Department of Homeland Security. You or your relatives should contact the nearest Department of Homeland Security office for more information about obtaining a waiver.
Whatever reason that gets your immigrant visa denied (other than incomplete documents) will almost certainly be a ground for denial of any other non-immigrant visas.
The fact that you have applied for an immigrant visa is undoubtedly the ultimate form of "immigration intent". Therefore the consulate can reject your non-immigrant visa application based on this fact.

NVC
NVC has no authority to review the granting or refusal of any immigrant visa case for the applicants that went for their interview at the U.S. Embassy/Consulate. If you want to have more information about the processing of an immigrant visa case that has already been sent to a U.S. consular section abroad or to request a review of a visa refusal, please contact the U.S. consular office where the visa case was processed.
We are sorry that this post was not useful for you!
Let us improve this post!
Tell us how we can improve this post?