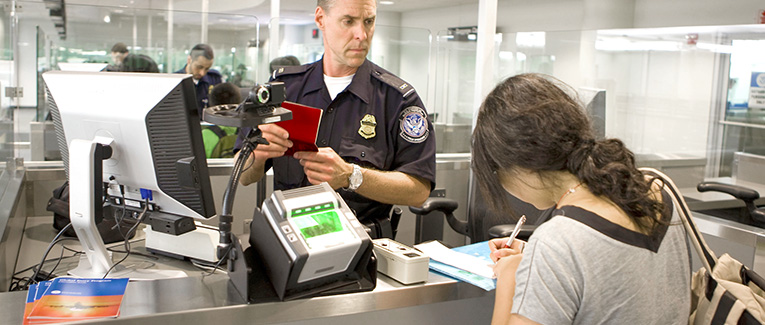 Entry Restrictions
Just like any nonimmigrant entering the U.S., people entering under the VWP will be examined. An immigration officer at the port of entry will examine your application and may check your name against various databases to see if you have overstayed any past visa, have a criminal history, or are otherwise inadmissible (e.g., you have tuberculosis, have no money to support your trip, are a known criminal/spy/terrorist). If that is the case, you will have to return home immediately. There will be no hearing, and there will be no second opinion. You are allowed to attempt to return to the U.S. anytime (unlike visa holders that may have to wait for 5 years before trying again, if refused entry), but you must leave the U.S. first.

No Hearing
If people who entered the U.S. on visas are deported by the USCIS, they will be a permitted hearing first in front of an immigration judge. If you entered the U.S. under the VWP, if you stay past your 90-day limit, and if the USCIS decides to deport you, you will not have a hearing before being deported. You must immediately leave.

No Extension or Change of Status
You cannot extend your stay beyond 90 days, and you cannot change your status to another category, nonimmigrant or immigrant. For example, if you want to stay longer to see more tourist places, if you received admission into your dream university, or got a lucrative job offer, you can't just extend your stay or change your status, as those who entered on regular visas may be allowed.
If you already entered the U.S. on another non-immigrant visa, upon expiration of authorized duration, you can't change your status to stay under Visa Waiver Program to extend your stay. Visa Waiver Program is applicable while entering the U.S.

Exceptions
There may be rare exceptions where you are allowed to stay longer, such as a true medical emergency, or you need to apply for political asylum.
Also if you marry a U.S. citizen or are an immediate relative of a U.S. citizen (minor, unmarried child or a parent), you will be able to apply for a green card while you are in the U.S.

Inconsistent Intentions
If you are coming to the U.S. to work, study, or to immigrate for any other purposes inconsistent with the allowed purposes of the Visa Waiver Program, you will be refused entry.

Non-Approved Carrier
You may not enter the U.S. by non-signatory air or sea carriers.

No Frequent Visits
After you have entered the U.S. through the Visa Waiver Program, stayed in the U.S. (or, more precisely, U.S., Canada, Mexico, and adjacent islands) for any period up to 90 days, and leave the United States, there is no minimum period requirement to stay abroad before attempting to enter again using the Visa Waiver Program. You can enter as many times as you wish. However, that does not mean you can stay in the U.S. the majority of the time. There should be a reasonable amount of time between visits so that the CBP Officer at the Port of Entry does not think you are trying to live here. Immigration officers at the port of entry can deny your admission.

Arrests/Conviction of Crime
If you were ever (no matter how long ago) arrested, convicted of, or punished for a crime involving moral turpitude, you are not eligible for the Visa Waiver Program. It does not matter whether the conviction was recorded or not. If you have any doubts, simply apply for a visa first.

Drunk Driving Charges
If you were ever charged with drunk driving offense, you should apply for a visa first.

Minor Traffic Offenses
If you have minor traffic offenses on your record, you can travel under the Visa Waiver Program as long as the offense did not result in an arrest and/or conviction for the offense.
If your traffic offense occurred while you were in the U.S., if you have an outstanding fine against you, or you failed to attend your court hearing, there may be a warrant out for your arrest. You may have problems entering the U.S. under the Visa Waiver Program. Before traveling under the VWP, you should try to sort out the matter with the concerned court.

Prior Visa Refusal
If you have been refused a visa under Section 214(b) or 221(g), it does not automatically make you ineligible for the Visa Waiver Program. However, ESTA authorization may be denied, you may be thoroughly questioned at the port of entry, or denied entry altogether. You need to carry strong evidence of your intention to depart the U.S. at the end of your visit. You must show the evidence of strong social and economic ties to your home country.

Transit
Transiting the United States using the Visa Waiver Program is permitted. However, there are several restrictions.
Destinations:
Canada, Mexico, or adjacent islands: Can transit the U.S. both ways (initial and return journey) and can use any mode of transport, as long as the total time spent in the U.S., Canada, Mexico, or adjacent islands doesn't exceed 90 days.


Transiting to a final destination other than Canada, Mexico, or adjacent islands: Return journey must be on a participating carrier, but not necessarily within 90 days, as you will need a new application under the Visa Waiver Program to transit again.


Taking up residence in Bermuda, Canada, or Mexico: If you are transiting the U.S. to take up residence in these countries, you must be a legal permanent resident of these areas.


Previous Violation of VWP
If you previously overstayed the 90 days permitted under the VWP or violated any other terms of the VWP, you can't enter again using the Visa Waiver Program.
We are sorry that this post was not useful for you!
Let us improve this post!
Tell us how we can improve this post?