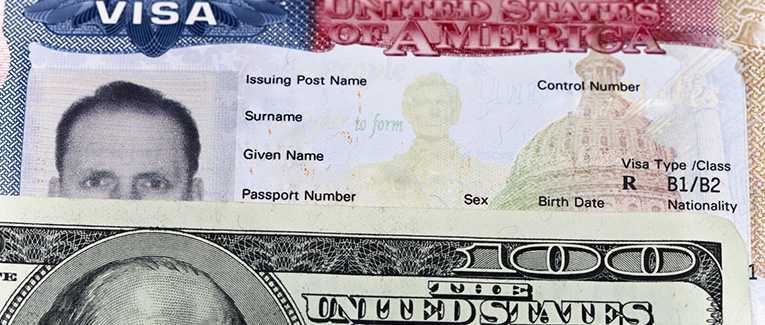 Complete information for a visitors visa or tourist visa to the USA.
You will find information about documents to be prepared by the sponsor, by the visitor, and information about the application by personal interview procedures. You will also find tips for steps to take after getting a visitors visa and at the port of entry.
Foreign citizens (like from India, China, etc.) who wish to visit the United States temporarily must first obtain a visa. Those coming to the US as tourists, to visit friends or relatives, for medical treatment, or to conduct business, must obtain a visitor's visa (B-1 for business or B-2 for pleasure/medical treatment). B1 and B2 are non-immigrant visas. Such visas are normally issued up to a period of 3 months to 10 years. Once the visitor is in the USA, an additional extension of 6 months can be obtained upon approval by the USCIS.
Persons planning to enter the United States for different purposes, such as to study, temporary employment, crew service, journalism, religious work, etc., must apply for a different category of visa. Persons who want to remain in the United States indefinitely or plan to seek employment cannot be classified as visitors.
Applicants for visitor visas must show that they qualify under the provisions of the Immigration and Nationality Act. The presumption in the law is that every visitor visa applicant is an intending immigrant. Therefore, individuals applying for visitor visas must overcome this presumption. Applicants must demonstrate that they have a residence in their home country which they do not intend to abandon, that they wish to enter the United States for a specifically limited period, and that the purpose of the trip is to enter the United States for business, tourism or medical treatment.
There are many countries whose citizens do not require a visitors visa to enter the United States temporarily. Visa Waiver Program
Unless previously cancelled, a visa is valid until its expiration date.
While every applicant is looked at independently, some of the factors that affect the outcome of your visitors visa application are listed below:
Positive Factors
Your are above the age of 60 years.
You own a house in your home country.
You have traveled to other countries before.
Negative Factors
Your age is between 15 and 30 years.
You are not married.
You are a widow or widower.
You don't make good money.
You do not file an income tax return.
You frequently visit certain countries.
Someone has filed an immigrant petition for you.
Your passport was lost at any time.
You have a communicable disease.
You are involved in any court cases.
You were sentenced for some crime at any time in the past, no matter how small.
You have past due alimony for wife and/or kids.
Someone may have given negative information about you to the US consulate.
We are sorry that this post was not useful for you!
Let us improve this post!
Tell us how we can improve this post?