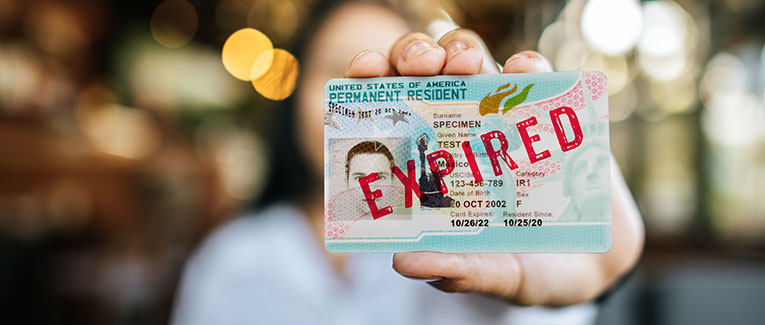 Having a Green Card in the U.S. means that you have permanent residency. Every year, hundreds of thousands of those living in the U.S. with some type of temporary visa become eligible for a Green Card. At present, there are over 13 million Green Card holders.
By law, one is required to carry a Green Card on their person. In practice, that is seldom the case. Fearing they might lose it, most immigrants tuck it away safely with their passport.
Unfortunately, they might not notice that their card has expired. For those who are unconditionally permanent residents, the card expiry happens after ten years.
Those who have received a conditional Green Card need to renew every two years.
Green Card Expiry and Renewal Rules
Those who are unconditionally permanent residents do not lose their residency status if the card expires. They would have to file an I-90 form as soon as possible, and renew the card with fees of $540.
It is best to start this process of renewal when there are 180 days remaining before expiration. This allows renewal without any break, since the process takes a few months to complete.
Those who have received a conditional Green Card need to apply for removal of conditions with 90 days remaining before expiration. This type of card changes to an unconditional Green Card on renewal. It is best that you do not let a short-term Green Card expire, and be sure to file an I-75 petition well in advance. The expiration date is mentioned on the front of the card to avoid confusion.
Problems That Arise Due to Green Card Expiration
1. You can't get hired
To continue living in the U.S., you need a job. If you are a Green Card-holder, you cannot always access government benefits and unemployment programs. That is why a suitable livelihood is essential.
If your Green Card has expired and you have not noticed, you cannot get hired. If you happen to lose your existing job, it is impossible for you to legally obtain a new job.
Every employer has to submit an I-9 form. This form is to verify that you are permitted to work in the U.S., and also confirm your identity. The I-9 form requires that you have a valid Green Card, since you are an immigrant.
In case of expiration, there is really no way out. You have to visit the nearest USCIS office and ask for an I-551 stamp on your passport that allows you to work until your Green Card is renewed.
The I-9 form has to be submitted on your first day at work. An appointment with USCIS can take weeks to arrange. Your employer might not be willing to wait that long, and may arrange for a replacement candidate.
2. You can't acquire/renew a professional license
From real estate to insurance, many professions require you to periodically renew your license. Like a job, this too requires that you have identity papers.
As an immigrant, if you are unable to produce a valid Green Card, your license will not be renewed, which means you lose your professional credentials.
At least temporarily, you would be in immense distress. If your license was needed for a job, like a CPA license for work at an audit firm, you would be discharged from duty or put on the bench for a few months.
Your resume is important. Gaps such as these might create problems when you seek other opportunities.
3. Purchasing property
Almost everyone has to take out a mortgage when they buy a property. A permanent resident is able to obtain loans at the same rates that apply to U.S. citizens.
However, just like a job, you need to prove your status as a permanent resident. If your card has expired, you are no longer eligible for loans from federal bodies such as Fannie Mae or Freddie Mac. These institutions underwrite the loans given to low and middle-income borrowers.
If you are contemplating purchasing a home or property in the next year, begin the process of Green Card renewal as soon as possible.
4. Reentering the U.S. without a Green Card
If you travel regularly, you put yourself at greater risk. When you try to reenter the U.S., you will face problems.
Many airlines are required to check valid visas when you board a flight. Since you have a Green Card, you are not eligible to apply for any other type of visa to try and reenter the U.S. If your Green Card has expired, you cannot board a flight.
Even if you reach a U.S. airport, a Customs and Border Protection official will ask you for a valid visa. Since you have none, you might have to pay a huge fine. In the worst-case scenario, reentry might be refused.
Travel with an Expired Green Card
If you are inside the U.S. and your card has expired, yet you have to travel abroad, immediately arrange a meeting with USCIS. They can provide an I-551 stamp on your foreign visa. An I-551 stamp is a one-year grant of permanent residency.
At the same time, file an I-90 application for Green Card renewal before you leave the country. The downside is that it is difficult to get an immediate appointment with USCIS.
For those whose cards are about to expire, but they need to travel to their country of origin due to pressing issues (such as the illness of family members), this is indeed a stressful experience.
If Your Card Expires Outside the U.S.
It might be that you returned to your country of origin, and unfortunately, the situation was such that you had to stay for a few months. In the meantime, your Green Card is nearing expiration, or has expired.
You have to visit the nearest U.S. Consulate and ask for I-131 permission. This is a motion that allows you to return to the U.S. and renew your Green Card. The same is true if you are abroad and your Green Card has been lost or stolen.
Some Green Cards issued in the 1980s lack an expiration date. You need to replace these with a newer Green Card that has an updated photograph as soon as possible.
We are sorry that this post was not useful for you!
Let us improve this post!
Tell us how we can improve this post?