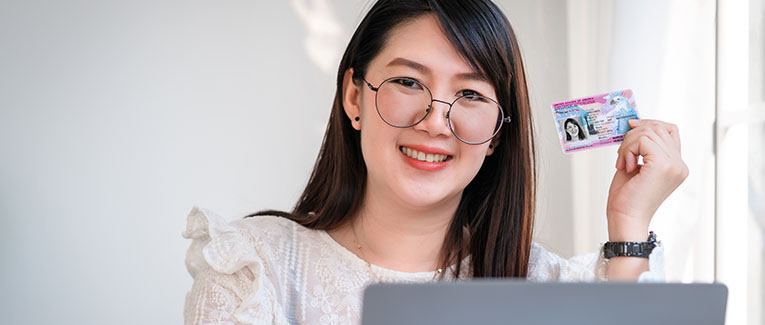 Employment Authorization Document (EAD) allows certain foreign nationals in the U.S. to get a work permit. Every employer in the U.S. must make sure that all employees are allowed to work in the U.S., regardless of their citizenship or national origin. When hiring a new employee, the employer must complete Form I-9 that verifies eligibility to work in the U.S., and an EAD can be one of many ways the person is authorized to do so.
An EAD is usually valid for one year or two years, depending on the category under which it was applied. The EAD comes in a card format, looks somewhat like a driver's license, and its size is similar to a credit card that can fit in a wallet. An EAD card contains the alien's name and photograph and expiration date of work eligibility. The EAD card allows the foreign national to legally work for any employer.
Eligibility for EAD
There are many categories of foreign nationals who are eligible to apply for an EAD, including but not limited to:
F-1 Students with various scenarios

Optional Practical Training (OPT) in an occupation directly related to his/her studies. In order to be eligible for an EAD, they must have been enrolled full-time in an approved school for at least nine months.
Those who are offered off-campus employment under the sponsorship of a qualifying international organization.
Those seeking off-campus employment due to unforeseen economic hardship. Solid documentation proving such is required to be submitted.

Adjustment of Status (I-485) applicants
EAD can be filed either at the time of filing I-485 application or after that.
H-4 Visa holders, under certain circumstances.
J-2 Visa holder, who can either be a spouse or a minor child of an exchange visitor on J-1 visa. However, this employment must not be necessary to support the J-1 and rather for another purpose. A written statement, with supporting evidence, indicating so must be submitted.
K-1 visa holder (Fiancé/Fiancée of a U.S. citizen) or a dependent on K-2 visa, as long as they file an EAD within 90 days of the date of entry.
M-1 visa students who are seeking optional practical training after completing their studies.
Asylees, asylum applicants, refugees, those paroled as a refugee, or family unity program beneficiaries.
EAD Not Required
Not everyone in the U.S. needs an EAD in order to legally work in the U.S. Those categories are described below, including, but not limited to:
U.S. citizen or permanent resident (green card holder).
H (not H-4) and L-1 visa holder who works for a petitioning employer.
J-1 visa holder when employed by the sponsoring organization or appropriate designee.
E, A, C, G, I visa holders when working for a qualifying company, foreign company, or foreign government entity.
L-2 and E dependent visa holders who receive automatic authorization to work in upon admittance to the US by CBP via an "S" stamp on their I-94 (March, 2022 onwards).
O visa holders.
P, Q-1 visa holders when working for petition employer.
F-1 visa holder students in certain circumstances:

On-campus employment less than 20 hours when school is in session or full-time employment when school is not in session as long as the students intends and is eligible to register for the next term or session.
Part-time off-campus employment authorization based on an approved attestation from the employer.
Curricular Practical Training (CPT in cooperating training programs, internships, or work-study programs which are part of an established curriculum) after the student is enrolled full-time for at least nine months.
EAD Application Documents
A separate application, fee, and accompanying documents are required for each person who qualifies to get an EAD.
Fee payment, unless required or waived. Please look in the instructions for details specific to your category.
If you are filing for an EAD along with I-485, Adjustment of Status, no separate filing for an EAD is required.
In addition to the filing fee, a certain category of applicants must also pay a biometric fee.
Form I-765, Application for Employment Authorization
A copy of Form I-94, non-immigrant arrival/departure record, if available
A copy of your last EAD (front and back), if available
2 identical photographs
If you are required to show economic necessity for your category, submit a list of your assets, income, and expenses.
E-Notification: If you want to receive an e-mail and/or a text message that your Form I-765 has been accepted at a USCIS Lockbox facility, complete Form G-1145, E-Notification of Application/Petition Acceptance, and clip it to the first page of your application.
Copy of your current passport.
Category specific documents, as described in I-765 Instructions.
Filing Locations
Please refer to I-765 addresses to determine the filing location specific to your category.
Social Security Number
If you don't already have a Social Security Number, you can request that to be issued to you as part of the EAD application.
Alternatively, once your EAD is approved, if you don't already have a Social Security Number, you can apply for one. You should take your EAD card and passport with you to a Social Security Administration (SSA) office.
Apply for Social Security Number
I-140/I-485 Concurrent Filing
There are several specific rules that apply for issuance of EAD for those who file concurrent I-140/I-485 applications.
An applicant can apply for an EAD either along with an I-485 application or any time after that as long as an I-485 application is pending. If the EAD is not issued by USCIS service center within 90 days, an applicant can obtain an interim EAD at the local district office.
The 90-day clock stops ticking when the service center issues an RFE for initial evidence with reference to the underlying I-140.When the requested initial evidence is received by the service center, the 90-day clock restarts. The previously suspended time does not count toward counting the new 90 days.
EAD is issued "valid from the date of decision" and does not retroactively go back to the expiration date of the current EAD if you are renewing EAD. If there is a gap between two EADs, and if the applicant works during that period, that would be considered as an unauthorized employment.
Keeping the above rules in mind, it is advisable to file an EAD along with filing I-485 application, even if you have a valid/unexpired H1/L1 visa. Just getting an EAD does not put you in EAD status, but using it does. Please look at EAD/AP vs. H/L for more information. In case the person is laid off, and in case the person is eligible for AC 21 and the new employer is willing to do AC 21, but not willing to file new H1 petition, an EAD would be very useful. In case the person reaches the 6-year limit on H1B, an EAD would be very useful in this case, too.
Post-Filing an EAD
Sometime after filing an EAD, USCIS will send you a receipt notice which will have a 13-character receipt number, which is usually 3 letters first, followed by 10 digits. It can take a few months to get the EAD approved.
Using the receipt number, you can track your case status. Alternatively, you can also call the National Customer Service Center at (800) 375-5283.
Once your petition is approved, USCIS will send you a plastic EAD card.
Interim EAD
If you have not received a decision within 90 days (30 days asylum-based application) of receipt of a properly filed EAD application, you can get an interim EAD by appearing in person at a USCIS local office. You must bring proof of your identity and any notices that you have received from USCIS regarding your EAD application, such as the EAD application receipt notice. You can alternatively call the USCIS National Customer Service Center at (800) 375-5283.
An interim EAD will be granted for a period not to exceed 240 days and is subject to the conditions noted on the document.
Renewal of EAD
Eligible persons can apply for renewal of EAD before or after the expiration of the previous EAD issued under the same category.
You CANNOT apply for the renewal of EAD more than 180 days before the original EAD expires.
Procedure for filing the renewal of EAD is the same as new EAD, except that you need to provide the copy (front and back) of the previous EAD while applying.
Replacement EAD
If your EAD is lost, stolen, or destroyed, you may request a replacement EAD by applying again and paying a filing fee.
If USCIS mailed an EAD and you didn't receive it, you can submit an inquiry to USCIS for non-delivery of a card.
If your EAD contains inaccurate information, you have to apply again to get it corrected.
If it was not due to a USCIS error, you will have to pay the filing fee again and apply all over again. You have to submit the EAD card containing the error.
If it was due to a USCIS error, you don't have to submit a new form or filing fee. Instead, you need to send the original card containing the error, a detailed explanation of the card error and any supporting documentation on the correct information.
EAD Denial Appeal
If your EAD application was denied, USCIS will send you a letter listing the reasons for denial. You can submit a motion to reopen/reconsider to the USCIS office that made the decision to deny it.
By doing so, you are asking USCIS to re-examine or reconsider its decision. However, you must state new facts for them to reopen the petition. It should be accompanied by affidavits or other documentary evidence. You need to specify how the denial was based on incorrect application of the law.
We are sorry that this post was not useful for you!
Let us improve this post!
Tell us how we can improve this post?