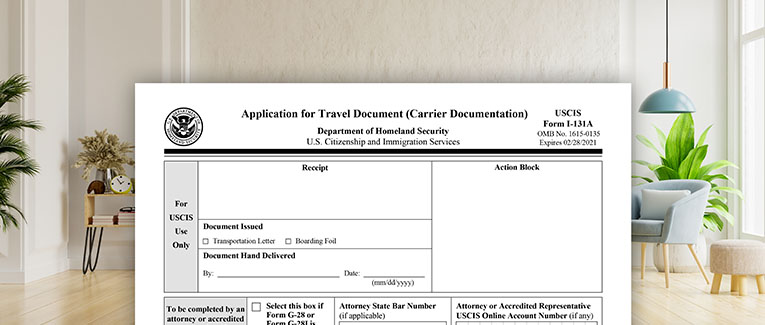 Permanent residents (or even conditional residents in some situations) need to either renew or replace their permanent resident card for a variety of reasons such as it is expiring; has expired; or has been lost, damaged, stolen, etc.

Unlike the old card, which did not have an expiration date, the latest Form I-551 has an expiration date and is required to be renewed every ten years. This enables the U.S. Citizenship and Immigration Services (USCIS) to improve the card with additional features like photographs and makes them less susceptible to fraud.

You will not lose your permanent resident status if you have not yet applied for a replacement green card nor will you be penalized if you have not yet applied for a new card. However, lawful permanent residents are required by law to carry evidence of their status, and expired I-151s no longer meet this requirement.

If your green card was lost or stolen, file a police report to avoid the possibility of misuse.

There is a simple alternative to a green card replacement for those who qualify to apply for a citizenship. As a U.S. citizen there is no need for a green card. Legal permanent residents who naturalize join a diverse family of millions of proud citizens. They are able to participate fully in the American democratic system of self-government, which includes the right to vote and to hold elected office. They never have to worry again about the need for renewing a green card.

Do not use a Form I-90 if you are a conditional resident and your status is expiring. You must apply accordingly to remove the conditions:
If you became a conditional resident through marriage to a U.S. citizen or permanent resident, submit a Form I-751, Petition to Remove Conditions on Residence; or


If you became a conditional resident based on a financial investment in a U.S. business, submit a Form I-829, Petition by Entrepreneur to Remove Conditions.
Reasons to File
If you are a permanent or conditional resident, you may file this application:
To replace a lost, stolen, mutilated, or destroyed card; or

To update a card after a legal change of name or other biographic data; or

To replace a card that has incorrect information; or

To replace a card that was issued to you but you never received.
If you are a permanent resident, you may file this application:
To replace a card that is expiring within the next six months or has already expired; or

You received your card before you were 14 years of age and you have reached your 14th birthday (unless your card expires before your 16th birthday); or

If you have been a lawful permanent resident in the United States and are now taking up a commuter status while actually residing outside the United States; or

If you have been in resident commuter status and are now taking up actual residence in the United States; or

If your status has been automatically converted to permanent resident status; or

If you have a previous version of the card (e.g., USCIS Form AR-3, Form AR-103, or Form Form I-151 – none of them are valid to prove your immigration status any more) and must replace it with the current type of the card (I-551).
Although the old Form I-151 is no longer considered valid since March 20, 1996, the USCIS allows those who may not have received a notice to file the new form and submit an application for the replacement green card with the USCIS or to file for a U.S. citizenship.

The USCIS is currently issuing the green card (Form I-551) with a validity of 10 years and must be renewed prior to the expiration date. Although the permanent resident status does not expire with the card, failure to renew the card could result in being barred from re-entry until a new card can be obtained. This process can easily takes many months. An expired green card is not a valid document for the purposes of employment eligibility verification.
For visitors, travel, student and other international travel medical insurance.
Visit insubuy.com or call +1 (866) INSUBUY or +1 (972) 985-4400
Documents
You can either apply online or by mail.
A separate application form, fees, and set of documents are required for each applicant (including yourself and each of your family members) who needs to replace their green card.
Note: When you submit the application, you must submit initial evidence including your prior permanent resident card or other evidence of identity and any supporting documentation.
Fee Payment
Application fee: The application fee must be sent with the application.
Biometric fee: All applicants, regardless of age, need to pay a biometric services fee for the USCIS to take fingerprints.
Some applicants do not need to pay the application fee and/or biometric services fee, as mentioned in the reasons to file above.

Fee details
Filing The Application
A Form I-90 can either be filed through paper application or electronically, if eligible.
e-Filing instructions
Application Filing Instructions
All paper-based Form I-90 applications along with all supporting documentation must be filed at:
USCIS
P.O. Box 21262
Phoenix, AZ 85036

For USPS Express Mail and Courier deliveries, use the following address:

USCIS
Attention: I-90
2108 E. Elliot Rd.
Tempe, AZ 85284-1806
A pending application for a replacement permanent resident card is temporary evidence of registration.
If you application is approved, you will be mailed a replacement Permanent Resident Card, Form I-551, with a 10-year expiration date from the date of issuance.
If you are outside the United States and your permanent resident card will expire within six months, (but you will return within one year of your departure from the United States and before the card expires), file for your renewal card as soon as you return to the United States.
If you are outside of the United States at the time of the card's expiration, and you have not applied for the renewal card prior to your departure, you should contact the nearest American consulate, USCIS office, or Port of Entry before attempting to file a Form I-90 for a renewal I-551 card.
For visitors, travel, student and other international travel medical insurance.
Visit insubuy.com or call +1 (866) INSUBUY or +1 (972) 985-4400
Fingerprints
If you have reached your 14th birthday since your card was issued, additional fingerprints must be taken. The USCIS will notify you in writing of the time and location where you must go for the required biometric data. Failure to appear for the biometric collection appointment may result in a denial of your application.
If you need to make changes to any information in your submitted application, bring evidence to support the change with you to your fingerprint appointment. Do not send written correspondence regarding it to the National Benefits Center.
Bring the following items to your fingerprint appointment:
Appointment letter

Photo identification. Acceptable kinds of photo identifications are:

A Passport or national photo identification issued by your country, or

Driver's license, or

Military photo identification, or

State-issued photo identification card.

Temporary Evidence
While the USCIS is reviewing your application, if you need temporary evidence of your status for travel or employment purposes, you may request when you are completing the fingerprint and signature requirements.

They will stamp your passport to indicate that you have filed for a new card. The stamp in the passport will serve as proof of the lawful permanent resident status of the bearer. This stamp will enable the person to travel out of the U.S. and re-enter.
Change of Address
While your application is pending, if you need to change your address, follow these instructions.
Withdrawing The Application
To withdraw or cancel your submitted application, send a written request to:
National Benefits Center
705 B SE Melody Lane, Box 2000,
Lee's Summit, MO 64063
Any fees paid while filing the application will NOT be refunded or returned.
Appeal
If your application is denied, you will get a letter from the USCIS explaining why it was denied. While you can't appeal to a higher authority, you may submit a motion to reopen/reconsider their decision with the office that made the unfavorable decision.
A motion to reopen:
It must state the new facts that are to be provided in the reopened proceeding and must be accompanied by affidavits or other documentary evidence.
A motion to reconsider:
It must establish that the decision was based on an incorrect application of the law or USCIS policy and further establish that the decision was incorrect based on the evidence in the file at the time the decision was made.
For visitors, travel, student and other international travel medical insurance.
Visit insubuy.com or call +1 (866) INSUBUY or +1 (972) 985-4400
We are sorry that this post was not useful for you!
Let us improve this post!
Tell us how we can improve this post?