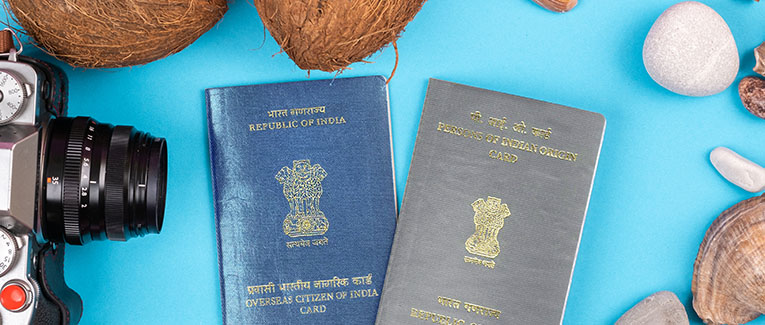 The government of India earlier launched the PIO card scheme for Persons of Indian Origin and later launched OCI card scheme in 2005. They served more or less similar purposes at a high level and was confusing for many people which one to apply for. The government of India discontinued the PIO Card scheme on Jan 9 2015 and eligible PIO cardholders were instructed to apply for OCI card.
This article only describes the differences between the PIO card and the OCI card for reference purposes, as no one is able to apply for PIO card any longer.
There are a few differences in the eligibility, process, cost, and benefits/restrictions of both the PIO and OCI card. This web page compares both types of cards.
PIO Card
OCI Card
Eligibility
Exact wording
People that held former Indian passport or their parents/grandparents/great grandparents were born and were permanent residents of India. Spouse of such people could apply for PIO card as well.
Here
Eligibility basis
Self or either parents, grandparents, great-grandparents or spouse
Self or either parents or grandparents.
No spouse.
Dual citizenship law of current country of citizenship
No restriction
Even though India does not allow dual citizenship, current country of citizenship must allow some form of dual citizenship (Why? Well, that is the rule.)
Excluded countries
Must not have been citizen of Afghanistan, Bangladesh, Bhutan, China, Nepal, Pakistan or Sri Lanka at any time
Must not have been citizen of Bangladesh or Pakistan at any time
Foreign-born children of both Indian citizen parents
Eligible
Not eligible. At least one parent must be foreign citizen of Indian origin.
Application Process
Procedure
One step:
Completely manual process. You must download forms and send the documents to the applicable embassy/consulate or Indian immigration office.

The office will process and send back the PIO card after processing.
Multi step:
Apply online for part A, get a registration number, submit required documents to the applicable embassy/consulate or Indian immigration office.

Central processing of applications will occur in New Delhi, India.

Ministry sends OCI cards to embassy/consulate.

Applicant deposits passport to get OCI card stamped in passport.
Processing time
About 2 to 4 weeks
About 3 to 4 months
Application fees
$365 for adult, $185 for child below 18 years of age
$275 for US citizens ($295 for non-US citizens) for adult. $25 for PIO card holder if US citizen. ($45 for non-US citizen PIO card holder) .
Refund for Application Fee(s)
None
Refunded after deducting $25 processing fee, if OCI card can't be issued
Card at no charge
Only to exceptionally eminent person of Indian origin
To no one
Photograph
White or light background
Light background
No white background
Duplicate card fee
$100
$25
Benefits/Restrictions
Validity
Lifelong

If you get a new passport, you can either travel with both old and new passports, or you can get new passport number endorsed in the PIO card. No need to reapply.

It used to be valid for 15 years earlier. However, on Sep 30, 2014, government of India announced that all (prior and future) PIO cards would be valid lifelong.
Lifelong

Important Note: Even though that they say OCI is valid lifelong, for anyone under 21 years of age when the initial OCI is issued, you will have to apply for new OCI all over again one time when you get a new passport once you are 21 years of age or older.

The procedure, documents requirements and the timings is the same as the initial OCI application, except the fees are lower. (Additionally, Renunciation of Indian passport requirement will apply.)


Visit/Work
Yes
Yes
Government employment
No
No
Study
Yes, under NRI quota
Yes, under NRI quota
Reporting to police authorities
Not required for any length of stay
Not required for any length of stay
Voting rights
No
No
Can take part in various housing schemes of LIC, state governments and other government agencies
Yes
Yes
Can hold Constitutional posts such as President, Vice President, Judge of Supreme Court/High Court etc
No
No
Can become a candidate of Lok Sabha/Rajya Sabha/Legislative Assembly/Council
No
No
Can acquire agriculture or plantation land
No
No
Can inherit agriculture or plantation land
Yes
Yes
Acquisition, holding, transfer and disposal of immovable properties in India except of agricultural/plantation properties
Yes
Yes
Indian passport
No
No
Indian citizenship
Can apply for Indian citizenship after being ordinarily resident of India for 7 years
Caution: You would lose your foreign citizenship (such as US Citizenship) if you become an Indian Citizen.
Can apply for Indian citizenship after 5 years. Must have stayed in India for at least 1 year.
Caution: You would lose your foreign citizenship (such as US Citizenship) if you become an Indian Citizen.
Consular access
Yes
Indian Government Says: No
US Government Says: Yes
Indian civil/criminal law while in India
Yes
Yes
Rupee bank account in India
Yes
Yes
Can lend in rupees to Indian residents
Yes
Yes
Can make investments in India
Yes
Yes
Can own a brokerage account
Online trades are generally not allowed. ICICI Direct says No. It may be allowed for certain mutual funds in certain situations. It may also vary based on the brokerage company.
PAN number required. Paper signature required.
INR rates at hotels in India instead of bloated USD rates
Officially, all non Indian citizens are supposed to pay USD rates. At such places, there are only two categories of rates: Indian citizens and foreigners. They don't have any category for NRI, PIO or OCI. However, a person who is of Indian origin and "looks Indian" would generally be able to get away without paying higher fees, as the documents such as Passports are not checked at most of those places. Any photo ID will be enough.
Entry fees for National Parks and Wild Life Sanctuaries
Same as the note above for hotels
Parity with Indian Nationals
Separate immigration counter at international airports in India
Yes
Yes
Travel to protected area / restricted area
With permission
With permission
Mountaineering, missionary and research work and existing PAP/RAP
With permission
With permission
Domestic Airfares
Non-Indian citizen rates
Parity with Resident Indians
Inter-country adoption
Same as non-Indian citizen
Parity with NRIs
We are sorry that this post was not useful for you!
Let us improve this post!
Tell us how we can improve this post?