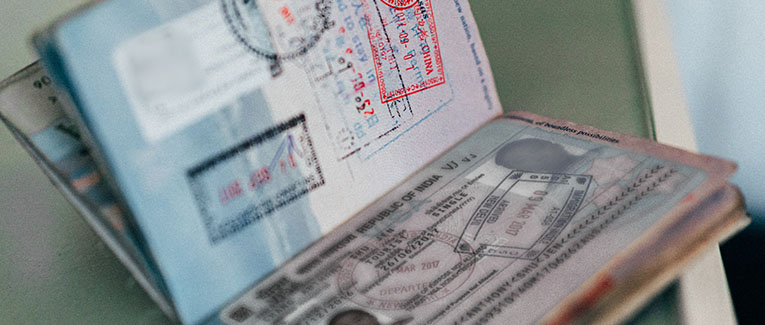 Foreign nationals desirous of coming into India are required to possess valid passports of their country and a valid Indian visa. Those arriving in India without a visa bearing the correct validity dates and number of entries are subject to immediate deportation on a return flight. The U.S. Embassy and Consulates in India are unable to assist when U.S. citizens arrive without visas.
There is no fee is charged for immigration facilities at airports. Foreign passengers should ensure that they are in possession of a valid Indian Visa before they start their journey to India. Nationals of Nepal and Bhutan do not require a visa to enter India, and nationals of Maldives do not require a visa to enter India for a period of up to 90 days (a separate visa regime exists for diplomatic/official passport holders). Nepal and Bhutan require a passport to enter India if coming from countries other than Nepal and Bhutan respectively. Nepalese and Bhutanese citizens are exempt from the requirement of passports if entering India from Nepal or Bhutan, respectively only.
However, there is a provision granting TLF (Temporary Landing Facility) or TLP (Temporary Landing Permit) to allow entry of foreigners arriving in emergency situations like death/serious illness in the family without an Indian visa on cash payment of US$40/- (Indian Rupee equivalent, i.e. Rs. 2400/-). This facility can also be extended to transiting foreigners who have confirmed onward journey tickets within 72 hours. Apart from this, foreign tourists in groups of four or more arriving by air or sea, sponsored by recognized Indian travel agencies and with a pre-drawn itinerary, can be granted a collective landing permit for a specified period of time. This is only on the written request of the travel agencies to the immigration officer giving full personal and passport details of the group members, as well as intent to conduct the group as per the itinerary, with the assurance that no individual is allowed to leave the group at any destination. The above-mentioned provisions of TLF/TLP, however, are not available to the nationals of Sri Lanka, Bangladesh, Pakistan, Iran, Afghanistan, Somalia, Nigeria, Ethiopia, and Algeria.
Depending on the purpose of stay in India, there are different visa categories.
Each traveler, including minor children, must have a valid visa to travel to India.
Persons of Indian origin, their spouses and children can apply for OCI (Overseas Citizenship of India) instead. Of course, such persons can still get Indian visas if they so desire.
Even with Indian visa, travel to certain parts of the country is prohibited. If you would like to travel to any of those areas, you would need to get Protected Area Permit.
VFS Global
Effective November 2, 2020, Indian Embassy and Consulates in the USA have outsourced the visa collection and delivery processing to VFS Global.
Please note that this outsourcing is not for everything. Indian Embassy and Consulates still handle the following themselves:
Emergency visa cases from applicants of Indian origin on extreme compassionate grounds.
Applicants can not apply for the transfer of visa. If the applicant already has a valid Indian visa on the old passport, they can either carry the old passport (with valid Indian visa) along with the new valid passport or apply for a regular visa.
Visa applications must be made to VFS Global, according to your jurisdiction.
VFS Global is a service company only. VFS Global does not issue visas or in any way determine or control the issuance of, or terms and conditions of, visas, all of which is determined and controlled solely by the Consulates of the Embassy of India. VFS Global is not and cannot be responsible for any determinations, acts or omissions by the Consulates.
We are sorry that this post was not useful for you!
Let us improve this post!
Tell us how we can improve this post?