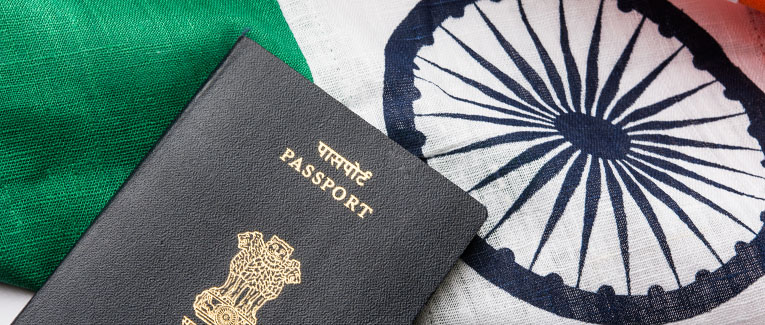 Note: Effective Nov 2, 2020, Indian government has given the contract to VFS Global. Previous contract with CKGS has ended. We are updating the instructions as they become available.
Unlike earlier passports, new passports that are being issued do not carry "ECNR" endorsement because ECNR is included by default.
Ghost Image:
In Washington DC, New York, and Houston jurisdiction, passports are not issued with a ghost image printed on it. In Atlanta and Chicago jurisdiction, passports are issued with a ghost image printed on it. However, if the passport was printed in India for Houston jurisdiction, it will have ghost images.
Application Procedure
Keep the following documents handy before proceeding:
Adult:
Minor:

Recent original Indian passport (in case of renewal)
Parents passport
Details about US legal status
Follow the procedure as described below:
Passport Widget:
Visit VFS Global Website.
Answer the questions in the widget. Based on your passport requirement and category, the purpose of renewal, miscellaneous services needed, etc., it will generate a document checklist.

It will also show

Documents checklist which lists the documents, letter, whether original or copies are required, which documents have to be notarized or self-attested, number of documents needed, etc.
Required Documents
Temporary number
You can use this number on the VFS GLobal web site to apply later or disconnected. Make sure to write this number down or you will have to start the application all over again.

For visitors, travel, student and other international travel medical insurance.
Visit insubuy.com or call 1 (866) INSUBUY or +1 (972) 985-4400

Documents Preparation:
Based on your answers in the widget, wherever repetitive information is needed, those fields are already auto-populated in various forms. Please review the forms and supply additional information, as needed. Print all the forms and documents as per the Document Checklist provided.

Sign the documents where indicated. Check which documents need to be self-attested or notarized, which documents need any copy or color copy.

Along with the documents, please print the document checklist and tick the boxes as you complete the documents. You must enclose one copy of the filled Document Checklist.

Signature:
Signature should be clear, legible, and within the box. For minor applicants under the age of 5 years, right-hand thumb impression for girls and left-hand thumb impression for boys should be provided.

Application Tips

Print all the documents on one side of the page. Double-sided printouts are not accepted.

Do not staple photographs or documents.


Government of India Application Form:
Complete an application form at Government of India.

You will get a Web Reference Number'. Check the number next to 'WEBFILE NO:' which will have a format such as 'USASP0421E16'.

Return to VFS Global web site at Already filled in the Government Online NRI Passport Form and continue the rest of the online process. Make sure to enter Web Reference Number (not the temporary tracking ID), along with the passport number and date of birth to continue to the process. VFS Global system will check all the details that you provided them and that in the Government of India form. If you made the mistakes in either of the processes, the system will an error. You will have to start the entire application process all over again, unfortunately.

It is recommended that you do not fill the Government of India Application Form online first before going through the VFS Global process, as it will increase the chances of the details not matching.


Application Submission:
Submit the application, either by shipping or in-person by appointment.


Once you have submitted the application, you can read more about processing and tracking it.


For visitors, travel, student and other international travel medical insurance.
Visit insubuy.com or call 1 (866) INSUBUY or +1 (972) 985-4400

Ineligibility
Certain category of Indian citizens are ineligible to apply for passport or any other consulate services:
B1/B2 : Applications can only be accepted under lose & damaged category. No prior approval from the consulate is required. San Francisco will issue only short validity passports.


AS6, AS7, AS8, and CO8, C visa holders are not eligible for re-issue or any service on passports.


Refugees from India will not be given an Indian passport. However, for the purposes of returning to India, they can apply for travel documents through U.S. border protection (CBP). CBP officer will issue them an Emergency Certificate (EC) at the time of departure from the US, which is good for one-way travel from the US to India.
Indian Passport Application Submission in USA
An application for Indian passport in the USA can be submitted to VFS Global by shipping. Submit the documents in person to VFS Global, according to your jurisdiction. The details are described below:
Shipping:
Shipping your documents to VFS Global is a preferred method as it saves travel times and parking charges, as well as avoids waiting at the VFS Global application center.

You can use the Shipping method for sending the documents as well as receiving the passport back.

When you choose the shipping method, please print the label which will be automatically addressed as follows:



Attn To:

Passport Application
VFS Global IPAC NAME
C/O Passport Department
IPAC Address
IPAC Location
IPAC Zip Code

Shipping arrangements

Once VFS Global receives your application, you will receive an email acknowledgment with the status 'Received, but Not Verified'. Once they verify your application, you will receive another email indicating the outcome of the verification process.
Walk-In (By Appointment):
Current unavailable due to COVID-19.

While making an online application, you will select the 'Walk-In' as the submission option and follow the steps below:



Choose your 'Appointment Date'.
Select your time slot
If the date/time slot is already booked, the next available option will be displayed
You will get a confirmation of your appointment date and time booked.
Come in person at the VFS Global Application Center at the designated appointment date and time to submit your application.

Appointments can be booked through My Account as well. You can also cancel your appointment and reschedule.

The application can be submitted in person either by the applicant or immediate family member of the applicant, with a proper authority letter and proof of relationship.

In case you are applying for a minor child, both parents have to present themselves at the counter. If one of the parents is unable to attend, an authority/consent letter must be given by the parent not attending, authorizing the other parent to apply alone.

For visitors, travel, student and other international travel medical insurance.
Visit insubuy.com or call 1 (866) INSUBUY or +1 (972) 985-4400

Indian Passport Renewal or Fresh Passport
An Indian passport is normally valid for 10 years from the date of issue. The expiration date is denoted by the term 'Final' or 'F' after the expiration date. e.g., 12.05.2009 (Final) or 12.05.2009 (F). You can not renew the passport for more than one year before the expiration date of your current passport.

When a new passport is issued, the old passport(s) will be cancelled and returned to the applicant. Valid visas in the old passport are not cancelled and can be used till the expiration date of a given visa.
My Account
Currently unavailable.
You can access My Account for a wide variety of services. In order to access My Account, you need Web Reference Number, Passport Number, and Date of Birth.
Once you login, you would be able to access the following:
Track Application Status


View Applicant details


View Service details


Download and Print Documents and Forms


Download and Print Shipping Label


Download and Print Payment Receipt


Make Payment


Purchase Shipping and other value-added services


Upload missing / additional documents requested
Indian Passport Application Processing and Tracking
VFS Global is not liable for applications lost in transit.


VFS Global's role is solely on processing applications. They have no impact on the outcome of the decision or the processing time, as they are determined by the Embassy/Consulates of India in the USA.


Any false documents or other misrepresentation of information in support of the application will have a direct bearing on the judgment of their application by the Embassy/Consulates of India in the USA.


Application Tracking
When you schedule an appointment, you will be provided a Reference number generated by VFS Global. Reference number printed on the online application form is NOT valid for tracking with VFS Global.
Online:
You can track your application by entering your Tracking ID / VFS Global Web Reference Number, Passport Number and your date of birth.

Track Application

You can also use the above link for tracking your courier by providing Airway Bill Number and Passport Number.

For visitors, travel, student and other international travel medical insurance.
Visit insubuy.com or call 1 (866) INSUBUY or +1 (972) 985-4400

Application Processing
Even if the applicant meets all the laid down requirements for obtaining a particular service, the Consular Officer reserves the right to demand any necessary additional and original documents at any stage of processing. The documents demanded by the Consular Officer should be presented by the applicant for scrutiny and satisfaction of the Consular Officer before the service is rendered.


The processing timings are indicative and can vary from time to time.


The processing time does not apply to services where prior approval has to be obtained from authorities in India or elsewhere. For such cases, the processing time is a minimum of thirty (30) business days.


The Consular Officer can at any time call an applicant for a personal interview.


Applicants are advised to refrain from making telephonic or written inquiries of the status of their applications during the normal processing time.


The Consulate will return applications that:

are incomplete or not correctly completed; and/or


lack supporting documents; and/or


have been mailed with an inadequate fee; and/or


have other deficiencies
When the Consulate returns such applications, they would utilize the return postage/envelope supplied with the application that was originally meant to send back the completed application/documents.

The government of India is not responsible for any inconvenience or problems faced due to any rejections or delays.



When you get a new passport, your old passport will be cancelled and returned to you. Any visas in the old passport are still valid until the date of expiry. You would need to carry both the passports to travel using the visa in the old passport.


If you would like someone else to pick up your processed passport, you will need to give authority letter to pick up the passport


Your passport will be returned to the address given on the application. If your address changes while your application is in process, please inform the India passport application center.
We are sorry that this post was not useful for you!
Let us improve this post!
Tell us how we can improve this post?