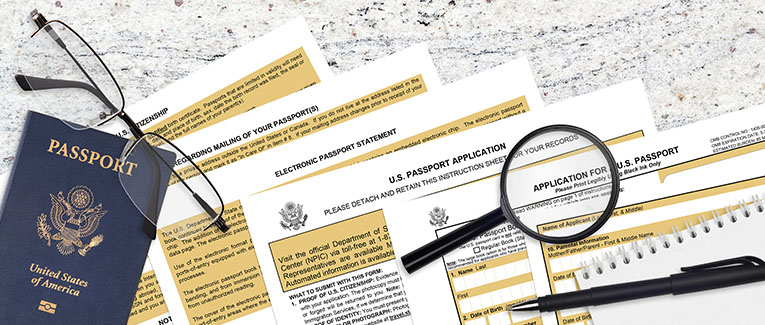 If you are applying for the passport for the first time, you must appear in person. For minors under age 14, both parents must appear in person as well as the child and it requires both parents' consent.
Following documents are required to apply for a US passport:
Complete application Form DS-11 online by answering the questions. It will auto-generate the form based on your answer. Please print it out.

Proof of US citizenship using US birth certificate or Naturalization Certificate

Proof of identity such as passport, naturalization certificate, certificate of citizenship, current valid driver's license. Both parents must present evidence of identity when they apply for a child under 14.

2 passport photos.

Your photographs must be

2×2 inches in size
Identical
Taken within the past 6 months, showing current appearance
Color or black and white
Full face, front view with a plain white or off-white background
Between 1 inch and 1 3/8 inches from the bottom of the chin to the top of the head
Taken in normal street attire
Uniforms should not be worn in photographs except religious attire that is worn daily.
Do not wear a hat or headgear that obscures the hair or hairline.
If you normally wear prescription glasses, a hearing device, wig, or similar articles, they should be worn for your picture.
Dark glasses or nonprescription glasses with tinted lenses are not acceptable unless you need them for medical reasons. A medical certificate may be required.

More detailed information on photographs

Vending machine photos are generally not acceptable.



Application fee
Based on age, the online wizard will display the applicable fees.

Note: When applying at one of the thousands of designated application acceptance facilities in the U.S., you pay the passport processing fee to the 'U.S. Department of State' and the execution fee to the facility where you are applying. Acceptable forms of payment vary. When applying at a Regional Passport Agency, both fees are combined into one payment to the 'U.S. Department of State' and may be paid by check (personal, certified, travelers'), major credit card (Visa, Mastercard, American Express, Discover), bank draft or cashier's check, money order (U.S. Postal, international, currency exchange), or if abroad, the foreign currency equivalent, or a check drawn on a U.S. bank.

You can apply either at one of 13 passport agencies or over 6,000 passport acceptance facilities.

13 Passport Agencies Accept:
For Passport Application and Execution Fee Credit Cards – VISA, MasterCard, American Express, Discover Debit/Check cards (not ATM cards) Checks, money orders, bank drafts

Over 6,000 Passport Acceptance Facilities Accept:

For Passport Application Fee
Personal checks, money orders, and bank drafts at all locations Exact cash at some locations

For Execution Fee
Money orders and bank drafts at all locations Personal checks and exact cash at some locations Credit cards at U.S. Postal Facilities and some other locations.

Expedited Service – Add $60 for each application

Additionally, to receive your passport as soon as possible, it is strongly suggested that you arrange an overnight delivery service for sending your passport application and returning your passport to you.


Provide your social security number.
When applying for minors under age 14, there are additional requirements as follows:
Present Evidence of Child's Relationship to Parents/Guardians.

For this, submit US birth certificate with both parents' names in it.


Provide Parental Identification.
Carry both parent's driver's licenses or passport(US or foreign) for this.


Present Parental Application Permission Documentation

Either

Both parents must appear together and sign or
One parent appears, signs, and submits second parent's Statement of Consent: Issuance of a Passport to a Minor Under Age 14, Form DS-3053 authorizing passport issuance for the child.
Details given above should be sufficient for most applicants. You can find additional information at Dept. of State website.
We are sorry that this post was not useful for you!
Let us improve this post!
Tell us how we can improve this post?