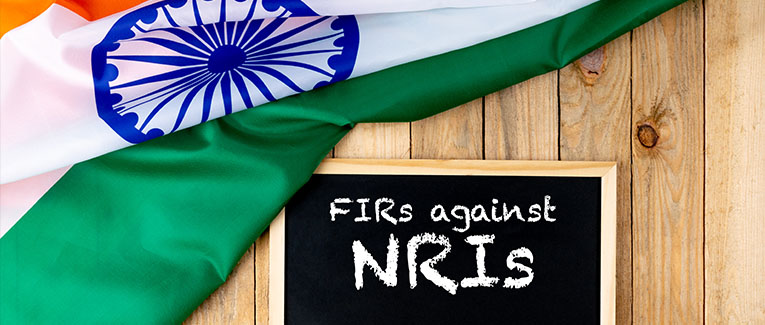 Lawsuits in Indian court cases are long-drawn, messy, and frustrating—even more so if you are an NRI. The associated stress and cost of frequent travel for hearings compound the misery.
Quite often, NRIs are victims of First Information Reports (FIR) filed out of spite. They could be from a grumpy neighbor, a vindictive spouse, or a jealous relative making reports against you at the police station on various grounds ranging from trivial and frivolous to grave.
Whatever the reason, once the case reaches the court, the affected parties have to come to the court for a hearing. A failure to do so may be termed as contempt of court.
However, taking pre-emptive action against such mischievous or malevolent police complaints in India can save you a lot of money and pain.
You can petition to quash the FIR.
Quashing FIR
Only the Supreme Court and High Court of India can quash an FIR. First, you should petition the High Court to quash the FIR. If the High Court denies or rejects the petition, you may approach the Supreme Court.
If the court is convinced that an FIR is frivolous, they will order the police to stop pursuing it.
Should the NRI Come to Court?
Thankfully, no. Your attorney can file the petition to quash an FIR without you being required to appear in court.
The High Courts of Punjab and Haryana provided the relief in a landmark judgment in the Kuldip Singh Jaswal versus Jaspal Singh, 2015(45) R.C.R.(Criminal) 991 case in 2015.
Grounds for Quashing FIRs
The High Court will annul an FIR if:
It is convinced the FIR is frivolous and that pursuing the case might abuse the court's process and time.
The petitioners reach a compromise. However, the court would use its discretion to determine the severity of the case before quashing it.
File the Petition to Quash the FIR As Soon As Possible
Advocates insist that a quash petition should be filed as soon as an FIR is registered. Failure to do so may lead police to issue a Look Out Circular (LOC), resulting in your detention upon arrival in India.
Anticipatory Bail Vs. Quash Petition
Anticipatory bail is not a good option in this context. The application may require you to appear in-person for the bail.
An anticipatory bail application may also force the police to press for non-bailable arrest warrants in some cases.
Quashing Charge Sheet
The process is similar to that of quashing an FIR.
Police file a charge sheet after the investigation. Some people prefer to wait for the charge sheet before approaching the court regarding quashing petitions.
Waiting for the charge sheet is fraught with complications, as investigations generally take time and might require your presence during the process. The court can also require your presence.
We are sorry that this post was not useful for you!
Let us improve this post!
Tell us how we can improve this post?