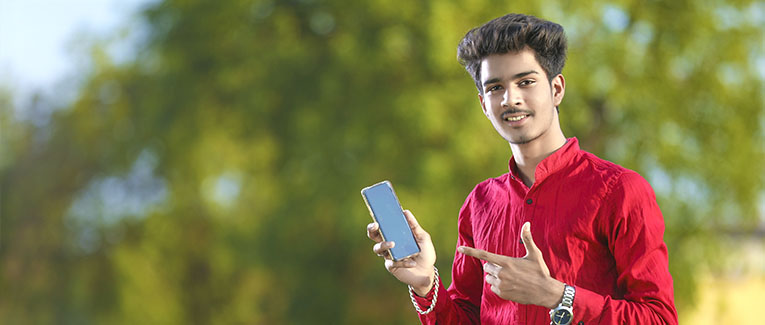 You will find it hard living without an Indian SIM card in India unless you are a monk. You'll need it for almost everything, from making electronic payments to talking with friends and family.
Using your overseas phone number in India can be a costly affair. Thus, obtaining a local number is the sensible thing to do. Get it the moment you land in India. Otherwise, you risk running up substantial roaming charges on your international SIM card.
Buy the card at the airport itself. Most of the Telecom Service Providers (TSP) have either agents or a kiosk stationed at the airport to sell the SIMs. Document verification is more comfortable, as you already have them handy from your flight. By the time you reach home from the airport, the SIM card would already be activated.
Purchasing a SIM from Outside the Airport
The mobile revolution has brought SIM cards to every nook and cranny of India. There are almost one billion active mobile phones in India.
If you are unable to equip yourself with Indian SIM card at the airport for some reason, you could always visit a local retailer for your needs.
Nowadays, service providers bring SIMs to your home, as well. Just visit the websites of Airtel, Vi, or Reliance Jio for more information.
Note: We don't endorse and are not affiliated with any of the commercial services mentioned above. They are simply popular options that are widely and easily available in India.
Documents required
You will need to submit self-attested copies of the following documents to purchase a SIM card:
Passport
Valid visa
Overseas address proof
Self-attested passport size photos
Once you have the SIM card, you must call the TSP to activate the number before you can use it.
Is Your Phone Compatible?
A U.S. phone may not work in India due to frequency issues. Be sure to check. However, India's GSM frequency is similar to that of most of Europe and several other countries.
You can also buy a burner phone (use and throw) in India and insert the Indian SIM.
Short Life of SIM Cards
The shelf life of Indian SIM cards is three months. If you do not use your SIM for three months, it becomes inactive. You would lose your current Indian phone number, and when you purchase a new card, you would get a new number.
However, some people take the Indian SIM with them. They activate international roaming and use it once or twice every few months to keep the SIM card active and valid.
How much should the SIM card cost?
The prepaid SIM cards typically cost around ₹200. An average local call/SMS might cost you between 60p to ₹1, depending on the package chosen. 4G data would be available for around ₹500/GB.
International calls are around a ₹7/minute, while texts are ₹5.
You may also look for a 3G/4G dongle (₹1,200) at a local TSP if you depend on the Internet.
We are sorry that this post was not useful for you!
Let us improve this post!
Tell us how we can improve this post?