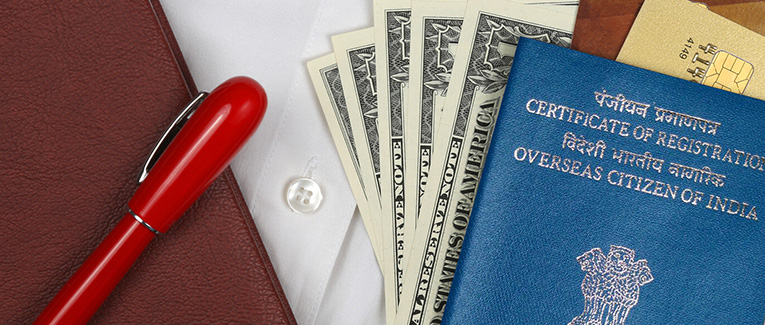 Service Type
Consular Fee
ICWF Fee
Service Fee
Total
New OCI Card
$275.00
$3.00
$15.90
$293.90
OCI in lieu of PIO Card
$100.00
$3.00
$15.90
$118.90
OCI in lieu of Lost PIO Card
$200.00
$3.00
$15.90
$218.90
OCI in lieu of Damaged PIO Card
$200.00
$3.00
$15.90
$218.90
Applied from another jurisdiction other than the jurisdiction of residence applicants must apply for OCI in Lieu of PIO card
$100.00
$3.00
$15.90
$118.90
OCI Re-issue (New Passport)
$25.00
$3.00
$15.90
$43.90
OCI Re-issue (Lost/Damaged)
$100.00
$3.00
$15.90
$118.90
OCI Misc.
Change of Particulars
Change of Appearance
Correction of OCI Online Form
Change of Address/Occupation
$25.00
$3.00
$15.90
$43.90
Renunciation of OCI
$25.00
$3.00
$15.90
$43.90
OCI Fee Notes:
If you do not know your OCI account of file reference number, visit this website to retrieve it.
An application fee in U.S. dollars, or their equivalent in the local currency, is required for each applicant. This fee cannot be waived for anyone.
Payment has to be made separately for each applicant. If applying in a group, the total applicable fee for each individual should be paid separately.


If your CC/MO/PO is not honored (by you putting a 'stop payment' or for any other reasons), you will be charged a penalty in addition to the penalties levied by the bank. If you refuse to pay them, legal action will be taken, including the cancellation of the service, if already provided.

Location Specific:
Application in USA:



Non-U.S. citizens applying in the U.S. should add $20 to the fees listed above.


Non-U.S. citizens residing in the U.S. for less than 2 years must pay a reference fee of $20, in addition to other fees.


Payment should be made online using debit or credit card (3% charge) or using demand draft, money order, cashier's check, or banker's check favoring "VFS GLobal". Personal checks are not accepted. Payment by cash can be accepted only if applying in person. If paying by money order, please write the tracking number/web reference number at the back of the money order.


VFS Global charges a $15.90 service fee (already listed above) per application.


For Biometrics fingerprinting, please add $0.50, and for Biometrics fingerprinting / Facial biometrics, please add $1. Please note that this is not required in all cases.


You can make one money order or cashier's check for all the fees together.


The application fee can be paid by an individual or his immediate family members.


If you would like to withdraw in the middle of the process, you will get the consular fee refunded minus $25. There will be no refund of the service fee.


If you would like to withdraw the application after you have already submitted the original passport, there will be no refund.


If you have paid the fees online, you must send/bring the original payment receipt along with all the documents.



Application in India:



An amount of ₹ 15,000 has to be paid for each applicant by Demand Draft in favor of "Pay and Accounts Officer (Secretariat), Ministry of Home Affairs" payable at New Delhi.


In the case of PIO Card holders, an amount of ₹ 1,400 has to be paid in case of adults and ₹ 8,000 in case of minors.


Additionally, you need to submit a copy of a valid Indian visa/Residential Permit as well.

We are sorry that this post was not useful for you!
Let us improve this post!
Tell us how we can improve this post?