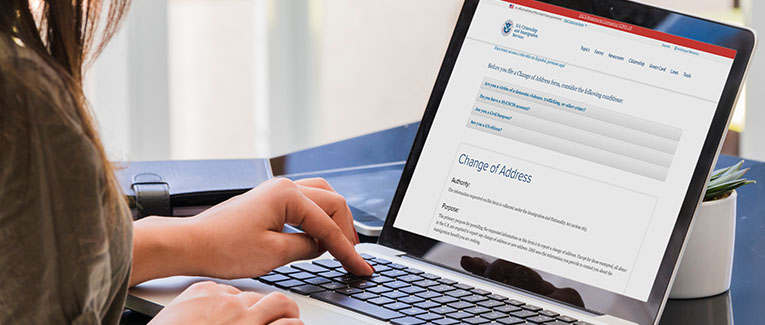 All aliens (non-U.S. citizens) are required to keep the USCIS informed of their current address, within 10 days of changing the address. It is also mandatory for "special registrant" aliens.
It is especially important when you have an application or petition pending with USCIS and are waiting to get notification of a decision.
Additionally, USCIS may need to contact you to provide other issued documents or return original copies of evidence you submitted.
Exceptions: Aliens exempt from this requirement are diplomats (A visa), official government representatives to an international organization (G visa), and certain non-immigrants who do not possess a visa and who are in the U.S. for less than 30 days.

Reporting

You can file Form AR-11 online at the USCIS website. This is the easiest and most convenient option. You get the confirmation immediately. Keep that confirmation for your records as proof.
Alternatively, fill out Form AR-11, the Alien's Change of Address Card, and send it to the address mentioned in the form itself.
There is no fee to file this form, and you don't have to send any other supporting documents, photographs, or anything else with the form. Only the form is required.
You must file a separate form for each family member. Those in F, J, and M status would, instead of filing AR-11, file a change of address within ten days to the designated school official (DSO) or responsible officer (RO) at the school or exchange visitor program, who in turn would update the SEVIS record within 21 days.

Tips

When sending the paper form, use certified, registered, or receipt mail that will give you proof that you indeed mailed the form just in case there is any problem in the future.


Fill out the form completely.


Do not file this form to report a temporary address as long as you maintain your present address as your permanent residence and continue to receive mail there.


You need to report only the most recent last address, not numerous last addresses.


Submit a separate form for each individual applicant. Do not submit just one form for the entire family.


Include all applicable receipt numbers to ensure that the address is changed for all forms pending.

Warning

A willful failure to notify USCIS of a change of address (by filing AR-11) within 10 days of the address change is a misdemeanor crime. If convicted, the alien (or parent or legal guardian of an alien under age 14 who is required to give notice) can be fined up to $200, imprisoned up to 30 days, or both. The alien may also be subject to removal from the United States. Aliens must comply with the requirement of notifying USCIS for any address changes as it is a condition of an alien's stay in the United States. Failure to comply could also jeopardize the alien's ability to obtain a future visa or other immigration benefit.
If you move without notifying the USCIS of a change of address, USCIS mail may not be forwarded by the U.S. Postal Service. It may be returned to the USCIS mailing office as undeliverable. USCIS may destroy the mail if not claimed by the applicant within 1 year.

Pending Application

If you have a pending application with USCIS, and you moved since you filed your application, you must inform USCIS of your new address. The procedure is different based on where you filed your application/petition.
Online:
This is the easiest option. You can visit the USCIS website and change the address there. You will receive the confirmation number at the end of the process. Keep that along with your other immigration documents as proof.


At the Service Center:
You must call USCIS customer service at 1-800-375-5283 to report the change of address and get the address on the pending application/petition changed.


Local Office:
Send a letter to a USCIS field office

Sample letter
Additionally, if you are a non-U.S. citizen, you must file Form AR-11, as described above.
Pending Application – Suggestion

It is best not to move (change addresses) or take any long trips while the application is pending. USCIS or the consulate may send you a request for more information or schedule your interview at any time. Missing such an important notification may result in long delays in getting your immigration/visa application approved.
Even if you follow all of the procedures above when you change your address, nothing is guaranteed. They may lose such notifications. Therefore, also have your mail forwarded by postal service or, if possible, check regularly with the new people living in your previous home.
We are sorry that this post was not useful for you!
Let us improve this post!
Tell us how we can improve this post?