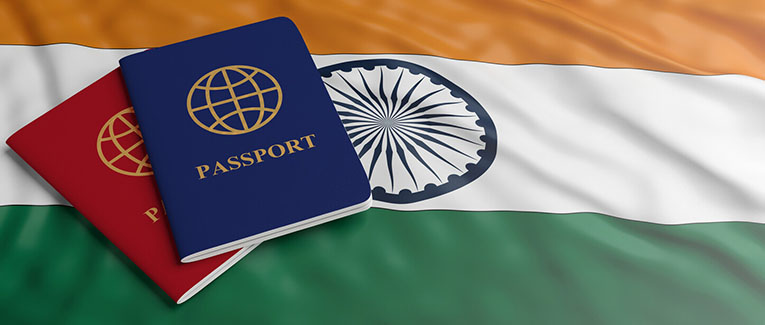 For NRIs, Indian citizenship can be a limiting factor in their global endeavors.
Henley & Partners, a London-based global citizenship and residence advisory firm, ranked the Indian passport at the 84th spot on the list of the world's most powerful passports. India got a score of 58, which means only 58 countries offer visas on arrival with an Indian passport. To give you some perspective, the UK and the U.S. have a score of 184.
This means that the Indian passport isn't great for frequent flyers.
Also, when you live away from the homeland, it is natural to think about getting foreign citizenship.
But are you ready to give up your Indian citizenship? There is no possibility of getting dual citizenship in India, and renouncing Indian citizenship is the only way you can acquire foreign citizenship.
Now, you might feel that renunciation of your Indian citizenship is like cutting ties with your motherland. But, the decision to forgo your Indian citizenship to pursue the acquisition of foreign citizenship is not just an emotional one.
Here are certain questions that you need to ask yourself before deciding.
What will be your responsibilities after acquiring foreign citizenship?
It is obvious that you already know the benefits of foreign citizenship. That's why you want it, right? But you should know your responsibilities, too. Every country has different citizenship duties. You should be aware of them before applying for the country's citizenship.
In the U.S., for example, you might have to serve in the army or attend jury duty if you get U.S. citizenship, and you'll have to file income tax in the U.S. for a lifetime on your global income, irrespective of where you live.
Consider whether you are willing to give up the benefits of Indian citizenship in exchange for the benefits you get with foreign citizenship.
What will you lose if you renounce Indian citizenship?
When you forgo your Indian citizenship, here is what will change:
You'll need a Restricted Area Permit (RAP) and Protected Area Permit (PAP) to travel to certain locations in India. You'll need a RAP to travel anywhere in the Andaman and Nicobar Islands and parts of Sikkim. A PAP is needed to travel to Arunachal Pradesh and parts of Ladakh, Rajasthan, Sikkim, and Uttarakhand.
You will need a visa to visit India, and you will need to register with the Foreigner Regional Registration Office (FRRO) if you wish to stay for longer than 180 days.
If you choose to retire in India as a foreign citizen, you'll get limited rights in the country. If you give up your Indian citizenship, your minor children will be foreign nationals for all legal purposes, as well. You might need to pay extra for admission to Indian educational institutions. And you and your children won't be able to represent India in sports at the international level.
Note: Renunciation of Indian citizenship won't affect your NRI bank accounts. But all future foreign currency accounts that you open in India will be NRE accounts.
Renouncing Indian citizenship in favor of foreign citizenship is not just a matter of the legal responsibilities and privileges that will change. You need to decide what benefits you are ready to forgo and what responsibilities you are comfortable fulfilling.
FAQs
Is there a middle ground?
Several countries allow dual citizenship, but India is not among them. This leaves you no choice but to decide on the one citizenship that brings you the most benefits.
There has been a growing demand for dual citizenship from the Indian Diaspora. Considering this, the Indian Government introduced the [/oci-card/] Overseas Citizenship of India (OCI) scheme. The scheme was introduced in August 2005 after amending The Citizenship Act, 1955.
The OCI scheme gives OCI cardholders certain rights shared by NRIs and regular citizens. Though it is not exactly dual citizenship, it is certainly advantageous. For one, you get a lifelong visa permit. Also, you don't have to register with the FRRO if your stay exceeds 180 days.
You can read more about the OCI status here.
There are two more points that you need to consider before getting an OCI card:
The OCI card is allotted to you only if the other country whose citizenship you acquire allows dual citizenship.
Certain countries, like the UK, consider OCI cards as citizenship of another state. This means if you have British citizenship and an OCI card, you cannot get another country's citizenship.
Can I get Indian Citizenship Back After Renouncing It?
Yes, you can.
You can apply for Indian citizenship under section 5 of The Citizenship Act, 1955. However, registration as an Indian citizen is subject to whether or not you qualify by the conditions mentioned.
If you have an OCI card for more than five years, you can apply to regain your Indian citizenship—but only if you stay in India for one year or more during the time of holding your OCI card.
We are sorry that this post was not useful for you!
Let us improve this post!
Tell us how we can improve this post?