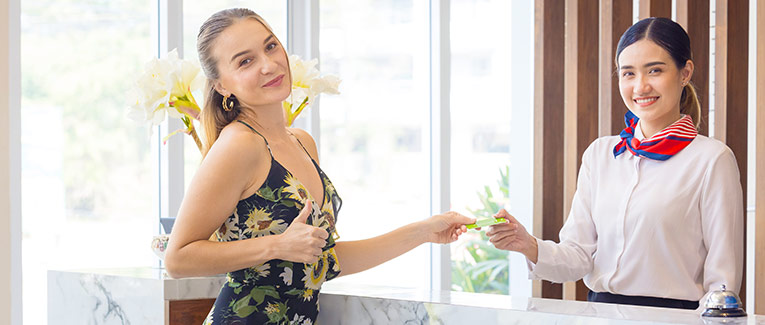 A hotel concierge can make a noticeable difference in your experience at a hotel. So, just ask away. Don't hesitate to make requests.
Who is A Concierge?
A hotel concierge is a professional appointed by the hotel to serve guests. They are like your personal assistants in a new land. They can do things for you that aren't easily possible on your own.
Is Concierge the Same as the Front Desk?
Technically, the front desk staff is only in charge of checking you in on arrival and checking you out at departure. Their duties revolve around checking paperwork and settling the bill.
Upgrading your stay from good to great, better to best, and lovely to splendid? That is the concierge's job.
It will just take you a couple of seconds to ask for the concierge, and those couple of seconds are worth it. After all, you'll have a lot better stay with a concierge aiding you.

For visitors, travel, student and other international travel medical insurance.
Visit insubuy.com or call +1 (866) INSUBUY or +1 (972) 985-4400

Here's What Your Concierge Can Do for You
Forgot to bring something? The concierge will always have some spares for you to use during your stay. If not, they'll arrange it for you.
Want to look for the nearest parks? Kid's zone? Clubs? Pubs and bars? Concierges are local area experts. They'll guide you better than Google's recommendations.
If you want to look your very best for a special event, trust the concierge to guide you towards a spa, salon, hairdresser, makeup artist, or even a nail studio.
If you forget your prescription medications, need some OTC pills, or even an emergency visit to the doctor, the concierge can look after your health needs. They can get the medicines for you, show you the nearest pharmacist, or even book your visit to the doctor.

However, note that the cost of healthcare will have to be borne by you. The financial burden of a medical emergency during a foreign trip isn't something the concierge will take care of. Travel medical insurance is what will come in handy during such a situation. Get yours before you travel.
The fastest route, the easiest mode of transport, the best time to visit a tourist place, the areas to avoid; your hotel concierge will tell you what Google Maps cannot.

Pro tip: During rush hour, you can avoid paying surge charges for Uber and Lyft by asking the concierge to book a cab for you. They have contacts with cab drivers who will charge you a fair price even during peak traffic hours.
Even before you arrive at the hotel, your concierge can help you plan and schedule your trip. As soon as your hotel room is booked, you can contact the concierge to book local tours or tables for you.
When traveling with pets, concierges can help you get pet supplies, too. You can also ask them for recommendations for pet-friendly activities, restaurants, and city tours.
Celebrating a birthday, engagement, proposal, anniversary, or any other occasion? The concierge can help you with the setup. Want flower petals? Balloons? A cake? Candles? Coordination with housekeeping? The concierge will be at your service.
For busy businesspeople on work trips, the hotel concierge can offer services like getting printouts, photocopies, signage, posting documents, FAX facility, and even finding conference rooms and places to hold meetings.
A quick crash course before an adventure activity never hurts. Ask your concierge to help you find adventure activity organizers, as well as safety training providers.
Concierges can also connect you to local dry cleaners and tailors to make sure you look your absolute best.
Looking for the best wine-tasting tours? Want to find local breweries? Thinking of taking a couple's cooking class? How about an art lesson? Need a list of art galleries and museums in town? Leave it to your luxury hotel concierge to find options for you. Plus, they'll make recommendations to help you choose.
Want to book a table? Need tickets to a concert or music festival? Need to make reservations for a show/movie/play? All your ticketing and booking needs can be taken care of by the concierge.
Need a babysitter or a pet sitter while you explore the city or enjoy a peaceful dinner? If the hotel doesn't already offer pet and babysitting services, your concierge can connect you to a trusted professional for the job.
Vegans, people with dietary allergies, and those with special dietary needs can communicate their requirements to the concierge. From menu items that meet your needs, to eateries that you can check out, they can help you find where and what to eat.
From telling you about happy hours in nearby eating joints to pointing you towards thrift shopping destinations, a concierge can also help you save money.
For travelers with special needs, concierges can also help make logistical arrangements. Want a wheelchair-accessible taxi? Need to find doctors that speak a certain language? The concierge will do it for you.
Lost your passport? Need to report a crime? Want to visit the embassy? Want help in finding your lost luggage? Your concierge is the one who can aid you with everything.

For visitors, travel, student and other international travel medical insurance.
Visit insubuy.com or call 1 (866) INSUBUY or +1 (972) 985-4400

Here's What Your Concierge Cannot Do for You
A concierge can help you a lot. But you shouldn't make the following requests:
Don't ask for gossip about other guests or celebrities staying at the hotel.
Never make illegal, dubiously legal, or even immoral requests.
Don't ask them to babysit or take care of your pet. They can connect you with professionals, but caretaking isn't their job.
Don't ask concierges to sell tickets you don't need anymore. They aren't your personal eBay.
Don't expect them to be magicians. They are capable of a lot, but don't be unrealistic.
Don't ask the concierge to make payments on your behalf. If you need financial services, they can direct you to professionals. Don't expect them to float you a loan.
On your next foreign trip, don't forget to use the awesome services of a concierge and unlock the door to a great stay.
We are sorry that this post was not useful for you!
Let us improve this post!
Tell us how we can improve this post?