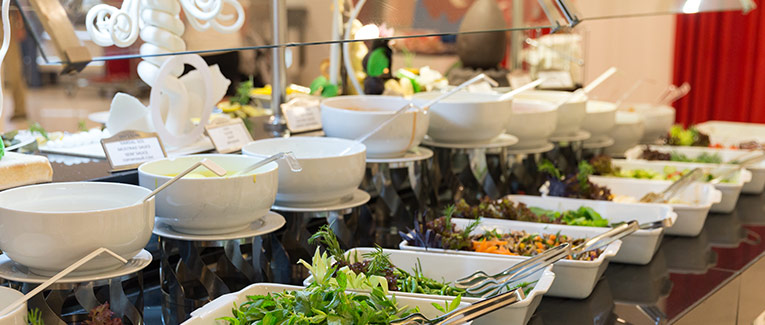 You can lay on the beach, indulge in all of the food you can eat, and gulp down vodkas at two in the morning all without searching for your wallet.
All-inclusive packages offer you the aforementioned scenario. However, stop before you book one for yourself. You should know the advantages and disadvantages of all-inclusive resorts for guests.
In the next five minutes, learn about the pros and cons of all-inclusive packages, then you'll know if you should book one.
Yay: All you need to do is arrive at the resort
An all-inclusive package offers you the opportunity to not have to compare hotel room prices, or research what food you'll get at your travel destination.
All-inclusive resorts are located close to airports, so the resorts offer round-trip transportation as well. Furthermore, if you never leave the resort premises, you won't have to book a cab or rental car.
You can take a dip in the pool at midnight, eat ice cream or sip on coke at 1 in the morning, and lie down on the lounge chair.
Craving a drink but too lazy to get up? The servers are always on call. Order a drink and they will be happy to serve.
Nay: all-inclusive, but conditions applied
The packages never include everything when they say 'all.'
The all-inclusive package includes airfare, resort rooms, and food and drinks. However, you'll pay to use the Wi-Fi. Resorts can charge up to $12 per day.
Prefer a Bacardi, Belvedere, or Dewar's? You'll have to pay to drink premium brand liquor.
Babysitting and massage services cost extra as well. Oceanside resorts charge extra for scuba diving, spa services, and off-resort excursions.
Furthermore, you'll pay an extra 10% to 12% of the bill in taxes and gratuities. Read the fine print before you book an all-inclusive package.
Yay: Eat and drink until you're satisfied
If there's a foodie's paradise, it's inside an all-inclusive resort.
The resort staff set up food and drink stalls across the property. Buffets stay open for breakfast, lunch, and dinner.
Want to eat both the prawn and the lobster? Go ahead. Craving ice cream with chorizo? No problem. Furthermore, grills, ice cream parlors, and bars stay open 24 hours a day.
The resorts offer room service 24 hours a day as well, and all the rooms have a fully stocked minibar. Grab a glass of wine while you binge-watch your favorite Netflix show in the middle of the night.
The resort includes food and drink prices in the package, so you won't ever have to pay while you're at the resort.
Nay: The food satisfies your stomach, not the taste buds
Wondering why all-inclusive food tastes so bad? The resort chefs mass-produce the food, so quality takes a backseat.
Expect undercooked eggs and meats. The buffets serve cold or reheated food. You can stand in line for an hour to hear the buffet ran out of food.
You'll find only non-premium liquor brands. Expect no Bacardi, Dewar's, or Belvedere. If you want to have premium brand alcohol, you'll need to pay a surcharge.
Yay: Stay secure inside the resort
One of theadvantages of all-inclusive resorts is the high level of security.
Resorts employ in-house security forces. The resort security implores strict regulations to monitor the people inside the resort. Furthermore, outsiders won't enter while the resort is hosting people.
The resorts offer food, sports, and entertainment to make sure you stay inside. Never worry about running after your kids on the road to save them from traffic, and no one will snatch your purse because you veered off into the wrong part of the city.
Nay: The locals never benefit from your money
There is nothing better about traveling to a new country than the ability to help the locals while you vacation. One of the disadvantages of all-inclusive packages is you cannot help the locals.
Eat at a local restaurant. Shop at a local handicraft store. The money helps locals buy their food. The locals pay their kid's school fees with the money.
However, premium hotel brands offer all-inclusive packages. So, when you pay the hotel brands, the money helps to run the brand's operations, and nothing goes to the locals.
Yay: You spend less when you pay once
A study by Post Office Travel Money confirmed all-inclusive packages are 27% cheaper than a bed-and-breakfast with food and drink included. The company compared the all-inclusive package prices with three-star hotel prices and flight ticket prices.
If you book a four-week all-inclusive package for five people, you'll pay less than a trip to Disneyland.
Furthermore, if you never leave the resort, you won't buy ten t-shirts from a gift store while you stroll around the neighborhood.
Nay: You're confined with people you may not like
All-inclusive resorts stay packed with people. Everyone loves to travel without having to plan every detail. In addition, you pay less than if you booked a hotel and paid for each meal.
Furthermore, families with children book all-inclusive packages. Expect a child to bump against you and spill your drink, or splash around in the pool right next to you.
You can stand in line for an hour in front of the buffet, and if you're not willing to come early, you won't get a seat to look at the sun setting over the sea.
Expect delays in group tours, including an off-resort excursion, because a fellow traveler didn't arrive in time.
Yay: You never overspend
Remember the extra $100 you spent on jackets on your trip to Antigua?
When you travel without an all-inclusive package, you spend more money. Why? Rideshare companies hike the prices, or your kids want to eat the overpriced ice cream every night.
In an all-inclusive package, you pay for everything before you get on the plane. Thus, you decrease your chances of overspending.
Yay: Sports, movies, and excursions — all paid for
All-inclusive resorts offer board games including cards, chess, dominos, Jenga, and backgammon. You can also play sports like tennis, volleyball, and darts.
If you prefer binge-watching movies, you'll find something on all the time in the outdoor theater. The resort staff host special events including stand-up comedy, concerts, and short plays.
You can participate in water sports including snorkeling, water skiing, and kayaking as well. Professional water sports instructors guide you, so you're never in danger.
Who should choose an all-inclusive package?
Is it better to go all-inclusive or not? The answer varies.
If you are traveling for the first time and you are nervous about all the planning you have to do, choose an all-inclusive package. If you want to stick to a fixed budget, all-inclusive packages offer the solution. Furthermore, choose all-inclusive packages if you prefer not to worry about booking cabs and finding restaurants.
Whether you choose the all-inclusive option or not, there's a world of adventure that awaits you. So, pack your bags, purchase travel insurance, and take the vacation you've always dreamed of.
We are sorry that this post was not useful for you!
Let us improve this post!
Tell us how we can improve this post?