In this particular case, a U.S. citizen petitioner filed the I-130 form in F4 category for her sister (beneficiary) who lives in India. This RFE was generated because the beneficiary's birth was registered more than one year after the actual birth.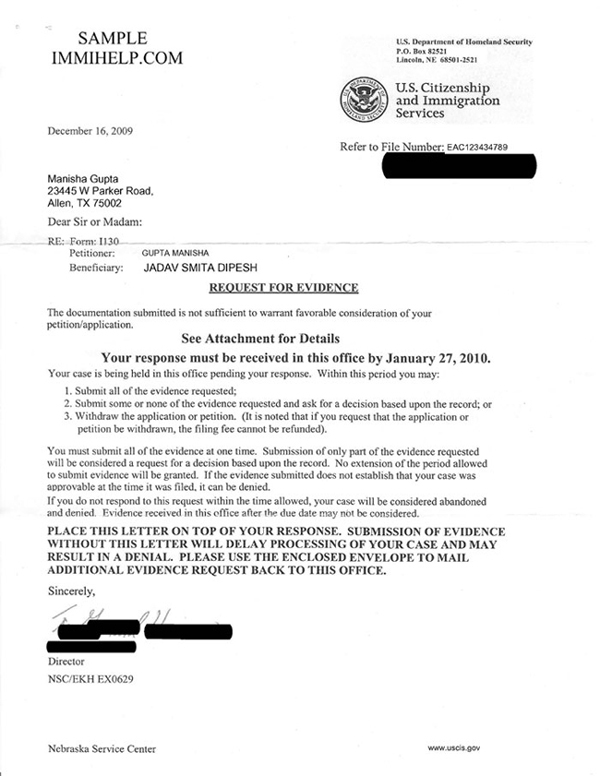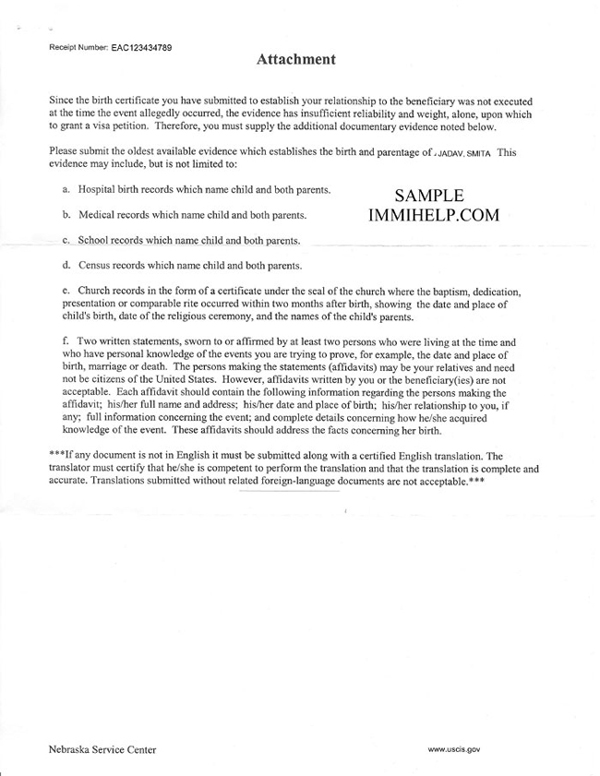 U.S. Department of Homeland Security
P.O. Box 82521
Lincoln NE 68501-2521
U.S. Citizenship
and Immigration
Services
Refer to File Number: EAC———
April 16, 2019
Manisha Gupta
23445 W Parker Road
Allen, TX 75002
Dear Sir or Madam:
RE: Form: 1130
Petitioner: GUPTA MANISHA
Beneficiary: JADAV SMITA DIPESH
REQUEST FOR EVIDENCE
The documentation submitted is not sufficient to warrant favorable consideration or your petition/application.
See Attachment for Details
Your response must be received in this office by May 27, 2020.
Your case is being held in this office pending your response. Within this period you may:
Submit all of the evidence requested;
Submit some or none of the evidence requested and ask for a decision based upon the record; or
Withdraw the application or petition. (It is noted that if you request that the application or petition be withdrawn, the filing fee cannot be refunded).
You must submit all of the evidence at one time. Submission of only part of the evidence requested will be considered a request for a decision based upon the record. No extension of the period allowed to submit evidence will be granted. If the evidence submitted does not establish that your case was approvable at the time it was filed, it can be denied.
If you do not respond to this request within the time allowed, your case will be considered abandoned and denied. Evidence received in this office after the due date may not be considered.
PLACE THIS LETTER ON TOP OF YOUR RESPONSE. SUBMISSION OF EVIDENCE WITHOUT THIS LETTER WILL DELAY PROCESSING OF YOUR CASE AND MAY RESULT IN A DENIAL. PLEASE USE THE ENCLOSED ENVELOPE TO MAIL ADDITIONAL EVIDENCE REQUEST BACK TO THIS OFFICE.
Sincerely,
[Signature]
Director
NSC/EKH EX0629
Nebraska Service Center
Attachment
Since the birth certificate you have submitted to establish your relationship to the beneficiary was not executed at the time the event allegedly occurred, the evidence has insufficient reliability and weight, alone, upon which to grant a visa petition. Therefore, you must supply the additional documentary evidence noted below.
Please submit the oldest available evidence which establishes the birth and parentage of Jadav Smita. This evidence may include, but is not limited to:
Hospital birth records which name child and both parents.


Medical records which name child and both parents.


School records which name child and both parents.


Census records which name child and both parents.


Church records in the form of a certificate under the seal of the church where the baptism, dedication, presentation, or comparable rite occurred within two months after birth, showing the date and place of child's birth, date of the religious ceremony, and the names of the child's parents.


Two written statements, sworn to or affirmed by at least two persons who were living at the time and who have personal knowledge of the events you are trying to prove, for example, the date and place of birth, marriage or death, The persons making the statements (affidavits) may be your relatives and need not be citizens of the United States. However, affidavits written by you or the beneficiary(ies) are not acceptable. Each affidavit should contain the following information regarding the persons making the affidavit; his/her full name and address; his/her date and place of birth; his/her relationship to you, if any; full information concerning the event; and complete details concerning how he/she acquired knowledge of the event. These affidavits should address the facts concerning her birth.
***If any document is not in English it must be submitted along with a certified English translation. The translator must certify that he/she is competent to perform the translation and that the translation is complete and accurate. Translations submitted without related foreign-language documents are not acceptable.***
Related links:
We are sorry that this post was not useful for you!
Let us improve this post!
Tell us how we can improve this post?