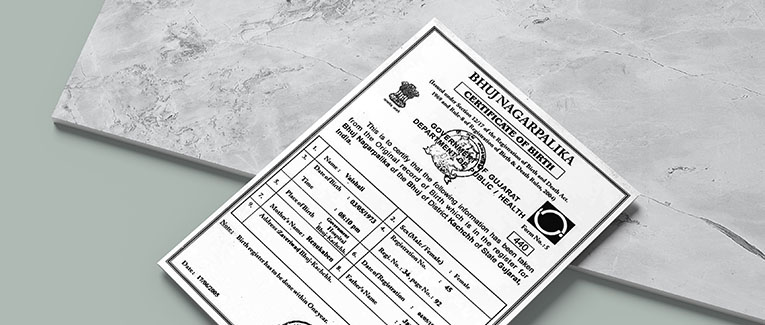 A birth certificate is a very important document required for many immigration-related matters, including getting a green card, sponsoring parents' visitor visa, sponsoring relatives on a green card, etc.
A birth certificate is available from most countries. The Foreign Affairs Manual ("FAM") of the Department of State specifies documents required and available from each country.
For green card purposes, you should submit the copies of the birth certificate and/or other documents, as applicable. Copies can be just plain photocopies. They don't have be an attested, notarized, or true copy. However, you should always send the original affidavits and original translations of the documents not in English.
Guidance on original vs photocopy
However, for sponsoring someone's visitors visa, all the documents should be original.

Complete Birth Certificate
A birth certificate must contain:
Person's name. All the names should be spelled out. An initial is not sufficient.
Person's date of birth (Day, Month, and Year)
Person's place of birth
Names of both parents. All the names should be spelled out. An initial is not sufficient.
Annotation by the appropriate authority indicating that it is an extract from the official records.
The seal of the issuing office, i.e., the municipal authorities or the village authorities (gram panchayat or talati-cum-mantri or mamlatdar or Tahsildar or Dy. Tahsildar).
Of course, this certificate should be from the same place where your birth actually occurred and the same place listed as "Place of Birth" field in your passport.
The birth certificate can either be in English or in the official language of the state in which you were born.
The birth registration date must be within one year of birth (If not, look here). The birth certificate issuance date can be any later date.
It is not necessary to list the mother's maiden name in the birth certificate. That is how it is done in the U.S. but not in many other countries. It is assumed that the U.S. does it like this because some women are not married when giving birth to the child and may marry and divorce several times during their life time, but the maiden name remains the same all the time. In countries like India, the married name is usually used after marriage and it is sufficient if the mother's married name is used in the birth certificate.

Sample Birth Certificate – English
Birth Certificate Alternatives
If a complete birth certificate, as described above, is not available, please refer to the alternatives, by referring to the various links on the left side bar, that pertain to your specific situation.

Birth Certificate Issued by Embassy/Consulate
Birth certificates issued by the embassy or the consulate of your country are NOT acceptable. They are just making the certificate based on the details in your passport. As they don't have actual knowledge of your birth, such certificates are NOT accepted.
Contrary to what you have heard or what your friends told you, such certificates are NOT accepted. If someone argues that they know someone for whom such a birth certificate was accepted, please do not believe them.
If you really want to take a big risk of your petition being denied or seriously delayed, please follow their advice. Otherwise, don't waste your time and money obtaining it this way.

Translation for Certificate/Documents NOT in English
If the birth certificate (or any other document presented for secondary evidence) is not in English, it can either be translated by a professional translator, or it can even be translated by anyone who is fluent in both the languages (other than the beneficiary for whom it is being prepared or the petitioner).
Sample Birth Certificate – Not in English
Sample Birth Certificate – English translation

For visitors, travel, student and other international travel medical insurance.
Visit insubuy.com or call +1 (866) INSUBUY or +1 (972) 985-4400
We are sorry that this post was not useful for you!
Let us improve this post!
Tell us how we can improve this post?