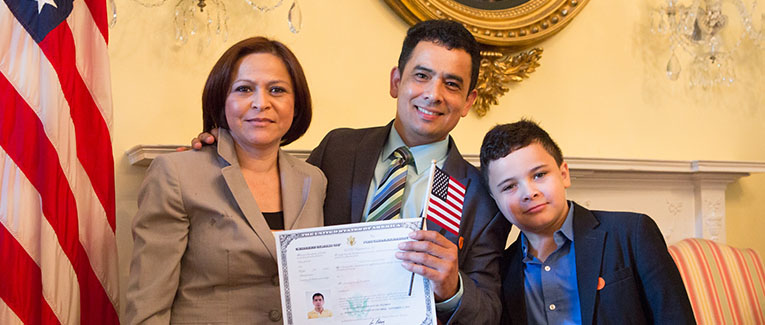 Are you a green card holder contemplating U.S. citizenship?
Do you want to know the responsibilities that come with U.S. citizenship?
Are you moving to the U.S. and confused whether a citizenship would be right for you?
If you answered yes to any of these questions, we have the research ready for you.
Definite Benefits
First and foremost, there are a host of benefits that only come with U.S. citizenship.
Voting Rights
As a U.S. citizen, you can vote for your chosen political representative in federal and state elections.
Run for Federal Office
Only U.S. citizens can run for office to become a U.S. senator or representative in congress for most local and state offices.
Serve on a Federal Jury
Only U.S. citizens can serve on a federal or state jury.
Safe from Deportation
Not only undocumented immigrants, but even permanent residents can be deported on offenses that might not seem serious. It is believed that courts might be more stringent with non-U.S. citizens. As a U.S. citizen, you are safe from the risk of deportation.
Hold a U.S. Passport
A U.S. passport is a coveted asset that only U.S. citizens are eligible for. While traveling with a U.S. passport, you get the support of U.S. consulates or embassies in case you need it. A U.S. passport also allows you to travel to over 180 countries on short-term trips with no requirement for a visa or with a visa on arrival or with e-visa.
Federal Benefits, Jobs, and Scholarships
As a U.S. citizen, you are entitled to government benefits, which are different for each state. You are also eligible for financial aid grants, such as college scholarships. Also, you can apply for government jobs and get paid a decent amount. Compared to noncitizens, U.S. citizens earn around 50-70% more, and have greater employment rates. However, you might have to pick up your pace, as some government agencies refuse to consider citizens if they failed to begin their naturalization within six months of gaining eligibility.
Other benefits of citizenship include programs like Medicare, along with access to critical benefits for disabled and older people.
Long Trips Abroad
It is faster and easier for U.S. citizens to return to the U.S. after traveling. Their trips need not be time-bound, and they are also exempt from questioning by immigration officials and immigration paperwork. Moreover, they can seek assistance from U.S. consulates and embassies in the event of a crisis.
Green Cards for Family
A U.S. citizenship allows you to sponsor a green card for your relatives. This includes your parents, spouse, and siblings.
If you have custody of children under 18 years of age, they get citizenship automatically. All that is needed is an application form and fee. However, the children need to be residing in the U.S. and lawful, permanent residents.
U.S. Tax Laws
In case your spouse also holds U.S. citizenship, the real estate you leave to them will be exempt from estate taxes. Under U.S. tax laws, you also get free real estate exchanges between U.S. citizens who are married.
Keep Current Citizenship
You are allowed to keep your current citizenship by omitting the referenced portion in the Oath of Allegiance. There used to be a ban on dual citizenships in the U.S., but those laws have now been struck down by the Supreme Court. However, please keep in mind that some countries such as India do not allow dual citizenship.
Green Card vs. Citizenship
If you are a green card holder, it is important for you to understand the key differences between a green card and citizenship before you go ahead with naturalization.
As a permanent resident, you are subject to the grounds of deportation that exist. The most common of these are conviction of specific crimes, and committing fraud. As mentioned above, U.S. citizens cannot be deported unless they are in some limited situations that are extremely rare. Examples of these are illegal procurement of citizenship and dishonorable discharge from the military.
Permanent residents are not eligible to apply for government jobs or hold public office, unlike U.S. citizens.
As per U.S. immigration laws, an immigrant might lose their permanent resident status if they stay outside the U.S. for 12 months or more.
U.S. Citizenship – The Flipside
While U.S. citizenship has many benefits, it also has certain implications that are less than desirable, and might make some people reconsider becoming citizens.
Depending on the rules in your home country regarding dual citizenship, you might have to renounce your existing citizenship once you become an American. For instance, countries like Japan and India will require you to give up your citizenship upon becoming a U.S. citizen.
You will need to file income tax returns throughout your life, regardless of where you are living. In order to avoid taxes, you would need to meet certain requirements and meet the yearly limit.
Be ready to have your criminal history heavily scrutinized. Crimes such as drug abuse, domestic violence, or immigration fraud make you deportable, and you are advised to seek legal assistance prior to applying for citizenship in this case.
You might get summoned to serve on a jury. If you are summoned, attendance is mandatory, though you might not get chosen to serve.
All males who have resided in the U.S. or have gotten their green cards, and are between age 18 and 26, are required to register with the Selective Service System. Although military conscription has not occurred since the year 1973, it can occur in the future.
The citizenship renunciation fee is highest in the U.S. as compared to the rest of the world. At present, it costs a hefty U.S. $2,350.
Clearly, obtaining U.S. citizenship is a decision best made after careful consideration of all the factors and points stated above.
We are sorry that this post was not useful for you!
Let us improve this post!
Tell us how we can improve this post?