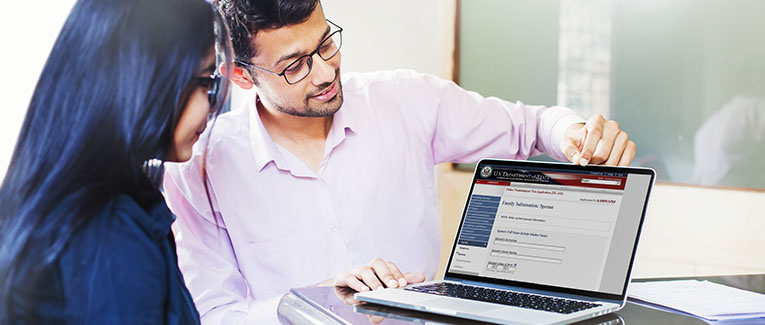 While completing a DS-160 form when applying for a US visa, the section for 'Family Information – Spouse' may or may not show up, depending upon your answer to marital status in the 'Personal Information' section.
Enter the current spouse information. If divorced, enter your previous spouse's information. Write your spouse's name even if your spouse is not going to be traveling with you or not applying for a visa. Include their maiden name as well.
K1/K2 visa applicants must not enter any information here.
Spouse's Surnames


Spouse's Given Names


Spouse's Date of Birth
Format: DD-MM-YYYY


Spouse's Country/Region of Origin (Nationality)


Spouse's Place of Birth
City, Country/Region


Spouse's Address
Choose from the following options:
SAME AS HOME ADDRESS
SAME AS MAILING ADDRESS
SAME AS U.S. CONTACT ADDRESS
DO NOT KNOW
OTHER (SPECIFY ADDRESS)

If you choose 'OTHER', you will be asked to specify the complete address.


For some visa types, you may be asked for the date and place of marriage.
We are sorry that this post was not useful for you!
Let us improve this post!
Tell us how we can improve this post?