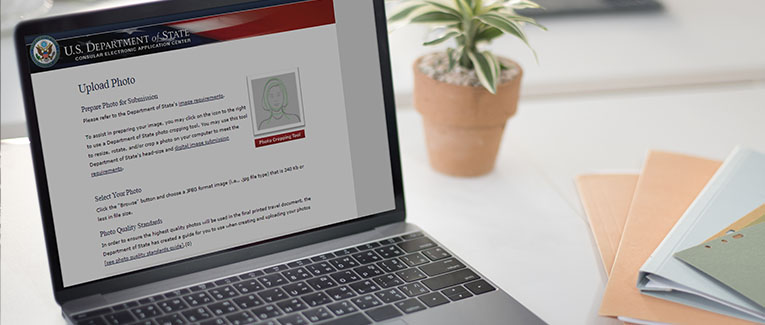 Upload Photo
Whether to upload the photo here or not depends upon the consulate you are applying at.
For example, in case of India, no photo can be uploaded here, as it will be taken at ASC (fingerprint location).
If you need to upload the photo, read further.
Your photo must be in JPEG image format (i.e., jpg file type) and the file size should be 240 kb or less.
Click the "Browse" button and choose the photograph from your local computer and click on 'Upload Photo'.
If your photo is successfully uploaded and passes all quality checks, it will indicate that your photo submission has been accepted. You can continue further. You will be asked to confirm the photo once more before going ahead to review the application.
If your photo is not accepted, it will display the specific error messages regarding what exactly is wrong with the photograph. You can choose to upload another photo that meets the requirements or you can proceed without the photo. In the later case, you will have to submit the regular photo at the time of interview that meets the requirements.
Preparer of Application
Did anyone assist you in filling out this application?
If this application was prepared by another person on your behalf, answer "Yes", and ask that person to fill the next question.

The Form DS-160 can be prepared by an attorney or representative on your behalf. They can forward you the electronic file. In order to review the form, you will have to upload that electronic file to the online application as if you were returning to work on an incomplete application, and review each screen.

However, please keep in mind that those intermediaries are not allowed to submit the online application on your behalf. You must personally click the "Submit" button, which serves as an electronic signature.

In many cases, children in the U.S. fill this application form for their parents before sending all the papers to them. In that case, they should answer "Yes".
Further details

Sometimes, travel agents or other consultants fill this form on behalf of you, and you should answer "Yes" in those cases too.

If you took the help of lawyers, paralegals, consultants, or other agencies that may have filled the form for you, you must answer "Yes".

Be careful about answering this accurately as the consulate has the ability to identify the source of any submitted application.


If the answer to the previous question was "Yes", the preparer should fill this section pertaining to the preparer:

Surnames


Given Names or click on "Does Not Apply" as appropriate.


Organization Name or click on "Does Not Apply" as appropriate.


Complete address.


Relationship to the applicant.

We are sorry that this post was not useful for you!
Let us improve this post!
Tell us how we can improve this post?