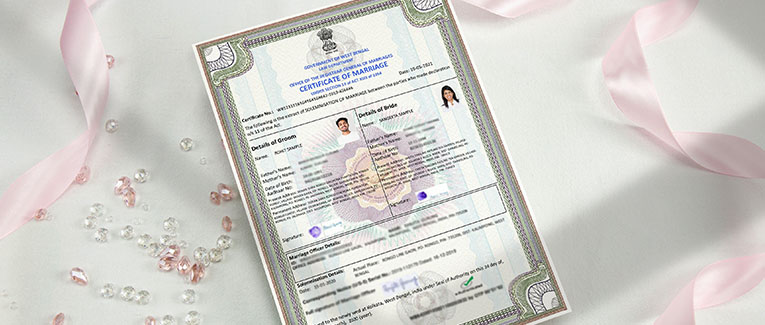 Sample Marriage Certificate – English
Termination of Prior Marriages
Applicants who have been previously married must obtain evidence of the termination of EACH prior marriage. Evidence must be in the form of original documents issued by a competent authority or certified copies bearing the appropriate seal or stamp of the issuing authority.
Acceptable evidence:
FINAL divorce decree
Death certificate
Annulment
Unobtainable Marriage Certificates
Your marriage record may not be obtainable, or it may have insufficient information. Some reasons are listed below.
Your marriage was never officially recorded.
Your marriage records have been destroyed.
The appropriate government authority will not issue one.
Please obtain a certified statement from the appropriate government authority stating the reason your marriage record is not available. With the certified statement, you must submit an affidavit executed by either the parents of the applicant (if living) or other close relatives older than the applicant, all of whom must have personal knowledge of the marriage. The affidavit should set forth the relationship between the deponent and the applicant; how well the deponent knows the applicant; how the deponent came to know the facts to which he or she is swearing; date and place of the applicant's marriage; and any other related facts. Note: An affidavit must be executed before an official authorized to take oaths or affirmations, such as a First Class Magistrate. Information regarding the procedures for obtaining birth certificates is usually available from the embassy or consulate of the country concerned.
Sample – No Availability Certificate – Marriage
Additional Information for India
Marriage
Marriages must be registered under the Hindu Marriage Act of 1955 if the persons concerned were married under Hindu, Buddhist, Jains, or Sikh rites. The Registrar of Marriages will issue a certificate that the consulate will accept as primary evidence of marriage.
If the marriage was performed prior to 1955, then two sworn affidavits are acceptable that give the names, dates, and places of birth of both the spouses, together with the date and place of marriage and the names of both parents of both parties. The affidavits must be executed before a First Class Magistrate by one of the parents of each party (if living) or by the nearest relative of each party who was present at the wedding.
Certificates issued by the appropriate authorities or recognized organizations are acceptable if they are legally valid in India.
For Muslim marriages, please submit a registration certificate from the government-appointed Chief Kazi or from the Wakf Board of the area in which the marriage took place. For Christian marriages, please submit a church-issued marriage certificate.
Divorce
A divorce between Hindus, Christians, and Parsis must be documented by a court order. A divorce between Muslims must be documented by a certificate from the Kazi or the head of the Jammat.

Translation

If the marriage certificate is not in English, it must be translated into English.
We are sorry that this post was not useful for you!
Let us improve this post!
Tell us how we can improve this post?