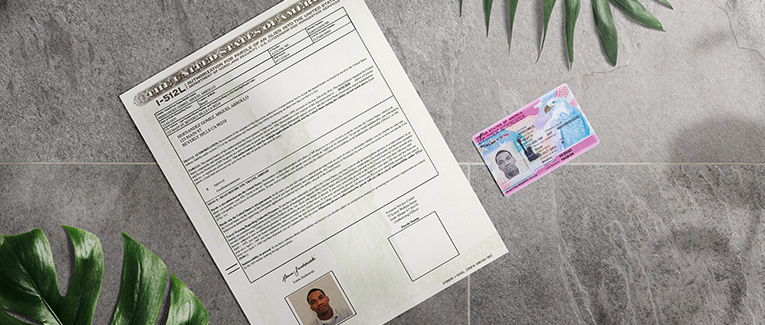 When an H or L worker files for an adjustment of status, they are able to, as per their choice, continue to work on their H / L nonimmigrant status or start working on an Employment Authorization Document (EAD) (work permit). If they travel outside the U.S., they would enter back into the US on advance Parole. Each approach has its pros and cons.
Getting an Employment Authorization Document (EAD) and using an EAD are two entirely different things. Using an EAD means working based on that EAD; that means when you join any company you must sign an I-9 form in which employment eligibility is based on the EAD. The person can change from an H1 status to EAD status by contacting their HR department and filling out an I-9 form again based on the EAD.
Similarly, getting an advance parole (AP) and using an AP are two entirely different things. Using an AP means leaving the U.S. and then showing your AP to enter the U.S. as a parolee, instead of showing the visa to enter the U.S. as a nonimmigrant. As parolees cannot work in the U.S., he/she should get an EAD before traveling on an AP. Receiving an AP is just an addition of one more document in your file.
Just receiving an EAD/AP does not change your nonimmigrant status in any way, and you are still on H or L status; thus, the person is either in EAD/AP status or in H/L status.
As long as a person maintains an H/L status (H/L status not expired, H1/L1 holders working only for their sponsoring employer, and H4/L2 holders not working at all), he/she can travel outside the U.S. and come back without the need for advanced parole, even after applying for an adjustment of status. The person can enter using his/her non-expired H/L visa. Effective Nov 1, 2007, the person does NOT need to carry his/her "original" I-485 receipt. For valid H/L visa holders, there is no need to apply for an EAD to continue working after returning to the U.S.
If you are not planning to travel or work part-time for another employer, there is no reason to apply for an EAD. On the other hand, there is no harm in applying for an advance parole and EAD. There is no reason to try to maintain nonimmigrant status after filing for adjustment of status, unless your 6-year H/L visa limit is about to be reached and you have no option other than to work with EAD/AP. Please note that it is possible to get your H-1B visa approved for more than 6 years in some cases, depending upon your employment-based green card processing status. Please refer to H1 beyond 6 years to find out more about how you can extend your H-1B visa validity for more than 6 years, either 1 year at a time or 3 years at a time.
If an H1/H4 visa holder opts for an EAD/AP, it allows the H4 spouse to work for any company and the H1 primary applicant for another part-time job or side business without the need to file for an H1B visa, as long as the primary applicant keeps working for the employer who filed his/her green card.
If you opt for EAD/AP status, a spouse (and children, if any) acquired after using your AP may not join on H4 and cannot resume H/L status after I-485 denial, if any. You can, however, work for more than one employer, and your spouse can work. It's your decision whether to remain in nonimmigrant status or to be in EAD/AP status.
Applicants maintaining H/L status may travel immediately after filing the I-485, provided they have a valid H/L visa in their passport, or they obtain a new one. Advance parole applications take at least 3 months, during which you can't travel if you are not in valid H/L status. H-1B/L1 workers who file a timely application for an extension of stay may continue employment for 240 days while the U.S. Citizenship and Immigration Services (USCIS) adjudicates the petition, and you are not allowed to work on an expired EAD while your renewal EAD application is pending. Moreover, you have to apply for EAD ever year.
Adjustment of status applicants who have used an EAD card due to their 6 year limit on their H/L visa expiring or by working for any other employer other than sponsoring employer are no longer in their nonimmigrant status. Advance parole allows them to travel abroad and return to the U.S. without a visa.
In general, if the person is married, he/she may want to apply for an EAD for both, so their spouse can start working and he/she can also work part-time for another employer, if he/she wishes to do so. If the person is single, he/she may want to maintain H/L status so that he/she can bring his/her spouse on H4 if he/she gets married before the adjustment of status application is approved.
Some H-1B professionals use an EAD (and terminate H-1B) on purpose to save H-1B time, so if something happens with the current employer they are able to pick up the remaining period of the 6-year H-1B limit through another H-1B approval with the new employer. That H1 approval would then be a new H-1B and not a transfer of H-1B, hence it would be subject to an annual H-1B visa.
Also, see Dependents and Marriage.
If the nonimmigrant visa status is expiring after filing an adjustment of status application and before receiving an EAD, the person may still work, but the employer may be fined by allowing an unauthorized person to work.

For visitors, travel, student and other international travel medical insurance.
Visit insubuy.com or call +1 (866) INSUBUY or +1 (972) 985-4400
Contingency
Even if the I-485 applicant is not planning to change employment as per the AC-21 rule, take a part-time job, or have a spouse on H4 that would like to work, it is advisable to apply for an EAD and AP for contingency situations. Please do not consider that as a waste of time and money. You may really need to use it in an emergency.
e.g.
An employer goes through an acquisition and merger, and the new employer is sometimes not considered a successor-in-interest entity to the H-1B employer. If the new employer does not timely file a new H-1B petition, you may be considered working without the proper authorization.


Bankruptcy of an H-1B employer that goes through a reorganization under the supervision of the bankruptcy court. If an H-1B employee is assigned at a location outside of the metro area of the current H-1B petition and Labor Condition Application (LCA), it may put them out of status.


An employer is required to pay the wages as agreed on the LCA if the person is to remain on an H-1B. It is not required if you are on EAD, as long as the employee and the employer agree on it. Failure to be paid according to LCA wages could make you out of status.


You provided additional services to others that might be considered (even without your knowledge) as self-employment and are reported as 1099 to the Internal Revenue Service (IRS). This unauthorized employment could definitely create trouble at the time of I-485 adjudication.


If any of these problems arise or you foresee them arising, immediate availability of an EAD and AP would definitely help you avoid any violations.
FAQ
Q: If I apply for a Social Security number (SSN), is that considered using an EAD?
A: No.

Q: If I open a bank account using my SSN, is that considered using an EAD?
A: No.

Q: If I show the SSN to the DMV (Department of Motor Vehicles), is that considered Using an EAD?
A: No.

Q: What exactly is considered using an EAD?
A: When you are employed and submit the copy of your EAD to the employer as part of the I-9 requirements.
Q: How will the USCIS know that I have used an EAD?
A: When you fill out tax forms such as an I-9, W-4, etc., and the employer reports the wages and taxes to the government, the USCIS is advised of your use of an EAD.
Q: If I want to apply for a SSN after getting an EAD, what is the best time to apply for it?
A: After getting your EAD, you should wait one week before applying for an SSN.
The Social Security Administration (SSA) is required to verify your credentials, such as an A# printed on your EAD in the USCIS's SAVE (Systematic Alien Verification Entitlements) database before they can issue an SSN. The USCIS generally does not update SAVE immediately and it may take a few days. If you go to a Social Security office right away, they may not be able to verify you and the SSA would have to file a form G-845 with the USCIS for manual verification, which would cause much longer delays.
If you are stuck in a G-845 delay, you can call the SSA every few days and ask them to check the SAVE database with your A#. If they can verify the information in SAVE, they may be able to issue an SSN without waiting for a written response from the USCIS.
Q: Are there any advantages in maintaining H status with regards to AC-21 portability?
A: Yes. In case the USCIS rejects portability under AC-21 because they did not consider the new job similar to old one, you could still continue on H-1. However, if you had used an EAD, you would be left with no option but to be out of status.
Q: What happens to ITIN after I get an SSN?
A: You need to rescind your ITIN.
Complete details.
Q: Can the spouse on an H4 visa with an EAD?
A: A spouse on an H4 visa can work with an EAD. However, that spouse will not be considered maintaining H4 visa status in that case.
Q: Can a spouse on an L2 visa work with an EAD?
A: As the spouse on L2 is eligible to apply for an EAD even if he/she has not filed I-485 application, an L2 spouse would remain on L2 status even after using an EAD.
Q: What happens to the H1 status of the primary applicant when a spouse on H4 starts using an EAD?
A: Even if the spouse previously on H4 starts using an EAD, the primary applicant still maintains their H1 status. The primary applicant will lose their H1 status only if he/she uses an EAD at the current employer or additionally starts working part-time at some other employer, starts doing some independent work, or opens a business.
Q: If the primary applicant starts working using an EAD, can the dependent spouse still maintain H4 status?
A: No. Because the H4 status is dependent upon the primary applicant maintaining H4 status, the dependent spouse would no longer have an H4 status if the primary applicant does not have H1 status.
Q: I was earlier on an H4 visa and I started working later on EAD. I would like to stop working now. Will I automatically go back to the H4 visa status?
A: No, as long as your spouse is still maintaining a valid H1 visa status, you would have to go out of the U.S. and enter again on a valid H4 visa to regain H4 status.
We are sorry that this post was not useful for you!
Let us improve this post!
Tell us how we can improve this post?