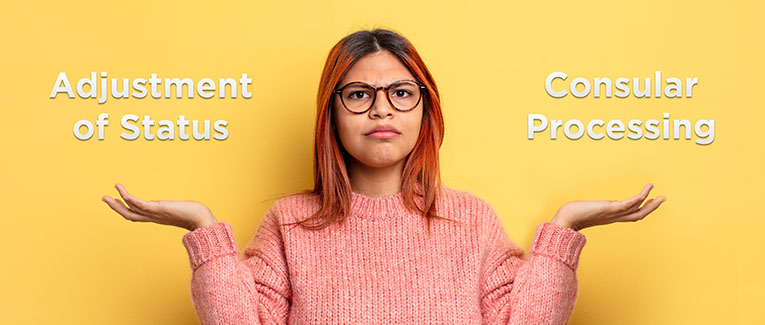 If a person is outside of the U.S., the only way to immigrate to the U.S. is through consular processing to get an Immigrant Visa. However, a person already in the U.S. can go either for an Adjustment of Status or Consular Processing. Review both options very carefully before going for one or the other as individual circumstances may vary.

Whenever there are delays in I-485 processing, it encourages lots of candidates to apply for consular processing abroad, which is faster and easier.

Consular processing has a much shorter processing time of several months compared to Adjustment of Status taking several years. Consular processing has a much lower risk of refusal as consular officer many not deny an immigrant visa based on discretion, as it may be the case with adjustment of status. More details about consular processing refusal.

For some people already present in the United States, an Adjustment of Status may be the preferred method since the Adjustment of Status applicant whose case was denied may challenge such denial through the administrative and/or judicial appellate processes. Denial of a visa at a U.S. Consular post, however, is essentially a non-reviewable, non-appealable order; there are limited exceptions that may permit review. Once the adjustment application has been pending for 180 days, the principal applicant may change employers within the same occupational classification.
In addition, visa processing at an abroad consular post also involves the additional time and expense of traveling overseas and may further prolong the separation between family members. Some people may combine it with the vacation, but for most people, they would have to take time off from work and their work schedule could make it difficult. The Adjustment of Status applicant may reside in the United States, obtain employment authorization, and a travel document until his/her case is processed, reviewed, and completed by the U.S. Citizenship and Immigration Services (USCIS).

A person who is already legally in the U.S. can remain in the U.S. until the time of an interview and medical examination at a consular post. Even if a person was outside the U.S. at the time of applying, he/she can come to the U.S. if he/she has a valid non-immigrant visa. Persons who go for consular processing would need to go to their home country for about 7 to 10 days for the medical examination and interview.

Consular processing can be done even if you are using an Employment Authorization Document (EAD) as long as you didn't file an I-485 to get an EAD and then proceed to immediately apply for consular processing. Filing an I-485 just for an EAD to then apply for consular processing abuses both systems and invites otherwise avoidable problems.
If 180 days have passed since the person has filed an employment based I-485, it is possible to change their employer under the AC21 law. It is also possible to get a new job offer in a similar profession by the time the USCIS asks for job verification. However, if you get laid off and you are going the consular processing route, you would have to start the entire process all over again.

For visitors, travel, student and other international travel medical insurance.
Visit insubuy.com or call +1 (866) INSUBUY or +1 (972) 985-4400
Can't decide immediately?
When an I-130 (Family Based) or I-140 (Employment Based) immigrant petition is filed, if you are not sure whether you would like to do an adjustment of status, go through consular processing, or want to have your options open, the best thing to do is to write at the bottom of the petition (with a red color pen so it is easily noticeable) something like "Will not do adjustment of status, please send the approved petition to the NVC".

Once the petition is approved, if you decide to do an Adjustment of Status, just file it with the USCIS and no time is wasted. If you decide to do consular processing, the National Visa Center (NVC) is already processing the application for you.
Switching from Consular Processing to Adjustment of Status
All you have to do is just file an Adjustment of Status application with the USCIS. Because the USCIS already has your original petition, you don't need to do anything else and they will take care of everything.
If you have already started your consular processing, inform the consulate that you have decided to switch to an Adjustment of Status. You should also inform the NVC, because it helps them to streamline their file storage.
Switching from Adjustment of Status to Consular Processing
If you specified an Adjustment of Status in your I-130 (Family Based) or I-140 (Employment Based) immigrant petition, you must file a Form I-824 to have the file sent to the NVC. This may take up to 1 year to transfer the file from the USCIS to the NVC.

An Attorney Certified I-140 procedure is a much faster procedure that may take just 2 to 3 months from initial submission.
We are sorry that this post was not useful for you!
Let us improve this post!
Tell us how we can improve this post?