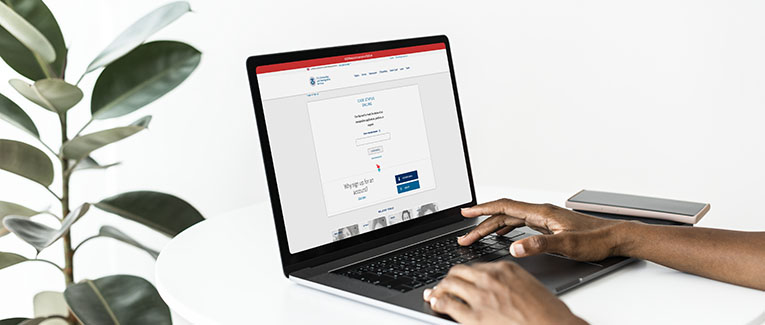 Whenever you file a petition (such as I-485, Adjustment of Status) with USCIS, you get a Receipt Notice (Form I-797C, Notice of Action) that has a "Receipt Number". You can use this receipt number to check the status of your case at the USCIS website.
Visit the Online USCIS Case Tracking website.
You can enter the receipt number on the website to check your status.
Alternatively, you can create a customer portfolio account that tracks one case (single applicant) or a representative portfolio account that tracks multiple cases. Representatives (persons that represent many cases, such as lawyers, charitable groups, or corporations) who require regular access to status information about multiple cases find it convenient to create a representative portfolio account. The services provided are identical either way, except representatives may also enter their own internal office tracking number with each receipt number. Additionally, you can also choose to receive automatic case status updates via email.
Whenever there is a change (or sometimes no change) in your status, the last updated date changes in your case status. LUD stands for "Last UpDate" or "Last Update Date".
There are two types of LUDs:
"Hard" LUD:
Your case status changes when USCIS sends you something (receipt notice, RFE, approval notice, notice of intent to deny, a card, or any other documents) and when they receive something you sent them (application, request for premium processing, answer to RFE, or other documents). The status can also change when USCIS makes a decision without sending you something, as well. You will get an email notification for such changes.
"Soft" LUD:
There are many other internal activities occurring between the time the USCIS receives your application and the time it gets approved/rejected, such as your fingerprints getting added, your name check results coming back from the FBI, the petition gets prepared for approval, etc. These are all internal changes to USCIS, and there is no way to know all the exact reasons for soft LUDs. You will not get any email notification for such changes as they do not change the status of your petition.
If you would like to find out about all possible soft LUDs, you will have to log into your account at least once every business day. However, it is not necessary, and you are more likely to make yourself paranoid rather than get anything useful out of it.
We are sorry that this post was not useful for you!
Let us improve this post!
Tell us how we can improve this post?