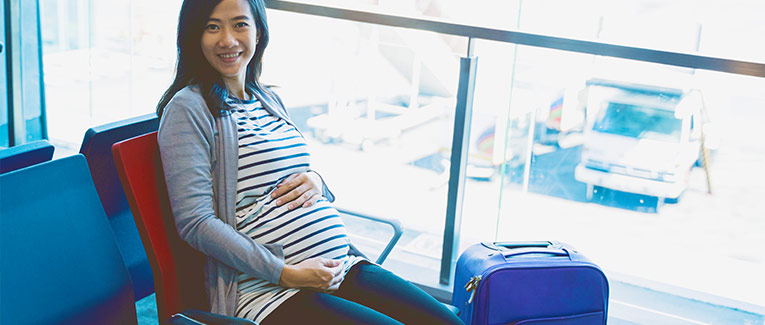 Pregnancy can be the one of the most beautiful things in a woman's life. But it is also a time of numerous physiological and psychological changes that often manifest themselves as stress or physical discomfort. But is traveling during pregnancy safe? The question lurks in every would-be-mom's mind.
Traveling while pregnant to a relaxing destination can be a potential lifesaver. It allows the mind and body to calm down and de-stress while being away from the humdrum of daily life.
There are several benefits to going on vacation when pregnant. Contrary to popular belief, flying while pregnant is entirely safe.
It allows mommies-to-be some time to relax and plan. Babymoons are also a great opportunity for expecting couples to spend quality time together before the baby comes.
For pregnant women, however, traveling can be a daunting task. From picking the right hotel to packing essentials, even the slightest mismanagement can spell disaster and ruin your vacation.
Here are a few simple tips to follow when planning to travel during a pregnancy.
Traveling During Pregnancy – 6 Dos and Don'ts to Keep in Mind
1. Travel in the right trimester
Which month is safe to travel during pregnancy?
How late in pregnancy can you fly?
When should pregnant women stop flying?
These are the most common questions faced by every OB-GYN.
According to The American College of Obstetricians and Gynecologists, pregnant women can safely travel up to 36 weeks into their pregnancy.
Most pregnant women find the second trimester perfect for traveling. This is because most women experience heavy morning sickness and nausea during the first trimester. It can make traveling unpleasant and act as an added trigger.
Morning sickness tends to subside with the onset of the second trimester, the safest period for pregnant women to travel. The rate of miscarriage, for instance, is significantly lower during the second trimester than during the third. By the third trimester, many women experience a nesting instinct and may not want to travel at all. Picking the right trimester to go on your trip is vital.
2. Choose the perfect destination
Picking the right spot is the next biggest challenge. It often includes several finer details that need to be straightened out beforehand. When choosing the destination, keep the following checklist in mind:
Keep it simple: Avoid destinations that require long hours of air, car, or sea travel. Prolonged hours of being seated in a car or plane can cause several complications to pregnant women. The most common of which include blood clotting and swelling. To avoid these, maintain frequent movement.
Consult your doctor: Be sure to check with your doctor before undertaking travel plans, especially to foreign countries.

Countries that score high on medical infrastructure and low on air and food-borne diseases are the top choices.
Check hospital availability: When pregnant, it is unwise to pick remote locations with limited medical resources like hospitals, gynecologists, clinics, pharmacies, and other pre and postnatal care services.

Check availability beforehand so that you don't end up making phone calls to countless places in case of any health-related complications.
3. Plan for emergencies
This brings us to the next point of the checklist: planning for emergencies, like a premature delivery.
While it is unlikely, pregnant women may go into early labor or experience complications, and it is important to be prepared for such occasions.
Prepare a contingency strategy with a 'plan of action' and a list of available resources, such as local pharmacies, emergency ambulance services, doctors, and hospitals. Stay in touch with your family and friends in case of emergencies, and share your plans with them.
4. Pick relaxing activities
Think of more relaxing getaways and quieter activities that can help you enjoy and just be in the moment instead of stressing your body out. Rock climbing or a wild jungle safari may seem tempting, but your body needs to relax, and stressing it out during the second trimester without prior training may adversely affect your health.
Avoid activities involving too much heat like saunas or hot pools, as high heat can impact the baby's health. Avoid activities such as adventure sports or rides in amusement parks.
Here are some activities that obstetricians suggest not to undertake while pregnant:
Instead, try more relaxing activities. Plan romantic walks in parks, cozy sunsets, and fresh meals. Listen to your body and plan activities accordingly. Sightseeing can be fun, but be sure not to overcrowd the day, since that can leave you drained. Plan lots of breaks in between activities, and be sure to stay hydrated.
5. Research the weather beforehand
It makes sense to find out all you can about the local weather and climate of the location you choose for your travel. Beach destinations, for instance, may seem appealing, but they can get extremely humid during the summer months.
Similarly, locations at a higher altitude or with extremely low temperatures may cause breathing or respiratory problems. It is inadvisable to go to hilly locations during rainy seasons. Check with your doctor and local tour guides before you embark on your trip.
6. Pack smart
This is a travel tip that is handy at all times, but even more so when pregnant. Make sure to not pack your bag too heavy or carry too many pieces of luggage, as transporting and lugging them around may stress your body out. That being said, here's a checklist for your travel essentials when pregnant:
Lumbar support pillow: This will help you sleep without experiencing spinal aches that are common during pregnancy.
Water bottle: A lightweight bottle, preferably made of metal, helps maintain water temperature for longer periods of time. Keeping a water bottle handy at all times is essential, no matter where you go. It not only helps you stay hydrated, but also ensures you don't end up consuming unhygienic water from dubious sources at any point during the trip.
Compression socks: If you are flying, or are going to be spending hours traveling by car, a pair of compression socks may come in handy. They will help keep swelling and blood clots under control by maintaining even blood flow in your feet.
Pack snacks: Check the U.S. Department of Health and Human Services' list of permissible and healthy snacks that you can have on the go. Snacks like crackers can help reduce feelings of nausea and bloating. Protein bars, non-fried chips, and other organic snacks are also healthy options to carry.
First-aid kit: It may appear useless, but you never know when you might need one. Try to pack the kit with your prescription medicines and sanitizers, as well as general medicines for heartburn, indigestion, cough, cold, viral fevers, and diarrhea.
Traveling During Pregnancy? Buy a Travel Insurance Plan
It is essential that you purchase travel insurance before taking any trip abroad in order to protect your finances in case of an unexpected health or travel-related mishap. However, it is extremely important to understand the inclusions and exclusions of travel insurance for pregnant women, and how they affect your insurance coverage.
Visit Insubuy to view and compare a variety of insurance plans, so you can make a well-informed purchase before your trip. Do not hesitate to speak to an insurance expert at Insubuy if you have any questions about what your insurance can or cannot cover in regards to your pregnancy. We make every effort to help those traveling during pregnancy.
Remember, traveling when pregnant is just as fun and exciting as any other time. All it takes is a bit of foresight and planning.
We are sorry that this post was not useful for you!
Let us improve this post!
Tell us how we can improve this post?