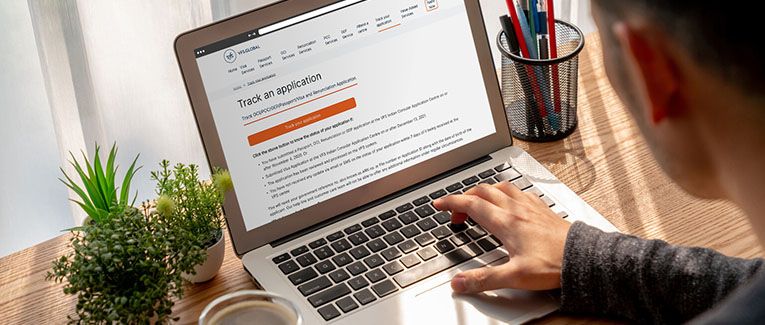 Follow the below steps to track the status of your passport applied for in the USA with VFS.
Tracking ID is same as your Government Reference Number or Application Reference Number (ARN).
If you do not remember the ARN, within your registered email search for VFS and find the email that contains guidelines for shipping service where the reference number would be mentioned.
Reference number should be in the following format: two numbers followed with hyphen, then followed with 10 numbers XX-XXXXXXXXXX.
Visit the VFS passport tracking page and click on the Track your application button which will open up a new page.
In which enter the Tracking ID i.e., ARN as it is and enter your date of birth in the Indian format i.e., DD/MM/YYYY.
Finally, enter the captcha characters and click submit.
If all the information is correct, you will see the status below in blue characters.
"Your application has reached the Embassy/Consulate and is currently under review process."
Look for any missing document information and act accordingly.
You will not get a timeline, but just a message stating where your application is currently.
Experiences
July 22 – Sent through FedEx (pre-printed label)
July 25 – Received an email to send an incomplete document.
July 27 – Sent them the requested document. (Via FedEx this time I paid for overnight delivery)
July 28 – Confirmed the document was delivered in VFS
July 29 – Received notification that "We have received your application and your application is now under process at Houston and will be submitted to the Mission for decision making."
July 30-Aug17 – "Your application has reached at the Embassy/Consulate and is currently under review process"
Aug 18: Got an update from VFS
"Your Application has been reviewed by the Embassy of India/ Consulate General of India & will be dispatched using the courier service you had opted."
Aug 19: Received an email from FedEx with Tracking number.
Aug 22: Expected Delivery
I have not made any changes to my address. It is the same address that I had in my previous passport (India address).

To read more experiences on Indian Passport visit https://www.immihelp.com/indian-passport-experiences/
Note: This information was verified on 08/09/2022. If you find it different, please let us know we will help the community by updating it.
We are sorry that this post was not useful for you!
Let us improve this post!
Tell us how we can improve this post?