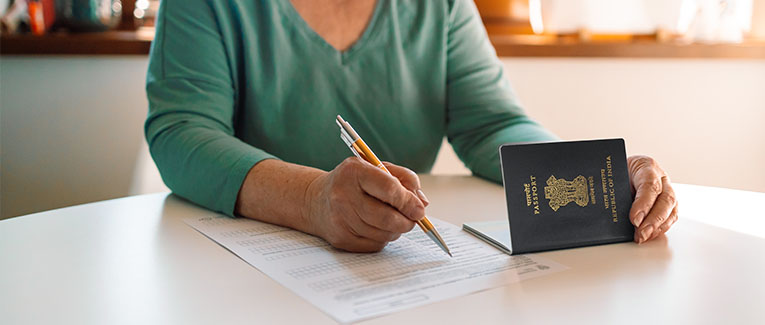 For Indian passport services in the USA, please use the following list as a general guide. The actual list of documents will be generated online depending upon your exact circumstances. All documents must be printed on a single side as double-sided documents are not accepted.
Passport:

Current passport – original.
Additional booklet if any – original.
If the old passport is 5 years old or less, please send the previous passport as well.
Photocopy of first five pages and last two pages of the current passport

If you have more than one original passport, provide copies of all the passport.

If you are applying for a newborn child that never had any Indian passport, or if you have lost the passport, it obviously does not have to be submitted.
Proof of Legal Status:
Notarized photocopy of the appropriate documents from the list below:

Current valid US visa on passport
Green card
Employment Authorization Card (EAD)
I-797 Approval Notice (Receipt notice is NOT valid proof) OR I-20
Note: Indian Embassy/Consulates in the USA provide passport services only to the legal residents of the U.S. If your parents or other relatives are visiting the U.S. on a tourist visa or someone on a business visa on short term, the Consulate can not provide the passport services to them. Therefore, if their passport is due to expire during their visit, it is best to get it renewed in India itself before their visit.

The following is applicable to Houston, New York & San Francisco (Not applicable to Atlanta, Chicago, and Washington, DC).

If your visa status is expired or pending,

Notarized Affidavit

Notarized photocopy of the valid Indian passport and the valid green card of two witnesses



Notarized copy of Proof of Residence

Senior citizens who do not have address proof in their name can submit a notarized copy of address proof of their son/daughter with whom they are staying along with a notarized copy of their passport's first 2 and last 2 pages.


Indian Address Proof
Required if the applicant wants to add or change Indian address in the passport

One of the following:

Aadhar Card
Recent bank statement for Government bank. Should have affixed photograph
Driver's license
Utility bill not older than 3 months

It should be self-attested.
Change of Appearance/ Signature Form
In the case of a minor child, it is always required, except for the first time passport application for a newborn child.

For adults, if your appearance has significantly changed compared to the appearance in the current passport, change of appearance affidavit is required. Please glue a current photo to the form and have it notarized.


Annexure E, Applicant Declaration


Indian Address
Applicant must write their Indian address or last known Indian address in the Passport Application Form. This could be in either the 'To be printed on Passport' or 'Other Address Details' columns or the same Indian address can be mentioned in both the columns.


Document Checklist which is generated at the time of online application.


Marriage Certificate:
If you have mentioned your marital status as married in the application form, and if your current passport does not have spouse's name, you must enclose

Notarized copy of your marriage certificate.

Only a marriage certificate issued by the Registrar of marriage will be accepted. However, in the case of Christians, marriage certificates issued by the Church, and in the case of Muslims, marriage certificates issued by Qazi will be accepted.


Notarized copy of the first and last pages of the passport of the spouse. If US citizen spouse does not have a passport, copy of their ID card.



Self-Sworn Affidavit
This affidavit is to confirm whether the applicant has or has not been residing outside India continuously for more than five years.
Expired Passport:
Expired less than 6 months:
Enclose a self-explanation letter as to why the passport was not renewed in time.

Expired for more than 6 months but less than 3 years:
Enclose a Notarized Affidavit along with a self-explanation letter as to why the passport was not renewed after expiry for such a long time.


Expired more than 3 years:
In case an interview is required, applicant will be informed.
Checklist
One copy of the checklist generated at the time of applying online.
We are sorry that this post was not useful for you!
Let us improve this post!
Tell us how we can improve this post?