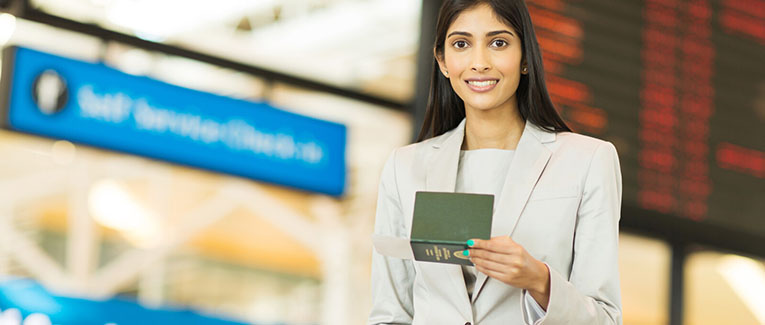 If your final destination is the United States or Canada, you may come to the U.S. or Canada either through the Atlantic or Pacific route. For the Atlantic route, you may have a stopover in London, Paris, Frankfurt, Amsterdam, etc. For the Pacific route, you may have a stopover in Singapore, Hong Kong, etc.
During your intermediate international stopover, if you have sufficient time and you want to tour the city and/or country, you may apply for a transit visa at the appropriate counter at the airport. A transit visa is a temporary short-period visa during your journey. Some countries require that you have a stopover of a minimum of 24 hours to grant you a transit visa. However, Singapore provides a transit visa for a stopover as short as four hours. They even have airport transportation available at no charge for a passenger tour.
Recently, several countries have started to require a transit visa for persons transiting through their countries even if the travelers do not plan to leave the airport. However, most people who are coming or going with a valid visa do not require a transit visa. There has been a lot of confusion in this regard among people, and many times, even the airline staff does not have the correct information.

Detailed requirements for Indian citizens
Provides country-by-country and multiple airlines' information.
UK (United Kingdom)
The United Kingdom encompasses Great Britain (England, Scotland, and Wales) and Northern Ireland.
Direct Airside Transit Visa
If you fly with certain airlines, such as United Airlines, Air India, British Airways, Virgin Atlantic, and Emirates, you may have a stopover in London Heathrow.
If you have a passport from a country listed below and will transit the UK airside, i.e., Mumbai-London Heathrow, London Heathrow-New York (not Mumbai-London Heathrow and then London Gatwick-New York), and are staying in the UK less than 24 hours, you require a Direct Airside Transit Visa to transit the United Kingdom. This is the case even if you only intend to remain airside and will not pass through UK Immigration.
AFGHANISTAN, ALBANIA, ALGERIA, ANGOLA, BANGLADESH, BELARUS, BURMA (MYANMAR), BURUNDI, CAMEROON, PEOPLE'S REPUBLIC OF CHINA, COLOMBIA, DEMOCRATIC REPUBLIC OF CONGO (ZAIRE), ECUADOR, ERITREA, ETHIOPIA, GAMBIA, GHANA, INDIA, IRAN, IRAQ, IVORY COAST, KENYA, LEBANON, LIBERIA, MACEDONIA, MOLDOVA, NEPAL, NIGERIA, PAKISTAN, PALESTINIAN AUTHORITY, RWANDA, SENEGAL, SERBIA AND MONTENEGRO, SIERRA LEONE, SOMALIA, SRI LANKA, SUDAN, TANZANIA, TURKEY, TRNC, UGANDA, VIETNAM, YUGOSLAVIA, ZAIRE (FORMERLY DEMOCRATIC REPUBLIC OF CONGO), ZIMBABWE.
Please note, however, that if you are transiting en route to the Republic of Ireland and you are a national of one of the countries above, you will require a visit visa, and the exemptions below do not apply.
Exemptions: You are exempt from this requirement if:
You hold a valid U.S. or Canadian visa, and your ticketing includes a visit to the U.S. or Canada.
You are in possession of an onward ticket for travel by air via the UK when leaving the U.S. or Canada within 6 months of your last date of entry to the U.S. or Canada with a valid U.S./Canadian visa.
You hold a U.S. Permanent Resident Card issued on or after 21 April 1998. To calculate this, subtract ten years from the expiration date on your Alien Registration Card.
You hold a Canadian Permanent Resident Card issued on or after 28 June 2002.
You hold a valid Category D visa (normally printed on a red/pink sticker – green stickers do not qualify) issued by EU/EEA member states, which are valid for more than 3 months.
You hold a valid EU residence permit.
You hold a diplomatic or service passport issued by the People's Republic of China.
You hold a diplomatic or official passport issued by the Government of India.
You hold a diplomatic or official passport issued by the Government of Vietnam.
If you do not qualify for one of the above exemptions, you should apply online, and submit the following documents to your nearest entry clearance-issuing post.
If you intend to change airports in the United Kingdom, you will require a Visit Visa.

Application
The following original documents are required:
Original passport with ample validity.
Evidence of your Immigration Status in the U.S.A. Please submit the original document. Copies will only delay your application.

Alien Registration Card (Green Card)
H1-B Visa
Advance Parole Document
Employment Authorization Card
Valid IAP66/DS 2019
Valid I-20, signed on the reverse by the designated school official
Valid I-94

Confirmed Flight Reservation
(Do NOT purchase the ticket before the Visa is issued).
Any dependents under 16 years old, included on your passport, can be included on the same form, but those older will need to complete separate forms.
Applicants in India can apply at New Delhi, Chennai (Madras), Kolkata (Calcutta), or Mumbai (Bombay).

Schengen Countries
Comprehensive information about airport transit visa is found in the section for Schengen Visa.
Lufthansa: Germany
Air France, Air India: France
Alitalia: Italy
KLM, Northwest: Netherlands

Switzerland
Airlines such as Swiss Air have a stopover in Zurich.
For Indian citizens, if you have a stopover in Switzerland and if you are not getting out of the airport, you do NOT require a transit visa if you are coming to the U.S. with a valid U.S. visa.

Other
Transit visas for:
Russia
We are sorry that this post was not useful for you!
Let us improve this post!
Tell us how we can improve this post?