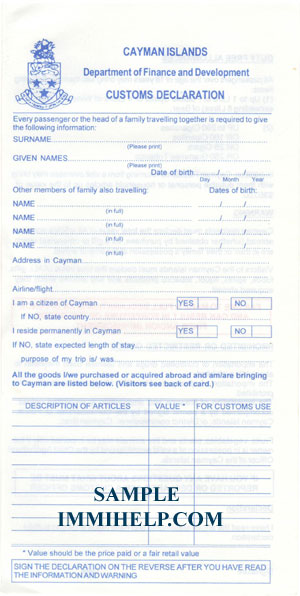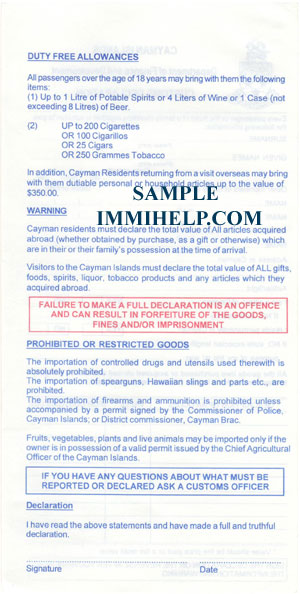 FRONT
CAYMAN ISLANDS
Department of Finance and Development
CUSTOMS DECLARATION
---
Every passenger or the head of a family travelling together is required to give the following information:
SURNAME
(please print)
GIVEN NAMES
Date of birth(day)/(month)/(year)/
(please print)
| | |
| --- | --- |
| Other members of family | Dates of birth: |
| NAME(in full) | …./…./…./ |
| NAME(in full) | …./…./…./ |
| NAME(in full) | …./…./…./ |
| NAME(in full) | …./…./…./ |
Address in Cayman
Airline/flight
I am a citizen of Cayman

YES≅ NO≅

If NO, state country

I reside permanently in Cayman

YES≅ NO≅

If NO, state expected length of stay

purpose of my trip is/was
All the goods I/we purchase or acquired abroad and am/are bringing to Cayman are listed below. (Visitors see back of card.)
| | | |
| --- | --- | --- |
| DESCRIPTION OF ARTICLES | VALUE* | FOR CUSTOMS USE |
| | | |
| | | |
| | | |
| | | |
| | | |
| | | |
| | | |
| | | |
| | | |
* Value should be the price paid or a fair retail value
SIGN THE DECLARATION ON THE REVERSE AFTER YOU HAVE READ
THE INFORMATION AND WARNING
BACK
DUTY FREE ALLOWANCES
All passengers over the age of 18 years may bring with them the following items:
(1) Up to 1 Litre of Potable Spirits or 4 Liters of Wine of 1 Case (not exceeding 8 litres) of Beer.
(2)

UP to 200 Cigarettes
OR 100 Cigarillos
OR 25 Cigars
OR 250 Grammes Tobacco
In addition, Cayman residents returning from a visit overseas may bring with them dutiable personal or household articles up to the value of $350.00.
WARNING
Cayman residents must declare the total value of All articles acquired abroad (whether obtained by purchase, as a gift or otherwise) which are in their or their family's possession at the time of arrival.

Visitors to the Cayman Islands must declare the total value of ALL gifts, foods, spirits, liquor, tobacco products and any articles which they acquired abroad.
FAILURE TO MAKE A FULL DECLARATION IS AN OFFENCE
AND CAN RESULT IN FORFEITURE OF THE GOODS,
FINES AND/OR IMPRISONMENT
PROHIBITED OR RESTRICTED GOODS
The importation of controlled drugs and utensils used therewith is absolutely prohibited.
The importation of spearguns, Hawaiian slings and parts etc., are prohibited.
The importation of firearms and ammuintion is prohibited unless accompanied by a permit signed by the Commissioner of Police, Cayman islands; or District commissioner, Cayman Brac.

Fruits, vegetables, plants and live animals may be imported only if the Owner is ins possession of a valid permit issued by the Chief Agricultural Officer of the Cayman Islands.
IF YOU HAVE ANY QUESTIONS ABOUT WHAT MUST BE
REPORTED OR DECLARED ASK A CUSTOMS OFFICER
DELCARATION
I have read the above statements and have made a full and truthful declaration.
We are sorry that this post was not useful for you!
Let us improve this post!
Tell us how we can improve this post?