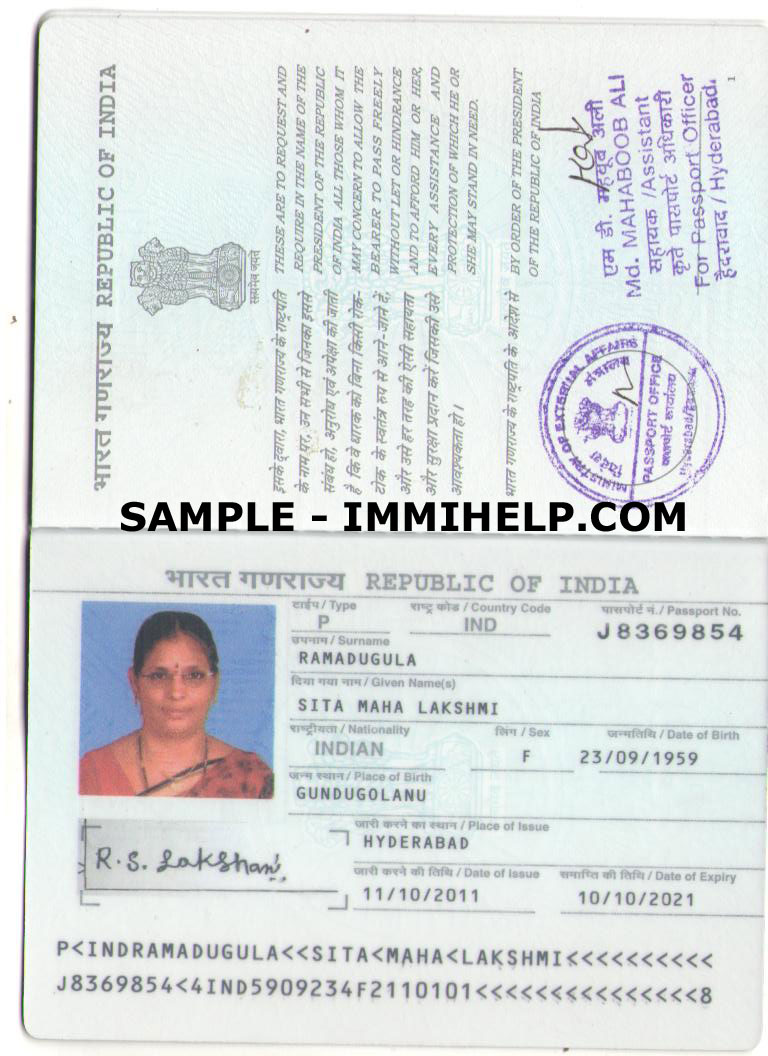 Page 1
Photograph
Type
County Code
Passport Number
Surname
Given Name(s)
Nationality
Sex
Date of Birth
[Signature]
Place of Birth
Date of Issue
Date of Expiry
Page 2

REPUBLIC OF INDIA
[Seal of India]
THESE ARE TO REQUEST AND
REQUIRE IN THE NAME OF THE
PRESIDENT OF THE REPUBLIC
OF INDIA ALL THOSE WHOM IT
MAY CONCERN TO ALLOW THIE
BEARER TO PASS FREELY
WITHOUT LET OR HINDRANCE
AND TO AFFORD HIM OR HER,
EVERY ASSISTANCE AND
PROTECTION OF WHICH HE OR
SHE MAY STAND IN NEED
BY ORDER OF THE PRESIDENT
OF THE REPUBLIC OF INDIA
| | |
| --- | --- |
| [Passport office stamp] | [signature and stamp of passport officer] |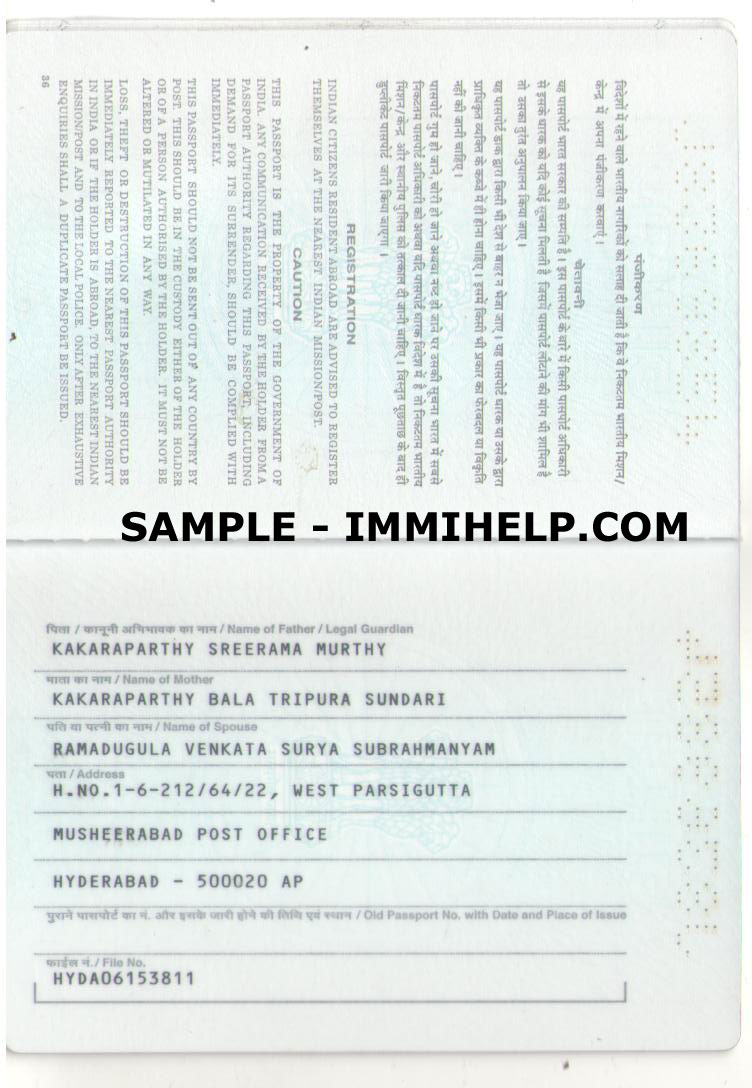 Page 3

REGISTRATION
INDIAN CITIZENS RESIDENT ABROAD ARE ADVISED TO REGISTER
THEMSELVES AT THE NEAREST INDIAN MISSION/POST.
CAUTION
THIS PASSPORT IS THE PROPERTY OF THE GOVERNMENT OF
INDIA. ANY COMMUNICATION RECEIVED BY THE HOLDER FROM A
PASSPORT AUTHORITY REGARDING THIS PASSPORT, INCLUDING
DEMAND FOR ITS SURRENDER, SHOULD BE COMPLIED WITH
IMMEDIATELY.
THIS PASSPORT SHOULD BE IN THE CUSTODY EITHER OF THE HOLDER
OR OF A PERSON AUTHORISED BY THE HOLDER . IT MUST NOT BE
ALTERED OR MUTILATED IN ANY WAY.
LOSS, THEFT OR DESTRUCTION OF THIS PASSPORT SHOULD BE
IMMEDIATELY REPORTED TO THE NEAREST PASSPORT AUTHORITY
IN INDIA OR IF THE HOLDER IS ABROAD, TO THE NEAREST INDIAN
MISSION/POST AND TO THE LOCAL POLICE. ONLY AFTER EXHAUSTIVE
ENQUIRIES SHALL A DUPLICATE PASSPORT BE ISSUED.
Page 4

Old Passport No. with Date and Place of issue
Name of Father/Legal Guardian
Name of Mother
Name of Spouse
Address
[Second address line]
[Third address line]
File No.
We are sorry that this post was not useful for you!
Let us improve this post!
Tell us how we can improve this post?