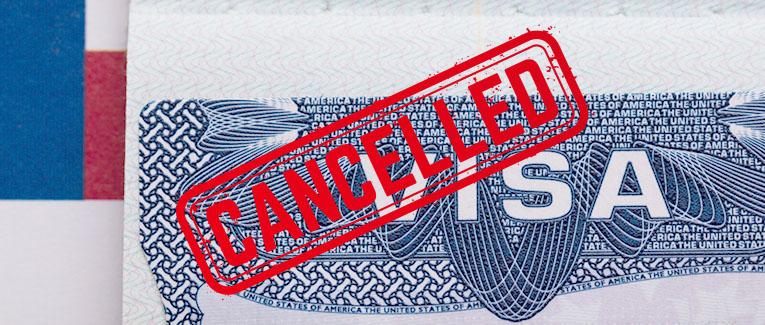 When a person enters the U.S. on a nonimmigrant visa, the authorized stay is usually mentioned in Form I-94, which can be downloaded from the CBP website and/or found in the passport. If the person stays in the U.S. past the authorized stay duration, the nonimmigrant visa will be rendered void, according to section 222(g) of The Immigration and Nationality Act (INA). Except in the cases of "extraordinary circumstances", as determined by the Department of State, such person will have to apply for a new nonimmigrant visa in his/her country of nationality before being admitted again in the United States.
In cases when section 222(g) applies, your visa will not be physically canceled immediately. However, when an immigration officer encounters an alien in possession of a nonimmigrant visa that has become void automatically under 222(g), the officer must physically cancel the visa.

Removal and Bar
Once the person has fallen out of valid nonimmigrant status, he/she may be subject to removal from the U.S. Additionally, such alien may be accruing an unlawful presence in the U.S. that counts toward the 3- or 10-year bar of inadmissibility.

Two Nonimmigrant Visas
If the alien has two valid nonimmigrant visas and has to overstay on one of them, only the visa under which he/she overstayed will be voided under 222(g). The other nonimmigrant visa would still remain valid.

Waiver at the Border
Individuals whose visa was canceled under 222(g) may apply for admission at the U.S. border without a new visa by seeking a waiver under section 212(d)(4)(A) of the INA. Such waivers will be considered on a case-by-case basis and will only be granted for an unforeseen emergency. If the waiver is declined, the alien will be subject to expedited removal.

Not Applicable
As section 222(g) only applies to overstays on a nonimmigrant visa, there are many scenarios in which 222(g) is not applicable:
Entered the U.S. on the Visa Waiver Program
Entered the U.S. on advance parole
Entered the U.S. without inspection (illegally)
Entered the U.S. on a diplomatic visa
Entered the U.S. through any other means
Admitted from Canada or Mexico with an I-68 or DSP-150 Border Crossing Card, or any other Canadian or Mexican entrants to the U.S. who were not issued Form I-94 (and who were not subsequently found to be out of status by USCIS or an immigration judge)
Those who could not physically depart the U.S. because they were in the custody of law enforcement, such as in prison, at that time

For visitors, travel, student and other international travel medical insurance.
Visit insubuy.com or call 1 (866) INSUBUY or +1 (972) 985-4400

Admitted for the Duration of Status
While tourists (for example) entering the U.S. would be admitted until a specified date, several other categories of nonimmigrants (students, exchange visitors, media representatives, diplomat visa holders, etc.) would be admitted for the duration of status (D/S).
For those admitted for the duration of status, section 222(g) would be applicable if:
USCIS finds a status violation while adjudicating a request for an immigration benefit; or
An Immigration Judge finds a status violation in proceedings against the alien.
If the nonimmigrant is admitted for duration status and files for an extension or change of status, 222(g) will apply only if the denial was because of a status violation.

Admitted Until a Specific Date
If a nonimmigrant is admitted into the U.S. until a specific date and departs before that date, section 222(g) would generally not apply unless the USCIS or an Immigration Judge formally finds a status violation before the alien's departure.
If a nonimmigrant admitted until a specific date files for an extension or change of status and remains in the U.S. after the date on Form I-94, there are different scenarios:
If the application is subsequently approved, he/she will not be subject to 222(g).
If the application is subsequently denied, he/she will be subject to 222(g), irrespective of the reasons for the denial.
If the alien leaves the U.S. after the Form I-94 date while the application is pending, section 222(g) will not apply, irrespective of whether the application is later approved or denied. However, if the application is found to be frivolous, section 222(g) will apply.
If the alien files a late application for extension or change of status and USCIS still accepts it, 222(g) will not apply if the application is approved.
We are sorry that this post was not useful for you!
Let us improve this post!
Tell us how we can improve this post?