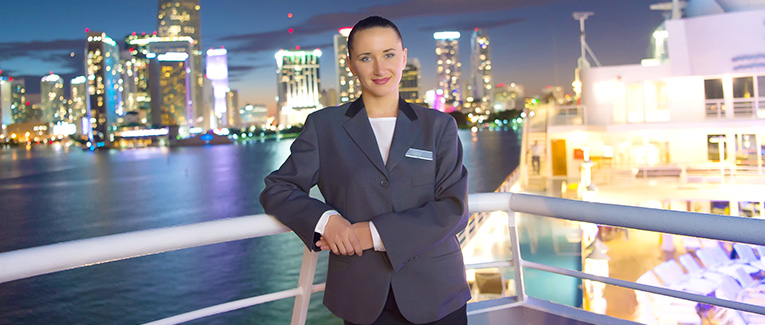 A crewmember (D) visa is for crewmembers serving in any capacity aboard a vessel or aircraft, except U.S.-based fishing vessels, that will land in the U.S. to enter the U.S. Persons on a D visa would be admitted into the U.S. for up to 29 days.
When applying for a D visa, if issued, you will get a D-1 visa when you enter the U.S. as a crewmember on a ship or plane. A D-2 visa is issued when your contract ends, and you disembark the ship to return to your home country.
The C-1/D Crewmember visa is a combination nonimmigrant visa for persons desiring to travel the United States to join a vessel or aircraft they will work on. Persons on a C-1/D visa would be admitted into the U.S. for up to 29 days. Alternatively, one can obtain a transit (C-1) visa along with the D visa.
Crewmembers may obtain an individual visa or may be included in a crew list visa.
Eligibility
All foreign crewmembers are eligible for a D visa. Crewmembers may include pilots, air hostesses, flight attendants, stewards, seaman, or employees on board commercial sea vessels or international airlines whose services are required for normal operation while traveling to the U.S. and who intend to depart the same vessel or other vessel within 29 days.
The consulate considers the alien's responsibilities on the ship to determine whether the services of a person are required for normal operation and service on board a vessel. For example, a beautician or a lifeguard employed on board a luxury liner, an electrician employed on board a cable ship, a flight attendant employed on a commercial airplane, or a chemist employed on board a whaling boat are all classifiable as crewmen.

Dependents
Spouses or dependent children accompanying a crewman entering the United States and not performing services required for normal operation of the vessel or aircraft must obtain a B-2 visa, unless such dependent is planning to enter the United States for a purpose that would necessitate a different classification or qualifies under the Visa Waiver Program. The Visa Waiver Program is only available to those who enter the U.S. aboard a participating carrier. Many shipping companies are not participating carriers.

Fishing Vessel
Crewmembers who are on a fishing vessel that has a home port or operating base in the United States and are working on a temporary basis are not eligible for a D visa and should apply for an immigrant visa, such as H-2. An operating base is where the vessel gets supplies on a regular basis, where the cargo is sold, or where the owner of the vessel does business transactions.
Guam
Aliens serving on board a fishing vessel that has an operating base or a home port in the U.S. may temporarily land in the Commonwealth of Northern Mariana Islands or Guam on a D visa if they do so solely in pursuit of their calling as a crewmember and depart on the same vessel on which they arrived.

Dry Dock
Crewmen who are to service a vessel in a dry dock require the appropriate work visas unless the work is being done under warranty, in which case they qualify for the B-1 visa.
Coasting Officer
Crewmembers serving as replacement coasting officers employed when an officer on a foreign vessel is granted home leave may apply for a B-1 visa if the vessel remains in U.S. waters for less than 29 days.
Private Yacht
If you will be working on a private yacht sailing out of a foreign port and cruising in U.S. waters for more than 29 days, you need a B-1 visa.

Holiday
If you wish to remain in the U.S. for a holiday after your period of employment, you will be required to apply for admission as a visitor on a B-2 visa. However, if you enter the U.S. aboard a cruise liner which participates in the Visa Waiver Program, you may be eligible to enter visa-free. You should check with the cruise liner before traveling.

C-1/D and B-1/B-2 Dual Visa
If you would like to get the C-1/D and B-1/B-2 dual visa, you can request it from the consular officer at the time of the interview. The consular officer might accordingly ask you to pay the additional fees for the same. However, the granting or rejection of the visa is at the sole discretion of the officer.
For crew members who work aboard vessels within the Outer Continental Shelf, a modified B-1 visa may be issued in lieu of a crew visa.
Documents
The following documents are required for a D or C-1/D visa:

Mandatory Documents
Confirmation page of online submitted Form DS-160 with CEAC bar code


Visa fees
Fees to be paid in advance before making an appointment


Original interview appointment letter and one copy
Sample


Original company or employer letter


Dependents (visitor visas or other visas):

A company letter from the principal applicant's company, along with a copy of the valid D or C-1/D visa.


Original birth certificate for each child below the age of 14 years


Dependents joining their seafarer spouse on board the ship may bring a copy of their spouse's visa and proof of relationship; e.g., original marriage certificate, wedding album, etc.


If the principal applicant is currently in the home country, the original passport bearing the D or C-1/D visa should be brought instead of a copy.
Supporting Documents
Photocopies of the first page, address page, and last page of your current passport


Evidence of ties to the home country, for example:

Bank statements


Lease/mortgage agreement


Utility bills


Evidence of investments



Category-specific

Ship crew

A comprehensive, original, signed letter from the employer on letterhead stationery (original) addressed to the U.S. Consulate/Embassy confirmation:

Confirming the employment with the company


Period that the applicant will be in the U.S.


Name of the vessel


Date and port of entry


Date and port of exit


Job position


The company's financial responsibility while the applicant is in the U.S.


Nature and function of the crewmember's position


Purpose of travel


Local agent's name and address in the U.S.



Copies of employer work records


CDC Card


Documents like the Continuous Discharge Certificate (CDC), letter of employment and travel authorization from the Shipping Company or Agent, and certificates establishing the seaman's qualifications are also recommended.



Airline crew

Original letter from the airline


Application
Visa applicants must demonstrate that:
The purpose of their trip is to enter the U.S. for crew-related business or transit;


They plan to remain for a specific period;


They have a residence outside of the U.S. as well as other binding obligations which will ensure their return abroad at the conclusion of their trip.


Reciprocity Issues
A combined C-1/D visa may not be issued sometimes because of reciprocity issues.
When the reciprocity schedule lists the same number of applications and period of validity for both C-1 and D visas, a combined C-1/D visa may be issued.
When the reciprocity schedules for C-1 and D visas differ with regard to the number of applications or period of validity permitted in each category, the consular officer shall issue separate C-1 and D visas, and an application and fee must be collected for both visas.

Restrictions
While on D visa, the following restrictions apply:
You may not be involved in fishing if the ship's home port or operating base is in the U.S., regardless of the nationality of the fishing vessel.


You must land in and depart from the same port as part of your crew duties.


You can't apply for an extension of stay on a D visa.


If you want to reenter the U.S., you must apply for the visa after six months.


You can't apply for change of status or adjustment of status while on a D visa.


You may not study in the U.S. while on a D visa.


You are authorized to work in the U.S. only for the vessel for which you have received the visa.


You may not apply for a Green Card while on a D visa.


You are generally prohibited performance of longshore work at U.S. ports. To seek an exception to this rule, an employer must file an attestation stating that it is the prevailing practice for the activity at that port, there is no strike or lockout at the place of employment, and that notice has been given to U.S. workers or their representatives.


Crew List Visa
The master or agent of any vessel arriving in the U.S. must fill out Form I-418, which lists the names of all crewmembers who don't have individual visas or alien registration cards (Green Cards) to obtain a crew list visa.
If the vessel plans to make two or more calls in the U.S., submit an additional copy of Form I-418 for each entry into the U.S. If additional crewmen are signed on after the original list is issued visas, a supplemental crew list should be prepared and submitted.
You must also submit the following for the crew list visa:

Crew list in alphabetical order with full names, dates of birth, and passport numbers in Form I-418


Job description of crewmembers


Itinerary of crewmembers


Passports of crewmembers


Name, address, and phone and fax numbers of an agency company in the U.S.


Name, registry number, and flag of registration of the vessel


U.S. port and date of entry


Last foreign port of call and date of departure before entry into the U.S.


Next foreign port of call (ship's itinerary)


Type of vessel and purpose of entry


Method of salary payment


Qualification certificate and proof of prior travel as seaman (work-books, certificates, prior passports, etc.) are required for vessel crewmembers applying for the first time and/or with new passports


Crewmember visas are multiple entry visas valid for 2 years, and the fee must be paid for each crewmember.
We are sorry that this post was not useful for you!
Let us improve this post!
Tell us how we can improve this post?