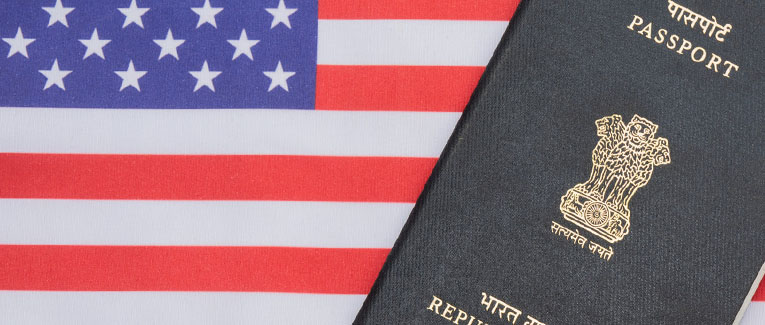 There are at least a few dozen different US visas. It can get quite confusing to find which one is the most suitable for your purposes.
To explore the issue, we have created a brief US visa guide that explains the various types of work and study visas for you and your family at a glance.
At the outset, we'll set aside the B-2 tourist visa. It is a visitor visa meant for travel, medical treatment, and attending social functions such as marriage.
We also exclude the B-1 visitor visa that is meant for business and those attending conventions, seminars, etc.
For visitors, travel, student and other international travel medical insurance.
Visit insubuy.com or call 1 (866) INSUBUY or +1 (972) 985-4400

Different Types of Work Visa
H-1B

The most well-known visa is the H-1B visa. It has become common knowledge that an H-1B visa allows Indians to work in the tech sector. That is a simplification, as H-1Bs can be used in any industry. It is simply a work permit that allows foreigners to work for a U.S. company.

The minimum educational requirement is a bachelor's degree, and the USCIS determines if the need for a specialty occupation is met. A U.S.-based company cannot hire for something like a data entry employee, a relatively unskilled job, based on this visa.
H-2A

An H-2A visa is for those seeking to work in temporary agricultural jobs, like picking grapes under the California sun. Obviously, not too many Indians will sign up for this or be allowed. It is mostly used by Mexican citizens. Like the H-1B, this also is a sponsored visa.
H-2B

This is for seasonal, non-agricultural work, such as a job at Disney World during the summer or at an Aspen ski resort during winter. Indians can't sign up for H-2 visas.
H-3

This is a visa for receiving training. Any employee at a multinational corporation may require a better understanding of technology and processes at U.S. headquarters or main research labs. The visa is used by tech companies based out of the U.S. like Amazon and Google, pharmaceutical companies such as Pfizer and Johnson & Johnson, engineering firms such as GE and Bechtel, and more.
H-4

This is a dependent visa provided to the spouses and minor children (under 21) of those who have arrived on H-1B or H-2 visas. Those who enter with an H-4 visa can apply for an Employment Authorization Document allowing them to work in the U.S. if they meet certain requirements.
L-1
This is for the transfer of company personnel from one country to another. Big multinational companies require employees in managerial positions to be able to move freely around the world and accept assignments. It requires at least a year's experience in the company sponsoring the visa.
L-2

An L-2 visa is for spouses and minor children (below the age of 21) of those who have entered the U.S. on an L-1 visa.
O

O visas are offered to those with exceptional ability in fields like the arts, science, math, sports, or movie production. This is for those who have proven to be superlative in their field.
P

P visas are for the support staff of O-visa holders. Examples might include the coach and masseur of a professional athlete, or the makeup person and manager of a musical artist.
Q

The Q visa is for cultural exchange programs. Needless to say, it is organized between universities or by the U.S. Department of State.
As can be seen, all of these non-immigrant visas require a sponsor, and one can't sign up for them as an individual.
Different Types of Student Visas
F-1

This is the principal type of visa for studying in the U.S. Of course, it has to be for full-time students with coursework of at least 18 hours per week. The prerequisite is a Form I-20 sent by the school where the student has been accepted. Form I-20 proves that the student is eligible for an F-1 visa application.

F-2 visas are for spouses and minor dependents of F-1 visa-holders.
M-1

It is for vocational training such as nursing, welding, electrical work, and other technical courses. Needless to say, there are not too many Indians who go abroad to learn how to fix an air conditioner or commode.
J-1

A J-1 visa allows a visit to the U.S. for knowledge-based exchange programs. It is available for students, professors, research scholars, and medical graduates who wish to acquire a skill or teach one. It is a non-immigrant visa, but it is a visa type that can be changed to another without requiring a return to the home country. For example, a student on a J-1 visa might get a job offer while in the U.S. and stay with an H-1B visa.

J-2 visas are for the spouses and minor children (under 21) of J-1 visa holders.
Summary
As an Indian going abroad, the F-1, H1-B, and L-1 visas are of the greatest significance to you. They allow you a valuable scope for education and work in the United States.
For visitors, travel, student and other international travel medical insurance.
Visit insubuy.com or call 1 (866) INSUBUY or +1 (972) 985-4400

We are sorry that this post was not useful for you!
Let us improve this post!
Tell us how we can improve this post?