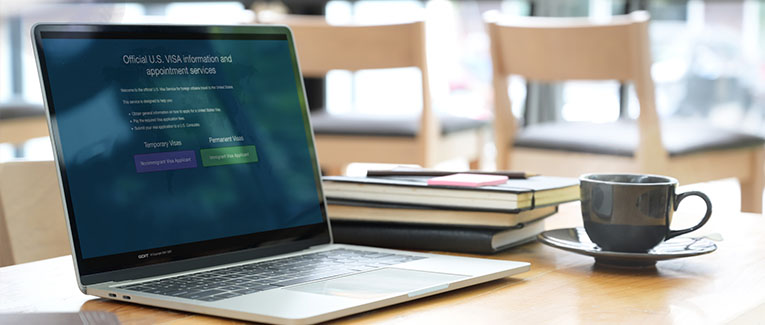 The website to create a user profile, pay visa fees, and schedule your appointment for a U.S. visa varies based on the country in which you are applying.

Online Procedure
Create a Profile
To create your profile and pay visa fees, please visit the appropriate website below:
Group A:

The Americas
Argentina, Bahamas, Barbados, Belize, Brazil, Bolivia, Canada, Chile, Colombia, Ecuador, Guyana, Jamaica, Mexico, Paraguay, Peru, Trinidad and Tobago, Uruguay

Europe
Albania, Andorra, Armenia, Azerbaijan, Belgium, Bosnia and Herzegovina, Croatia, Cyprus, France, Greece, Italy, Ireland, North Macedonia and Kosovo, The Netherlands, Portugal, Serbia, Spain, Turkey, United Kingdom
Middle East
Israel, Jerusalem, The West Bank, Gaza, United Arab Emirates, Iran
Africa
Angola, Cameroon, Cabo Verde, The Democratic Republic of Congo, Ethiopia, Kenya, Rwanda, Senegal, Tanzania, South Africa, Uganda, Zambia
Visit ais.usvisa-info.com/
Group B:
Rest of the countries
Visit usvisascheduling.com
Schedule an Appointment
Please visit the same website you visited above (to create your profile) to schedule an appointment. Alternatively, you can schedule an appointment over the phone as well in several countries.
Please keep the following information ready:
DS-160 confirmation (barcode) number
Application fee payment receipt number
Applicant's passport number
Category-specific information

F, M Students: SEVIS number from Form I-20
J exchange visitors: SEVIS number from Form DS-2019
Temporary Work Visas (H, L, etc.): Petition Number from Form I-797
Immigrant Visas: Case Number
If required, you will schedule an appointment for getting your fingerprints and photograph taken (VAC Appointment or OFC Appointment). If required, you will schedule an appointment for the interview with a consular officer.
Please review the U.S. visa interview waiver details to determine which appointments are required for you.
You first schedule a fingerprint appointment and then the consular appointment. Both appointments cannot be scheduled for the same day.
You will also select the courier (DHL for Group A) location where you will pick up your passport if your visa is approved. Please note that passports can no longer be collected from the consulate.
Make sure to print your appointment letter.
Appointment Over the Phone – Call Center
Alternatively, you can schedule your U.S. visa appointment over the phone by calling their call center.

National Visa Center(NVC)
Phone: (603) 334-0700
7:00 a.m. – 12:00 midnight EST
Monday through Friday
(excluding holidays)
More information: Public Inquiry Form
Country-Specific Information

We are sorry that this post was not useful for you!
Let us improve this post!
Tell us how we can improve this post?