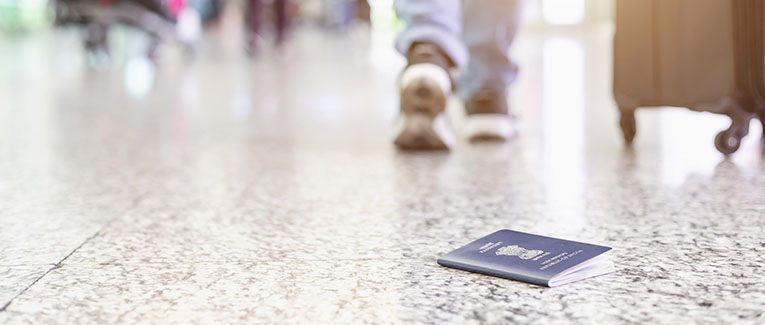 Losing your passport can be a nightmarish experience, even more so if you are in a foreign country. Your passport is your most important proof of identity. It also has your visa stamp, which proves that you are in a foreign country legally.
As an NRI, you must take swift action to ensure that you report the loss of your passport to the proper authorities.
Your course of action will be different depending on whether you lose your Indian passport in India or in a foreign country.
Let's dive into the details to ensure you don't land in legal trouble either way.
What to do if you lose your Indian passport in a foreign country?
Please keep copies of your passport and visa, always. This is the first yet most important tip.
Here is a guide to help you handle this unfortunate situation:
First, you must file a police report. The moment you realize that your passport is missing, rush to the nearest police station. Don't forget to carry the copies if you have them.
The police will file a First Information Report (FIR). They will share a legal document with you that states that your passport is missing.
After the FIR, if you get back your passport, the matter ends here.
If not, be ready for the grind.
Collate the following documents, if you haven't got back your passport after the FIR:
Photocopies of your passport or passport details.
Original police report
Passport-sized photos
Once you have organized these documents, head to the Indian Embassy/Consulate.
Indian Embassy or Consulate to Your Rescue
At the Indian Embassy or Consulate, you will have to produce the above-mentioned documents.
If you are a work-permit holder, you have to request your company to issue a letter stating that you are an employee of their firm.
The Embassy will validate all your information and issue you an Indian passport. The time taken will depend on the passport rules of that country.
If you were about to travel to India when you discovered that you have lost your passport, you can be considered for an Emergency Certificate (EC).
What is an Emergency Certificate?
It is a one-way travel document valid only for the return to India. It can be issued to NRIs if they are scheduled to travel to India and have lost their passport.
To obtain an EC, you will have to produce all the documents required to get a new passport issued.
Once you're back in India, approach the passport office to get a duplicate passport issued upon producing the EC.
What to do if you lose your Indian passport in India?
If you have lost your passport in India, report it to the police first. Then, repeat the procedure you followed when you were applying it for the first time.
You can apply for a normal passport if you are in India for a couple of months. If not, there is an option for tatkal passport issuance.
The tatkal passport might be an expensive option, but you can receive your passport within 3–4 days of applying for it.
If you have a valid visa assigned to your passport, you will have to reapply for it. The visa will have to be re-issued from the country's Embassy. You will have to produce your passport and the police report.
Produce your company's letter if you had a work visa approved.
What more can you do if you lose your passport?
Post it on social media, and ask friends in your network to share it with their network. If your passport has been found by someone, they will return it to you.
If you have already applied for a new passport, the old passport will be rendered invalid.
Keep your passport safe at all times. Also, keep copies of it safely. Applying for a new passport is quite a hassle.
We are sorry that this post was not useful for you!
Let us improve this post!
Tell us how we can improve this post?