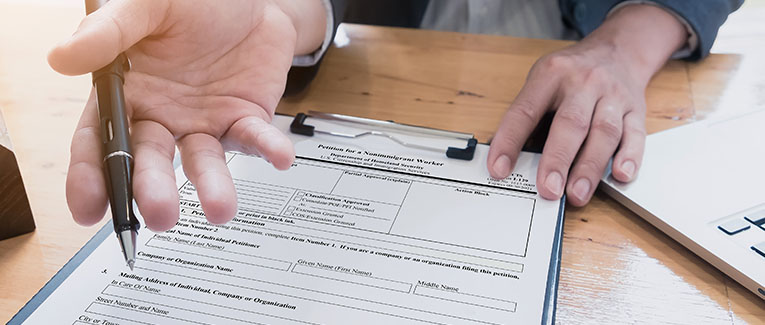 Petition
A petition is the application process by which the USCIS determines that the employer and/or temporary work meets the basic qualification for a particular visa. Petitions cannot be filed with the embassy or consulate; they must be filed in the U.S. Either the U.S. employer or the foreign employer may file a petition with the USCIS for L1 visa.
When filing a petition, it is mandatory to mention whether a previous petition for the beneficiary has been filed, and certify that another petition for the same beneficiary will not be filed unless the circumstances and conditions in the initial petition have changed.
Before filing a petition, an employer must make sure that it is not ineligible under Anti "Job-Shopping" Provisions of the L-1 Visa Reform Act.
If the same petitioner has identical positions for the same location and the same project, bundling of L1B petitions may be an option.
Documents
Form I-129 and the special L supplement. 


Evidence that satisfies all the L1 visa requirements. 

Exact evidence of qualifying organization depends upon the type of organization. 


If the employee will be coming to the U.S. to open a new office, additional evidence is required. 


If the beneficiary is an owner or major stockholder of the company, evidence that the beneficiary's services are to be used for a temporary period and evidence that the beneficiary will be transferred to an assignment abroad upon the completion of the temporary services in the U.S. 


A letter from the U.S. employer that:

Describes the proposed job duties to be performed (intended employment) in the U.S. and its qualifications
Describes applicant's prior employment abroad, including, but not limited to, the dates of employment, job titles, specific job duties, number and types of employees supervised, qualifications for the job, level of authority, salary, and dates of time spent in the U.S. during the qualifying period; along with the documentary evidence
Includes evidence showing that the proposed employment is in an executive, managerial, or specialized knowledge capacity
Proves that entities are themselves meeting the guidelines of a qualifying organization.


Employment letter from an authorized official of the employing company abroad. 


Filing
L1 petition should be filed at the service center having jurisdiction where the alien will be employed or the location of the employer, as appropriate.
We are sorry that this post was not useful for you!
Let us improve this post!
Tell us how we can improve this post?