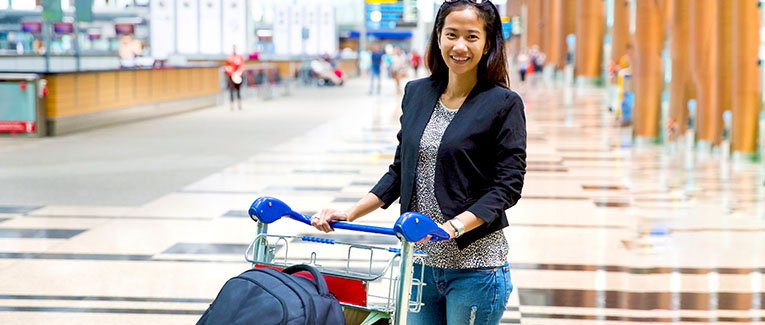 You will need the following documents for getting an M-1 visa stamping.
Mandatory Documents
Current passport as well as all old passports


One photograph (Only for a dropbox appointment)


Confirmation page of online submitted Form DS-160 with CEAC bar code.


Visa fees
Fees to be paid in advance before taking an appointment.


Original interview appointment letter and one copy.
Sample


Both pages of the bar-coded, original SEVIS generated Form I-20 (Certificate of Eligibility for Nonimmigrant Student Status) obtained from a U.S. college, school, or university and signed by you and a school official.

All students, as well as their spouse and dependent children (everyone that is applying for the U.S. visa), must be registered in SEVIS. Your school is responsible for entering your information for the Form I-20 into SEVIS.

Also, one copy of Form I-20.

Your I-20 does not need to be sealed in an envelope. However, you have to make sure that you carry the I-20 when you travel, as you have to show it to the immigration officer at the port of entry in order to be admitted into the U.S.

When you get the visa, there will be nothing stamped on your I-20. When you enter the U.S, the immigration officer at the port of entry will stamp the I-20 in the allotted space.


Original proof of payment with the SEVIS Fee Receipt I-901 and one copy, if applicable.
Supporting Documents
Photocopies of the first page, last page, and remarks pages of your current passport.


Evidence of Financial Resources:

Proof of liquid assets sufficient to pay for the entire period of the intended stay for all tuition and living costs. Working while on an M status is not allowed.

Any financial documentation you provide should be in support of this. This applies to ALL student visa applicants.

To establish your financial resources, you should bring to the consulate:

Original tax returns for the past 3 years.
Original bank records for the past 3 years, and/or a fixed deposit statement of your parent or sponsor. (Although anyone may sponsor your education, the Consular Officer will be more convinced if your parent or close family member finances your studies)
Pay slips, employment letters
Chartered accountant statements
If you receive a scholarship, it is noted on the I-20 and is favorably considered by the Officer.
The U.S. Consulate discourages applicants from bringing property deeds or certified copies of financial documents. Only bring financial documents that can support your (or your sponsor's claim) that your studies in the U.S. will be fully funded.
There are no specific documents that prove a student is able to pay for his/her education. These are only suggested documents. A visa is not assured if you have any or all of these documents.



Proof of the ability to afford schooling in the United States.
Part 7 on the I-20 shows the amount of funding you must have available to cover the expenses for your entire duration The total amount includes tuition and fees, living expenses, expenses of dependents (if applicable), and other expenses (as applicable). You must prove that you have immediate funds available to cover this amount.


Form I-134 (Affidavit of Support), if you are financially supported by an individual in the U.S., along with three years of that individual's bank statements and tax returns.


If you have taken a loan from a bank to cover your tuition, please bring official documents, which verify the loan approval and not just the application. Since banks in some foreign countries ordinarily give educational loans of relatively modest amounts, the applicant must still demonstrate additional liquid assets.


Paying the tuition expenses in advance is a good way to show proof of funds, but it is NOT a requirement to pay in advance.



Education Documents:


Original degree certificates along with mark sheets / transcripts.

You may still apply if you have not yet received your degree certificate. However, make sure to include your mark sheets / transcripts and provisional certificate if available.


Original bachelor's degree transcripts or a high school diploma along with mark sheets / transcripts from previous institutions attended.


Relevant test scores, e.g., TOEFL and SAT, GRE, GMAT, or LSAT.

If your university does not require that you take certain tests, such as the TOEFL or GRE, you should get a letter from the university stating the same. However, the embassy strongly recommends that all student visa applicants provide standardized test scores.
We are sorry that this post was not useful for you!
Let us improve this post!
Tell us how we can improve this post?