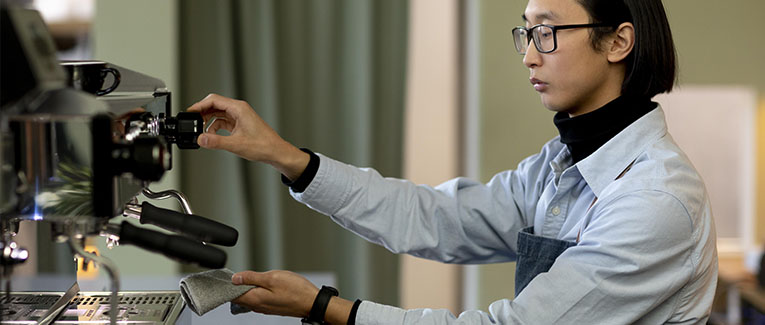 F1 visa holders cannot accept off-campus employment at anytime during the first year of their studies. Under certain circumstances, the U.S. Citizenship & Immigration Services (USCIS) may grant permission to accept off-campus employment after one year of study. F-1 students may accept on-campus employment in their university without seeking prior permission from USCIS.
M1 students cannot accept employment except for the purpose of temporary practical training.
The spouse and children (F2 / M2/ J2) of students may not accept employment at any time.
Exchange visitors (J1) may not accept paid employment in the U.S. other than that which is an integral part of their program.
On Campus Employment
Two types of on-campus employment are allowed without explicit USCIS authorization. The students should maintain their status of F-1/J-1 by taking a full-time course load.
While school is in regular session, the student cannot work more than 20 hours per week, although during extended holidays, breaks, and summer sessions, the student may work full time (up to 40 hours per week). The student can work for a commercial firm that contracts with the school to provide services, such as a bookstore or cafeteria.

Under no circumstances can a student work for more than 20 hours/week during a regular session. Otherwise, it will lead to problems involving the reinstatement of student status to deportation.


While the work must be "on campus", USCIS regulations allow work at some off-campus locations. This includes employment as part of a scholarship, assistantship, fellowship, post-doctoral appointment, etc. There are two primary situations when this is the case. First, if the workplace is "educationally related" to the school, it is considered on campus. Second, a workplace that is "educationally affiliated" with the school is considered on campus. This covers situations in which the student is conducting research with a professor who has a research grant that does not come from the school.
Also, always check with the employer if it is considered on-campus employment. As an international student, it is your responsibility to ensure that you are not engaging in any illegal employment. You have more to lose if you engage in unauthorized employment than the employer.
Some schools are spread over many streets in university towns and urban areas, and it could be confusing what is on-campus and what is off-campus employment. When in doubt, check with the employer and also the DSO or International Student Advisor.
An undergraduate student may be able to find a professor or research group in one of the departments at the university and assume a part-time Undergraduate Research Assistant position. However, competition is fierce, and one has to be proactive in searching for such a position. A student who has such a position and works 19.5 hours/week may be eligible to pay in-state tuition. It should be noted that the eligibility to pay in-state tuition under these circumstances depends upon the university policy.
Off Campus Employment
As an F1 student, you are not allowed to work off-campus unless authorized by the DSO (Designated School Official). Off-campus employment is authorized by the DSO under extreme financial hardship caused by unforeseen circumstances beyond the student's control (Authorization comes from USCIS upon recommendation from the school) or for a CPT, which is authorized by the school official in charge. Examples of these situations are a severe devaluation in the currency of a student's home country and substantial increases in the cost of tuition, living, or medical bills.
Off-campus authorized employment based on severe economic hardship is possible only after the student has been in proper status for at least one full academic year. In addition, there are other conditions to be met, and eligibility is determined by the school DSO.
Any other kind of off-campus employment like hotels, motels, gas stations, liquor stores, etc. is ILLEGAL. If caught in a raid or by any person, that could possibly lead to deportation or problems during future immigration-related work authorization, like H1b, Green Card, Visa Stamping, etc. F1 students should not engage in such employment that is risky and illegal by all means.
We are sorry that this post was not useful for you!
Let us improve this post!
Tell us how we can improve this post?