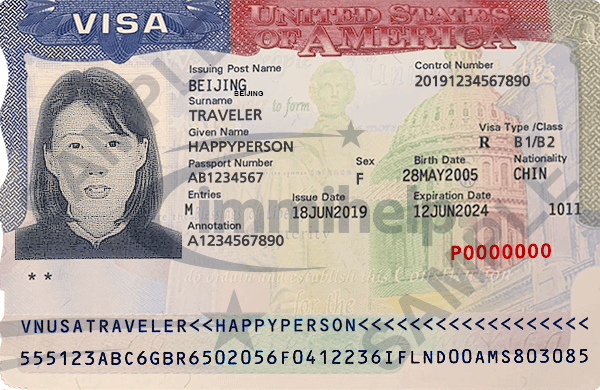 Issuing Post Name: The U.S. Embassy/Consulate that issued the visa. See U.S. Consulates Worldwide.
Surname: Same as the last name or family name in the U.S.
Given Name: Same as the first name in the U.S.
Passport Number: Visa holder's passport number
Entries: M or S. If it is "M", you can enter the United States multiple times until the expiration date of the visa. If it is "S", you can enter the United States only a single time until the expiration date of the visa.
Annotation: Any notes that the consulate would like to add, such as employer's name, petitioner name, any restrictions, special circumstances, etc.
Control Number: Control number used to track visas.
Visa Type/Class: Type of non-immigrant visa. See Non-Immigrant Visas.
Sex: M/F (For Male/Female)
Birth Date: Date of birth of the visa holder
Nationality: Visa holder's country of citizenship
Issue Date: The date (in DD/MM/YYYY format) when the visa was issued.
Expiration Date: The date (in DD/MM/YYYY format) until which the visa holder can apply for entry into the United States. The actual duration of stay in the U.S. is determined at the port of entry as per the date stamped on the I-94 form.
Number in red color: Visa number.
Stars below photograph: Sometimes there are no stars under the photograph, sometimes 1 star, sometimes 2 stars. The exact purpose of stars is unknown. It certainly does not correspond to the number of times the person applied for a visa.
Information at the bottom: Computer-generated and machine-readable information about the visa that the visa holder generally does not have to worry about.
The background of the visa shows photographs of the Lincoln Memorial and the U.S. Capitol building.
We are sorry that this post was not useful for you!
Let us improve this post!
Tell us how we can improve this post?