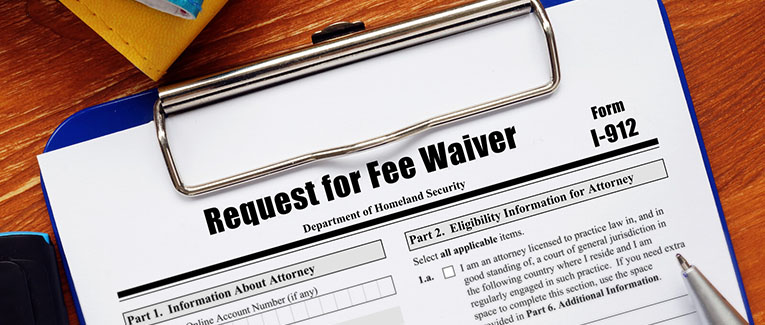 US Citizenship and Immigration Services (USCIS) understands that certain people are unable to afford filing fees for USCIS forms. Due to this, USCIS offers a fee waiver for some immigration forms to relieve the financial burden. The request for USCIS fee waiver is known as Form I-912.
How Do I Get a Fee Waiver for USCIS Forms?
It is important to understand that not all USCIS forms are eligible for a fee waiver. You can view a full list of currently eligible forms on this webpage in the Special Instructions section. You can only apply for a waiver if you are filing one of the listed forms.
In order to be eligible for a USCIS fee waiver on these forms, you must meet one of the following criteria:
Have a household income at or below the 150% poverty level at the time you file. You can view the current poverty levels here.
Either you, your spouse, or your head of household living with you is currently receiving a means-tested benefit.
You are currently experiencing a financial hardship that makes it so you are unable to pay the filing fee. This could be due to an emergency, unexpected medical bill, etc.

For visitors, travel, student and other international travel medical insurance.
Visit insubuy.com or call +1 (866) INSUBUY or +1 (972) 985-4400
How to Request a USCIS Fee Waiver
Along with the eligible form you are filing, you will also need to file a Form I-912, Request for Fee Waiver. Currently, you are required to file a paper form.
Be sure to sign the Form I-912 in addition to the fee waiver-eligible form you are filing. It will be rejected if it is not signed by you, or an eligible representative for those under the age of 14 or mentally incompetent.
To file the Form I-912, attach it to the eligible form you are filing, and mail it to the appropriate address listed in the instructions for that form. For example, if you are requesting a fee waiver for Form N-400, Application for Naturalization, you would mail both the N-400, I-912 and all supporting documentation to the address listed in the N-400 instructions.
We are sorry that this post was not useful for you!
Let us improve this post!
Tell us how we can improve this post?