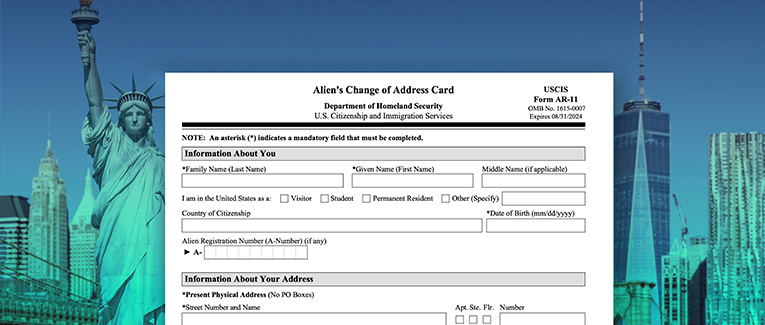 Form AR-11 is the Alien's Change of Address Card. It is used to file a change of address with US Citizenship and Immigration Services (USCIS). Most foreign nationals are required by law to report a change of address to USCIS within 10 days.
If you fail to report a change of address to USCIS, you could face fines, imprisonment, and even removal from the United States.
Who Has to File a Form AR-11?
The requirement to file a Form AR-11 extends to virtually all foreign nationals residing in the US.
This includes:
Nonimmigrant visa holders (such as H1 and L1 visa holders, and B1/B2 visa holders present in the US for more than 29 days)
Permanent residents (Green Card holders)
The only exceptions to the requirement are A and G visa holders, who are diplomats, ambassadors, and officers of international organizations, their families and employees. US citizens who have not filed an I-864 Affidavit of Support and asylees are also exempt from filing an AR-11.

For visitors, travel, student and other international travel medical insurance.
Visit insubuy.com or call +1 (866) INSUBUY or +1 (972) 985-4400
How Do You File a Form AR-11?
To file a Form AR-11, visit this link to access a paper or online application. For more information, view the AR-11 page on the USCIS website.
What If I Have Pending USCIS Applications or Petitions?
It is important to note that if you already have pending applications or petitions with USCIS, filing an AR-11 will not update the address information on them. If you need to file an AR-11 after already submitting a USCIS petition or application, call their customer service line at 1-800-375-5283 to update the address on your pending applications/petitions.
It is also important to note that updating your address with USCIS will not update your address with the United States Postal Service (USPS). You will need to fill out a USPS change of address form either online or at your local postal office separately to ensure your mail arrives at your new address.
We are sorry that this post was not useful for you!
Let us improve this post!
Tell us how we can improve this post?