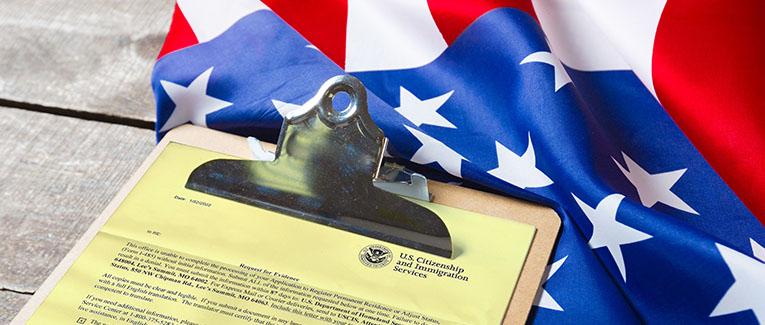 When you submit an application or petition to USCIS, you may receive a mailed response in the form of a blue letter known as the USCIS Request for Evidence, or RFE. If you receive an RFE, it means USCIS needs more documentation or evidence before they can make a decision regarding the immigration benefit you requested.
Regardless of the color of paper, a USCIS Request for Evidence should say "Form I-797E" in the top right-hand corner.
It is extremely important to respond to an RFE as soon as possible. If you do not, you are almost guaranteeing that the request you've made to USCIS will be denied.
Why Did I Receive an RFE?
You are receiving the RFE because USCIS needs more information from you. They feel that there was insufficient documentation or evidence provided with the original application or petition to make a decision. They are providing you with the RFE as an opportunity to give them the information they need in order to approve or deny your request.
Common Reasons Applicants and Petitioners Receive RFEs
Missing certified translation of documents submitted in a foreign language.
Inconsistent or missing information, or a lack of documentation provided with the original petition or application that explains the reason for the inconsistent or missing information. For instance, getting married and changing your name but not including a copy of your marriage certificate to explain the name change.
The application or petition contained information that was difficult to read, or did not provide proper proof or evidence relating to the request.
One of the most effective ways to avoid receiving an RFE is to follow the instructions on any form you submit to USCIS exactly, and provide clear documentation and certified translations whenever necessary.

For visitors, travel, student and other international travel medical insurance.
Visit insubuy.com or call +1 (866) INSUBUY or +1 (972) 985-4400
How to Respond to a Request for Evidence (RFE)
Even if you believe you did everything correctly, you may still receive an RFE. This is not a reason to worry; you simply must take the following steps to respond to the Request for Evidence:
Pay attention to the deadline – USCIS will hold your application or petition only until the deadline on the RFE, so it is essential that you respond before that date.
Read the RFE very carefully – Do not start providing a response until you've slowly and thoroughly read through the RFE, and understand what it is asking for exactly.
Give one complete response – Generally, you will only receive one RFE, and it will have all the questions you need to answer. Answer each question as clearly as you can in one response. Do

not

send multiple responses to USCIS for one RFE. If USCIS sees you have not responded to all questions in the first response, they will likely deny the request.
Keep your response organized – Answers should be as short and simple as possible. If the RFE requires lots of answers, create a table of contents, or document your answers with exhibits. Include the original RFE you received with your response.
If you have questions, ask – If you are unsure about what to submit or how to organize it, call USCIS at 1-800-375-5283 before you submit your response. You can also utilize the services of an immigration attorney if you do not feel comfortable responding to the RFE yourself.
We are sorry that this post was not useful for you!
Let us improve this post!
Tell us how we can improve this post?