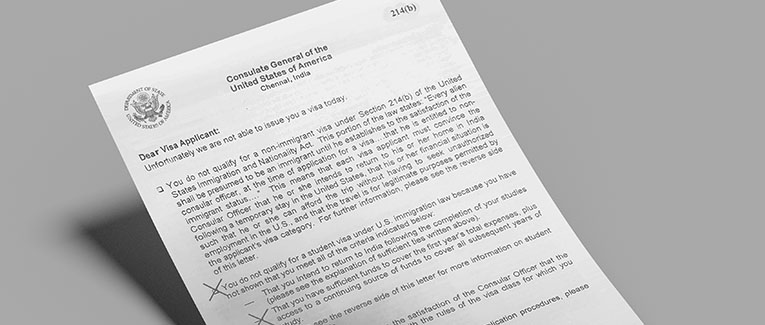 Consulate General of the
United States of America
Chennai, India

Dear Visa Applicant:
Unfortunately, we are not able to issue you a visa today.
You do not qualify for a nonimmigrant visa under Section 214(b) of the United States Immigration and Nationality Act. This portion of the law states: "Every alien shall be presumed to be an immigrant until he establishes to the satisfaction of the consular officer, at the time of application for a visa… that he is entitled to non-immigrant status…" This means that each visa applicant must convince the Consular Office that he or she intends to return to his or her home in India following a temporary stay in the United States, that his or her financial situation is such that he or she can afford the trip without having to seek unauthorized employment in the US, and that the travel is for legitimate purposes permitted by the applicant's visa category. For further information, please see the reverse side of this letter. 


You do not qualify for a student visa under US immigration law because you have not shown that you meet all of the criteria indicated below:

That you intend to return to India following the completion of your studies (please see the explanation of sufficient ties written above).
That you have sufficient funds to cover the first year's total expenses, plus access to a continuing source of funds to cover all subsequent years of study. 
Please see the reverse side of this letter for more information on student visa refusals.


You were unable to establish to the satisfaction of the Consular Officer that the purpose of your trip is consistent with the rules of the visa class for which you applied.
For further information on US visa regulations and application procedures, please refer to our website.
Further Information on US Visa Refusals

General 214(b) Information:
One common misconception about 214(b) refusals is that overcoming the refusal is just a matter of providing more documents. The problem, however, is often not simply with the documents. Rather, your current overall situation was not adequate to overcome the presumption that you intend to immigrate. A letter, like other forms of written documentation, will be considered by the interviewing officer. However, a letter, even from a highly placed person, cannot establish the applicant's ties outside of the United States. US law requires each applicant to qualify for a visa in his or her own right. Proof may come in many forms, but when considered together, it must be enough for the interviewing officer to conclude that your overall circumstances, including social, family, economic, and other ties abroad, will compel you to leave the United States at the end of a temporary stay. "Ties" are the various aspects of your life that bind you to your place of residence, such as your family relationships, employment, and possessions. In the case of younger applicants who may not have had an opportunity to establish such ties, officers may look at educational status, grades, and long-range plans and prospects in India. As each person's situation is different, there is no single answer as to what constitutes adequate ties.
Students:
Some students are confused when, after presenting an I-20 from their school, they do not obtain a student visa. Under Section 214(b), students, too, must show that they intend to leave the US at the end of their studies. In student cases, the applicant may intend to stay for years. Consequently, the Consular Officer must consider the overall circumstances when deciding whether to approve a student visa. Student visas must also be denied if the applicant's primary purpose of travel is not to study, but to facilitate an indefinite stay in America. That a school has admitted a student to study and issued the I-20 is only one of the factors consulates must consider.

Answers to Common US Visa Refusal Complaints

Q: The Consul didn't give me time to explain.
A: The consular officer who refused your visa is well trained. In a very short time, a consular officer will look at several aspects of your case: your situation in your home country, your stated purpose for going to the United States, your profession, your previous travel history, your family and financial situations, etc. Based upon the unique circumstances of your case, the consular officer asked you questions they deemed necessary. The consular officer weighed your answers to those questions with the specific facts of your case. The high volume of applications they receive demands that the consular officer examine your case only as far as it was necessary for them to make a determination as to whether you overcame the legal presumption of intending immigration to the United States.

Q: The Consul didn't look at my documents.
A: Applying for a non-immigrant visa is not primarily a documentary process. Consular officers seldom dwell upon documents. What is at issue is intent. Documents alone will never establish applicants' intentions. Documents which demonstrate that applicants are well established in their own country can in some circumstances help individuals to establish that their intent is to return to their own country after a short visit to the United States. Depending on the specifics of your case, the consular officer may or may not have needed to examine your documents closely to make a decision about your intent. You were correct to bring documents with you, in case the consular officer would have needed to refer to them. If the consular officer made a decision in your case without a detailed scrutiny of your documents, it was because other circumstances of your case were clear. If your visa was refused, it is highly unlikely that any document you could provide would significantly alter the consular officer's decision about your intent.

Q: I want my money back!
A: The application fee that you paid is a fee that covers the costs of processing your application. Everyone who applies for a US visa must pay this fee. The application instruction form states clearly that this fee is non-refundable and will not be returned if you fail to establish that you qualify for a US visa. The consulates have no authority to refund an application fee. If you plan to reapply for a visa at any consulate, you will be required to pay an application fee every time you apply.
We are sorry that this post was not useful for you!
Let us improve this post!
Tell us how we can improve this post?